By Lookout on Jun 08, 2020 with Comments 0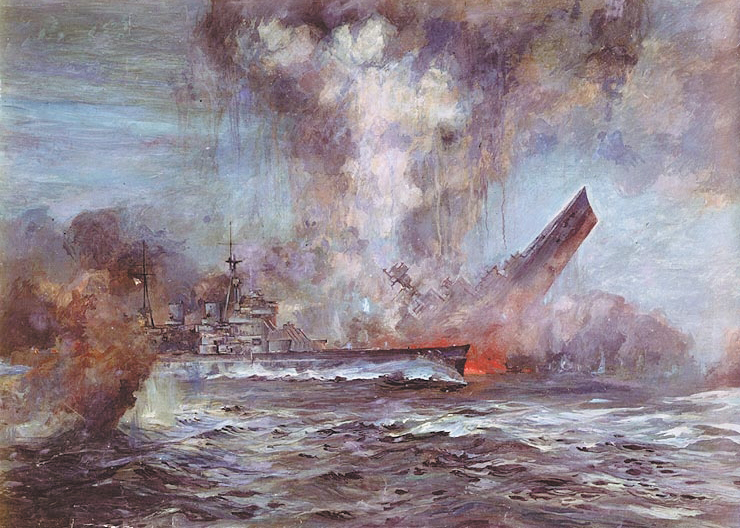 Peter Mallett Staff Writer ~
A grim and largely unacknowledged anniversary came and went over the May 24 weekend, but a poet from Edmonton has penned a few lines to help us remember.
Garth Ukrainetz, the Poet Laureate of the Blackmud Creek, wrote his poem Fourteen Hundred Men as a solemn tribute to Royal Navy vessel HMS Hood and its crew.
On May 24, 1941, the massive Admiral-class battle cruiser came under attack from German battleship Bismarck in the Strait of Denmark. It sank in less than three minutes with all but three of the 1,418 sailors killed in the attack.
The 'Mighty Hood' was launched in 1920 and for nearly two decades had been the largest warship in the world.
Ukrainetz said he discovered the Hood story while researching other naval vessels for his Battle of the Atlantic poetry tribute.
"I had heard about the sinking of the Hood but never realized that nearly the entire crew had died so quickly. I was shocked," said Ukrainetz.
During the shelling, the ship's magazine exploded. The official investigation into the explosion could not determine whether the ammunition cache was struck by a German shell or by accident from one of Hood's gun turrets as they returned fire.
"I was struck by the fact that 1,415 brave men perished in a matter of minutes. One fluke shot from the Bismarck, which was 16 kilometres away, hit and sunk HMS Hood, the world's largest battle cruiser, within three minutes," said Ukrainetz.
Ukrainetz, a former newspaper cartoonist, has been writing poetry most of his life. He lives beside the beautiful Blackmud Creek in Edmonton and operates a small picture framing shop in Leduc. With business slowing to a trickle due to physical distancing measures related to the COVID-19 pandemic, he has more time to write poetry.
He has always been interested in naval and military history despite being born and raised on land-locked Saskatchewan Prairie.
"The Prairie is like a flat pancake and in many ways it is similar to the ocean," he says. "Some of the best sailors in Canada come from my home province."
He is currently working on a series of five poems featuring the 111 Flower-class corvettes of the Royal Canadian Navy, with his latest poem called "Flowers of the North".
Some of his poems are on YouTube, including the poem Juno Beach written last year in tribute to the Royal Regina Rifles, which suffered heavy casualties upon landing at Juno Beach on D-Day (https://www.youtube.com/watch?v=b5poW1HPh2E) and a poem about HMCS Rosthern, a Second World War flower-class corvette named after the town located just north of Saskatoon  (https://www.youtube.com/watch?v=BxIWj9CjfAs).
 "My commemorative Second World War poetry is my way of saying 'thank you' to that special generation who worked hard, fought fiercely, and sacrificed so much to protect the freedom and liberty we all continue to enjoy today," says Ukrainetz.
"Fourteen Hundred Men"
By Garth Paul Ukrainetz
Poet Laureate of the Blackmud Creek
–
Fourteen Hundred men went down
To bottom of the sea
Their wives and girlfriends up above
With broken hearts they'll be
Their mothers and their sisters cried
A nation mournfully
Fourteen Hundred men went down
To bottom of the sea
The cannons roared from Bismarck ship
10 miles or so away
A shell was shot into the air
The price of war to pay
Explosive blast, she sank so fast
The 24th of May
She fought for good, the Mighty Hood
But lost the fight that day
Fourteen Hundred men went down
To bottom of the sea
A heroes' gate in Denmark Strait
For sons of liberty
The tears, the trials, the British Isles
The brave, the proud, the free
Fourteen Hundred men went down
To bottom of the sea
©2020 Garth Paul Ukrainetz
––––
Filed Under: Top Stories
Comments (0)