By Lookout on Oct 27, 2016 with Comments 0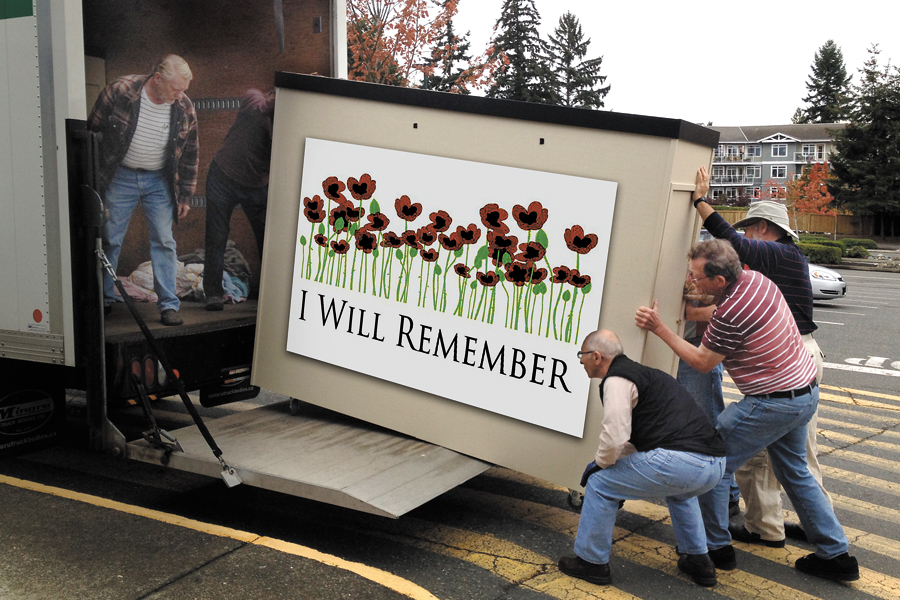 Peter Mallett, Staff Writer ~
It was a fight for its survival, but the HMCS Alberni Museum and Memorial (HAMM) received an 11th hour reprieve and found a new home in Courtenay just in time for Remembrance Day.
The museum, dedicated to the sailors who served aboard the Royal Canadian Navy's flower-class corvettes during the Second World War, and the preservation of Canadian military history, found a new home six-kilometres down Comox Road is the Courtenay Mall.
Prior to negotiating a new lease deal, HAMM Founder and Director Lewis Bartholomew said he truly believed it was the end for the 16-year-old Alberni Project and museum when, in June, they were served with notice to vacate the Comox Mall location. A developer looking to ­remodel the mall had served other occupants of the mall with similar notices.
"Right before Labour Day weekend I came to the painful realization that we just don't have a place to move and the future wasn't good; I was really distraught," said Bartholomew.
"We were told to clear out our stuff. We had gotten to the point where we were already asking friends and volunteers of the museum to clear out spaces in their garages to store our exhibits."
However, on Sept. 25 Bartholomew announced they would be setting up the museum in its new centrally located spot in downtown Courtenay.
"I am thrilled we were able to find a new place. Our new landlords made their approach to us at exactly the point when I was becoming extremely frustrated."
While all of its exhibits won't be unpacked and ready, Bartholomew said the museum plans to open its doors at 9 a.m. on Nov. 11 with its Memorial Wall and some of its popular exhibits ready for display until 6 p.m.
That will offer patrons a sneak peak of what its new digs have to offer before an official grand opening, which is planned for December.
The move has ­created serious space ­challenges for HAMM, noted Bartholomew, including shrinkage in square footage from its previous 3,000 square foot store front in Comox to less than half the size at 1,294 square feet.
"We will need to reinvent many of our exhibits, which is going to pose a huge challenge," said Bartholomew. "We are also looking at ways of moving some of our exhibits off site, and go online with them instead, creating digital exhibits."
But with its location hurdle now cleared, the biggest threat facing the museum is financial. That's because HAMM's rent will more than double from its previous reduced rate of $500 in the Comox Mall to $1,300 in Courtenay.
"It's a huge jump for us and I am not certain if we are going to be able to bridge the gap," said Bartholomew. "We are really going to be hitting up community organizations, veterans associations, private donors or anyone that can help us, for assistance."
He encourages anyone interested in becoming a donor or finding out more about what HAMM has to offer to visit their website www.alberniproject.org or by following their Facebook page.
Filed Under: Top Stories
Comments (0)