By Lookout on Jun 15, 2015 with Comments 1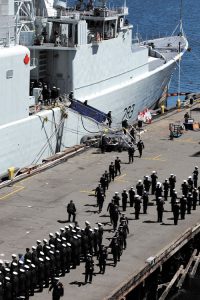 Dressed in their black ceremonial uniforms, the last crew of HMCS Algonquin lined the rails of the ship for a final salute as it was paid off after 41 years of distinguished service.
During the ceremony in HMC Dockyard last Thursday were stirring tributes and even a few tears.
"Algonquin was such an important part of the fleet and after more than four decades the ship has served its country well," said Lieutenant-Commander Jonathan Lafontaine, Algonquin's final Commanding Officer.
"Today is a day of mixed emotions because this ship served as a second home for so many sailors."
More than 300 current and former crew attended Thursday's ceremony.
Among them were two surviving members of the original HMCS Algonquin, a V-Class Destroyer that was paid off in 1970 and was part of the historic 1944 D-Day invasion at Normandy.
Jack Buller and Andrew Irwin have remained good friends since their role in the historic Second World War mission.
"It's a very meaningful experience for me to be here. I've never felt like a hero before until today," said Buller, 89, who was raised in Victoria but now resides in Sacramento, California, Buller was just 17 and Irwin 19 when they first served together in Algonquin.
"I can still remember the evening of June 5, (1944) like it was yesterday. Our commanding officer called 'clear all decks' for a full gathering around the torpedo tubes and gave us our orders for the next 48 hours. We all knew something big was about to happen; there were so many ships in the harbour that day."
Watching the current Algonquin leave the RCN forever was tough for the two veterans.
"There will never be another Algonquin. It's a little bit like a funeral or the passing of a good friend for so many sailors past and present," said Irwin.  
MS Elisabeth Morin-Fortin served in the present-day Algonquin and echoed the sentiments of Irwin and Buller about the significance of the vessel.
"It's not just a ship, it's a family," said MS Morin-Fortin, a naval communicator from Jonquiere, Quebec.
"This was the second ship I served on during my (military) career and I learned so much aboard Algonquin. I just remember the crew being so fantastic; we all had such a strong bond."
The Prime Minister announced the paying off of four warships on  Sept.19, 2014 – HMC Ships Algonquin, Protecteur, Preserver, and Iroquois, because they had reached the end of their operational lives.
After being commissioned on Nov. 3, 1973, the destroyer spent the first half of its life assisting NATO forces in the Atlantic and was then permanently transferred to the West Coast in August 1994.
It had originally been scheduled for retirement in 2019, but sustained extensive damage in a collision at sea with Protecteur on Aug. 30, 2013, as the two conducted exercise manoeuvres en route to Hawaii.
The cost to reinstate the ship was deemed not "a responsible use of public funds" and the decision was made to decommission Algonquin.
As the ensign, naval jack and commissioning pennant of the Iroquois-class destroyer were hauled down one final time, the Naden Band of the Royal Canadian Navy played a stirring rendition of Sunset.
A Sea King helicopter did a farewell flyby.
Peter Mallett
Staff Writer
Filed Under: Top Stories
Comments (1)