By Lookout Production on Nov 09, 2022 with Comments 0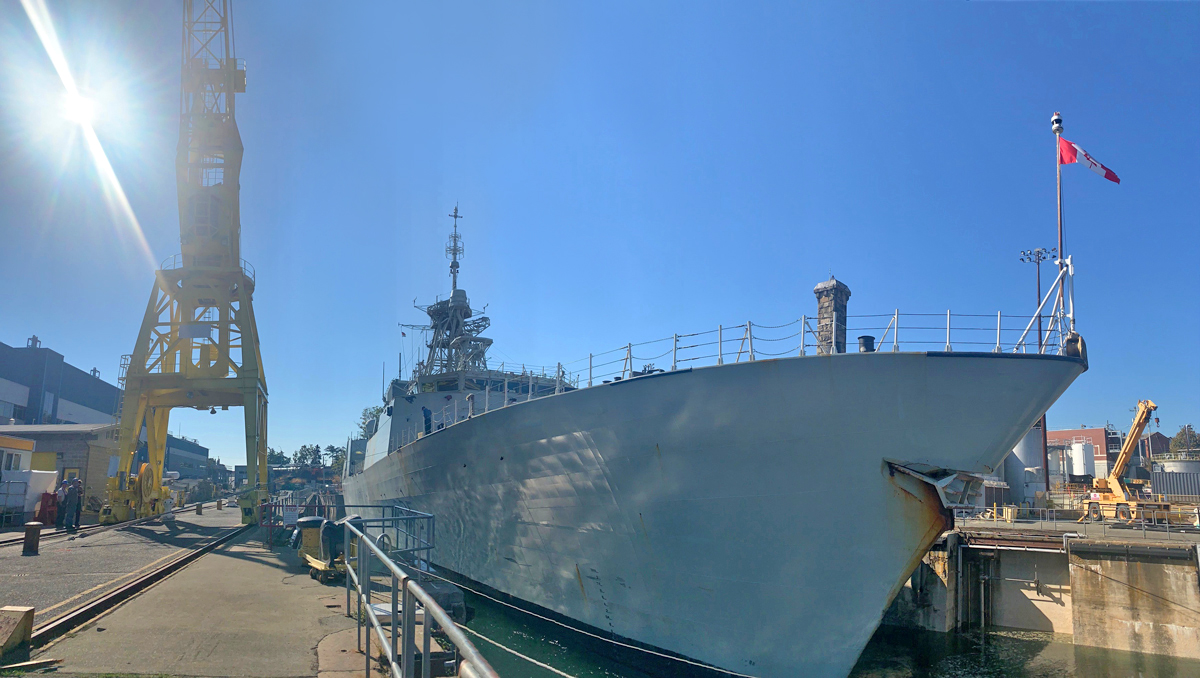 Gabrielle Brunette, 
Communications Coordinator Student at FMF CS
—
On Oct. 3, the Fleet Maintenance Facility Cape Breton (FMF CB) workforce and ship staff (SS) worked together on the undocking evolution of His Majesty's Canadian Ship (HMCS) Calgary from the FMF CB dry dock after a recent work period.
The ship was docked in the FMF CB dry dock for 10 weeks.
"Having a dry dock in our facility that we can use at any time, and the staff to be able to complete that job, is a strategic asset in its own for the RCN (Royal Canadian Navy)," said Captain (Navy) Sebastien Richard, FMF CB Commanding Officer.
HMCS Calgary docked this past August as part of its Extended Work Period 1 (EWP1). During this time, FMF CB worked to remove all required systems to prepare the ship for its deep maintenance cycle every five years. The personnel removed the rudder, the rotary vane actuator (a significant component of the steering systems), combat systems and deck equipment while ensuring the preservation of marine systems equipment. The staff also conducted hull maintenance and repairs.
Five FMF CB shops were involved in the docking and undocking of HMCS Calgary:
Personnel from the Scalers/Cleaners Shop;
Shipwright Shop;
Rigging Loft;
Mechanical Fitters Shop;
Electrical Shop.
The teams in the Naval Architecture, Industrial Engineering, and RpOPS departments were also integral to the success of these evolutions.
This is not the first time the FMF CB workforce has worked closely with ship staff to succeed in docking and undocking evolutions, and it will not be the last. The FMF CB team routinely displays work of excellence in concert with ship staff, demonstrating the broad abilities of all involved in support of RCN operations.
Christian Parisé, Project Leader and Ship Service Officer for HMCS Calgary, said collaboration between the FMF CB workforce and ship staff during the docking and undocking of a ship is incredibly important.
"SS play a pivotal role to ensure the ship is ready in all aspects," Parisé said. "They ensure that during the docking and undocking, they have enough personnel onboard to monitor all spaces below the water line for water ingress and report it to the docking officer and docking master."
"I am, and continue to be, amazed by the dedication and professionalism that our staff shows in the daily activities they take on. The pride that they show in their work is simply outstanding," Capt(N) Richard said.
Bravo Zulu to everyone involved!
Filed Under: Top Stories
Comments (0)