By Lookout on Dec 17, 2019 with Comments 0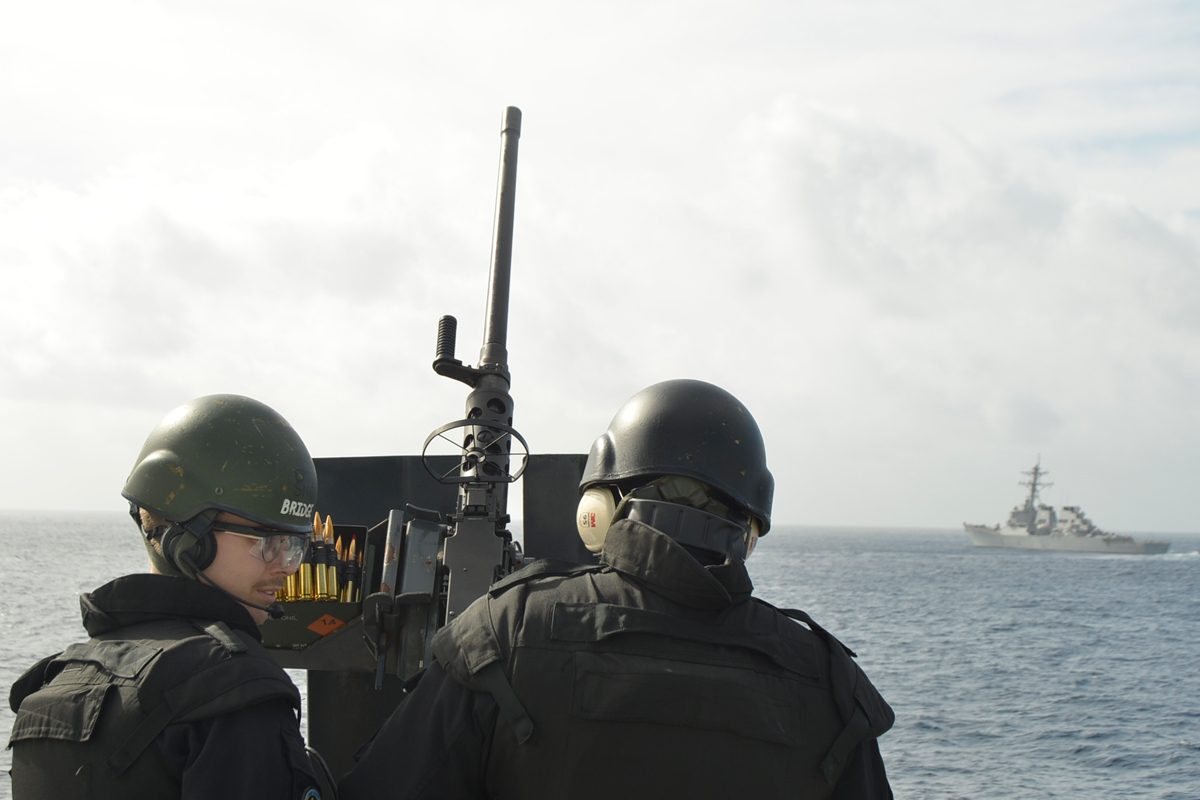 MCpl Robert Allard, HMCS Calgary ~
HMCS Calgary is hard at work preparing for its upcoming deployment in spring 2020. In a process similar to the way professional sports teams hold training camps to prepare for the regular season, Calgary is conducting what the Royal Canadian Navy calls Intermediate Multi-ship Readiness Training or IMSRT.
Everything the ship's company does during the month-long period is aimed at taking a group of sailors with varying levels of experience, and training them in a supervised and systematic way to ensure they are ready for almost anything.
HMCS Calgary is currently in southern California following a directed program of training designed to develop the skills of everyone on board, from the newest ordinary seamen going to sea for the first time, all the way up to the captain himself.
All of this hard work is being guided by a specialized unit called Sea Training Pacific, who act like experienced coaches evaluating, mentoring, and challenging the ship's team.
When Canada sends a warship overseas to conduct operations in support of international commitments, there are plenty of dangers that can present emergencies, such as fires or other damage to the ship. Every person on board is trained over and over again until responding to emergencies becomes second nature.
The navy has learned countless lessons over the last 110 years and that real world experience goes into the training.
On a typical day, sailors wake up and start their daily routine. Often there is a full schedule of maintenance, planning, cleaning, studying and preparing. At random times, the staff from Sea Training initiate a simulated scenario such as a missile or torpedo attack resulting in fires, floods, and casualties.
All throughout the ship, HMCS Calgary's sailors respond as if it were the real thing. This can go on for a couple of hours depending on the complexity of the situation. It is exhausting, but necessary to gain the skills needed to save the ship and most importantly save lives.
Leading Seaman Justin Miller, a cook sailing for his first time ever, offered his perspective on IMSRT and life at sea.
"I've never seen so many different trades working so well together to get things done. The efficiency is excellent, how everyone comes together to take care of anything that comes up. I'm especially blown away at the level of first aid skills everyone has to treat injured military or civilians."
Work is not the only thing happening in HMCS Calgary during this period of intense training. Sgt Francis Dion, a meteorological technician, is working with a small team of sailors to raise money for the ship's charity, the Calgary Firefighters Burn Victim Treatment Society. In just the first week, he and his team have raised close to $1,500.
"I am honoured to help our charity and serve my country at the same time. The ship's company has been enthusiastic and generous in their support for burn victims."
Heading into San Diego for a much needed yet short rest, spirits are high and determination is strong among the crew.
In the coming week HMCS Calgary will be home following successful completion of its training to spend Christmas with friends and family.
Filed Under: Top Stories
Comments (0)