By Lookout on Jun 21, 2019 with Comments 0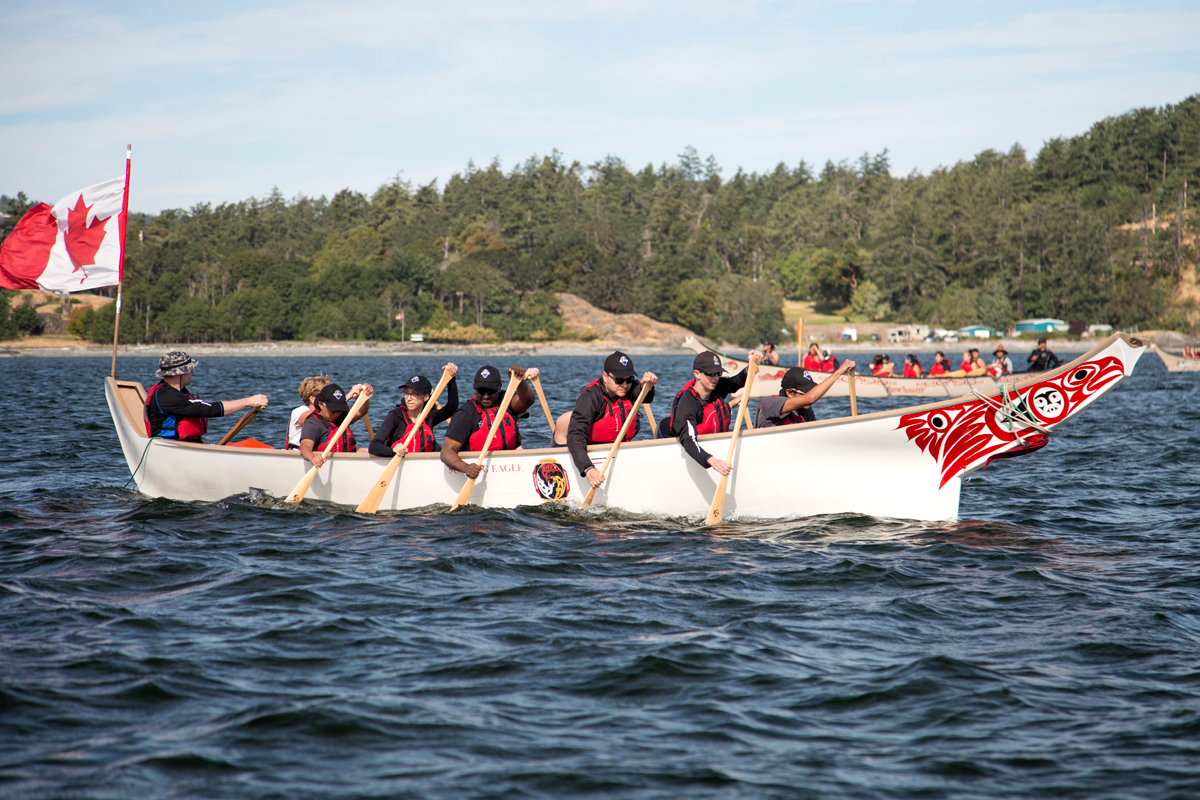 Peter Mallett, Staff Writer ~
If you want to paddle a traditional First Nations canoe, take part in cultural sharing, and have fun, consider joining the navy on their upcoming canoe journey.
The Royal Canadian Navy is joining the Pulling Together Canoe Journey July 4 to 13. The annual 10-day journey is on the territorial waters and lands of the Tla'amin Nation near Powell River, B.C. The event aims to recognize the past and enhance understanding between Aboriginal peoples and public service agency employees by canoeing together on the traditional highway.
Chief Petty Officer Second Class Rod Tulett, skipper of the navy's canoe, is looking for 12 military paddlers to staff the navy's new First Nations designed canoe. Participation in the event is open to all ranks and trades of the Canadian Armed Forces, and those interested in taking part are encouraged to contact their Personnel Coordination Centre.
CPO2 Tulett says the skill level of paddlers can range from beginner or novice to experienced. He will balance the team with a few hand-picked First Nations paddlers familiar with ocean paddling in the region.
The navy has traditionally provided logistical support for the event, and the use of rigid hull inflatable boats [RHIB] and Mark V Special Operations Craft for escort, along with personnel and trucks to help transport supplies.
Military personnel who take on the support role will assist with the transport of supplies and equipment for the approximately 400 paddlers and 22 canoe teams participating in the event.
CPO2 Tulett has been involved with the journey for the past five years but notes other personnel have been involved for much longer, such as Petty Officer First Class Rob Longley of HMCS Discovery, who has been involved for the past 12 years.
HMCS Discovery and the chain of command have shown strong support for the journey and CPO2 Tulett says that's likely because Pulling Together goes far beyond typical outreach efforts by the military.
"I fully believe this initiative builds respect between the military and First Nations communities. Participants really get to know each other after spending hours each day in a canoe, and through the numerous cultural activities that help build trust and understanding."
One of the marquee activities for the paddlers at this year's event will be a Feast Dinner in Powell River sponsored by the Royal Canadian Legion. Military participants will also receive a commemorative Pulling Together long-sleeve t-shirt.
For more information about the Pulling Together Canoe Journey visit their website: pullingtogether.ca
Filed Under: Top Stories
Comments (0)