By Lookout Production on Dec 09, 2022 with Comments 0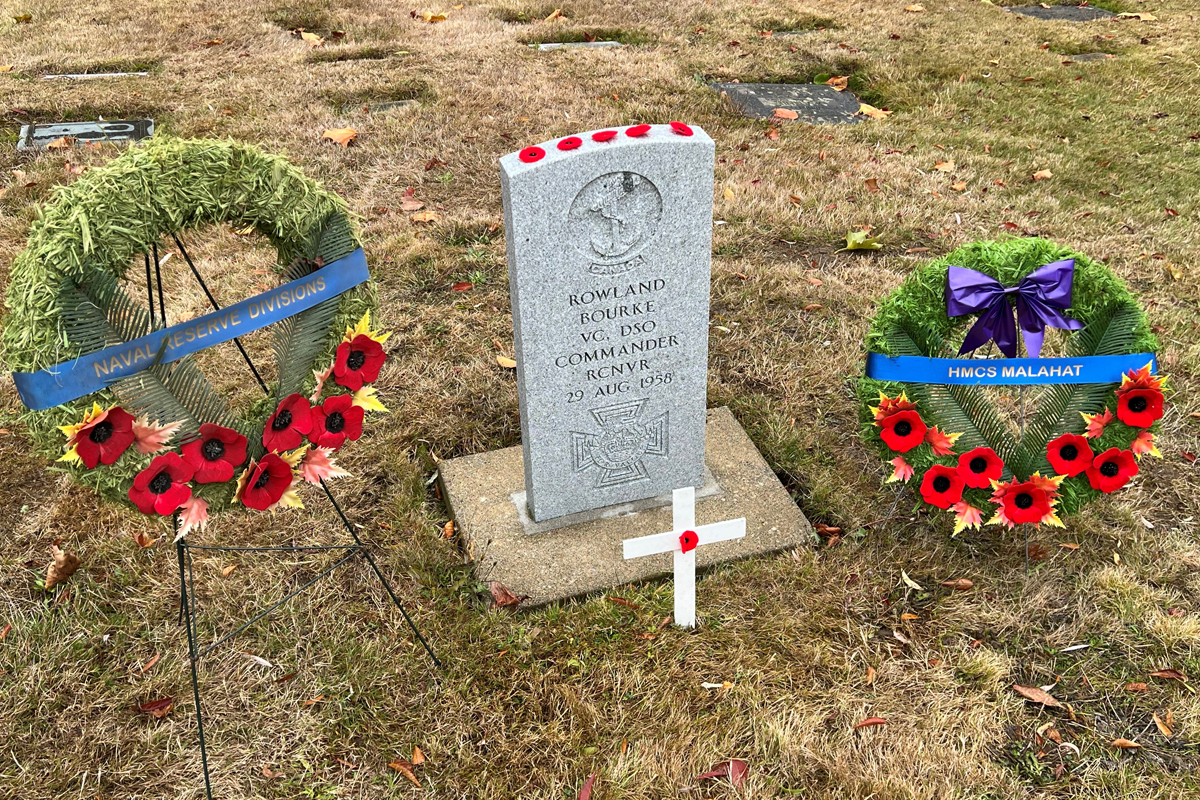 Lt(N) Donald Den, 
HMCS Malahat PAO
—
Amongst the many headstones at Royal Oak Burial Park, one lone gravestone stands out in the corner of section O, plot 10.
This is the final resting place of Commander (Cdr) Rowland Bourke, Victoria's sole recipient (and one of only four in the Navy) of the Victoria Cross, the British Commonwealth's highest military honour awarded to recognize bravery in action.
Before all Remembrance Day ceremonies were held on Nov. 11, a small contingent of sailors from HMCS Malahat, Victoria's Naval Reserve Division, gathered here to pay respects to the fallen war hero and fellow Naval Reservist.
"We come here every year to recognize the contribution that Cdr Bourke made, and to honour one of our own," said Cdr Cameron Miller, Malahat's Commanding Officer, at the gravesite. "That contribution he made is even more meaningful when you consider he was there in the First World War, and went back again for the Second World War."
Born in England in 1885, Cdr Bourke emigrated to Nelson, B.C, in 1902. When the First World War broke out, he enlisted in the Canadian Forces but was rejected by all three arms of service because of his poor eyesight. Undaunted, Bourke travelled back to England at his own expense and was able to enlist in the Royal Naval Volunteer Reserve, which did not consider his eyesight a concern.
During operations in the Zeebrugge Raid in April 1918, Bourke commandeered a small boat to HMS Brilliant, which was under heavy fire, leading the rescue of 38 officers and enlisted men. Bourke was awarded the Distinguished Service Order (DSO) for this heroism.
Then in May, less than two months later, Bourke took command of another motor launch in the same operation following the retreat of HMS Vindictive during the same operation in Belgium. On the return from the initial rescue, Bourke rescued three men clinging to a skiff under heavy fire. Upon return, it was found that the vessel had been struck 55 times with enemy fire. For these incredible actions, Cdr Bourke was awarded the Victoria Cross.
Bourke and his wife moved to Victoria after the war in 1932, where he started working as a civilian clerk at His Majesty's Canadian Dockyard in Esquimalt.
When the Second World War broke out, Bourke served as a Recruiting Officer before returning to the sea in 1941, this time with the Royal Canadian Navy Volunteer Reserve, the precursor to the modern Naval Reserve. During the conflict, Bourke commanded both ships and naval bases before eventually ending his military career in 1950 at the rank of Commander.
Judith McWilliam-Bourke, the grand-niece of Cdr Bourke, remembers him today as a very kind and warm person, noting that he was very 'jolly' with a good sense of humour. Despite his decorated career, Bourke remained humble regarding his accomplishments for the rest of his life.
Judith's son, Jason Jones, attended the ceremony at Cdr Bourke's grave this year and expressed his appreciation for Malahat being there, too.
"It was great to see Malahat here for another year to take the time to honour the history and to commemorate one of their own," Jones said.
Bourke died in 1958 and was buried with full military honours at the Royal Oak Burial Park. Yet, it was not until 2013 that a giant gravestone was erected in front of his headstone, turning it into a significant place of recognition due to the tireless work of military historian and retired Master Warrant Officer Bart Armstrong and the Esquimalt community.
For over a decade, HMCS Malahat has sent a contingent of sailors to pay respects at his gravesite on Remembrance Day in honour of their fallen and fellow Naval Reservist.
Filed Under: Top Stories
Comments (0)