By Lookout on May 06, 2021 with Comments 0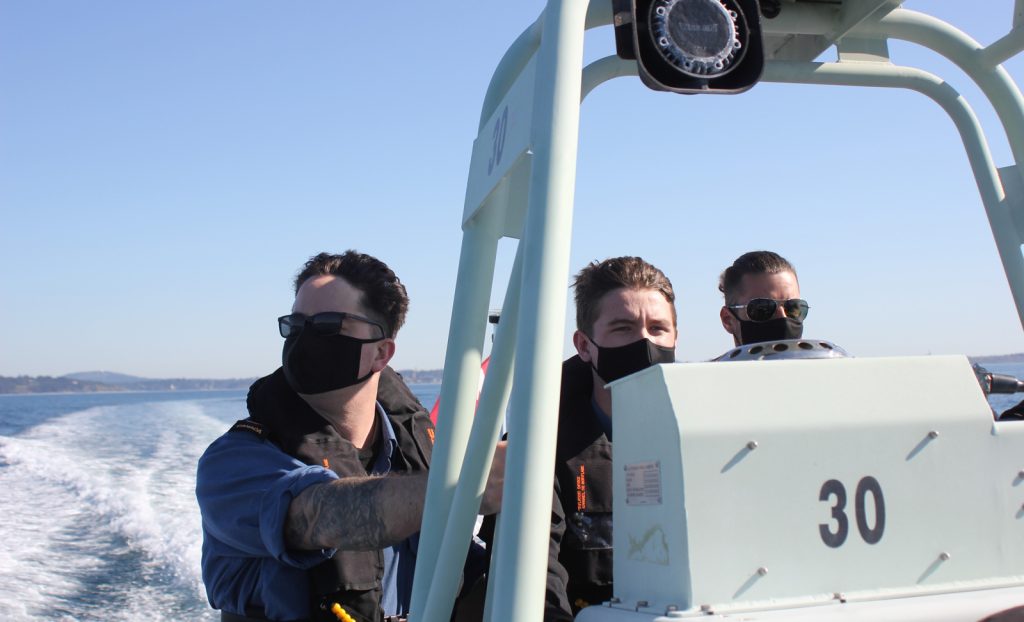 SLt Donald Den
HMCS Malahat PAO
––
Amid clear sunny skies and calm waters, HMCS Malahat, Victoria's Naval Reserve Division, held a successful small boats training exercise with 10 members of its ship's company on Saturday, April 17.
The goal of the day was to give Malahat's newest recruits an opportunity to experience the hands-on aspects of their sea trade, including driving a Rigid Hull Inflatable Boat (RHIB), practicing boat handling, and navigational skills, as well as person overboard drills.
The exercise was conducted in the Race Rocks and Peddar Bay area, about 15 kilometres southwest along the coast from Victoria Harbour.
"We had several new Boatswains on board; so, it was a great opportunity to actually bring them out onto the water and get them that first hands-on experience," said S1 Ben Lenner, Boatswain for Malahat.
Conducting training in a COVID-19 environment with increased federal and provincial restrictions, is a challenge Malahat has been adapting to since the pandemic began.
"Everyone wears a mask when they are onboard the RHIB and are expected to sanitize regularly with the provided hand sanitizer," adds S1 Lenner. "In order to allow multiple recruits to have an opportunity to practice driving the RHIB, we had to ensure the helm was sanitized every time we swapped out operators."
In addition to practicing on board the RHIB, Malahat's sailors also had the opportunity to work with the unit's Jet Dock. Utilizing the Jet Dock, a standalone floating dock that can lift boats out of the water, allowed for the new recruits to familiarize themselves with how with to both dock and land on a mobile platform in order to perform any required maintenance or other tasks.
"Being able to provide our members, especially our newer ones, with much-needed training and on-the-water experience is especially important now in the current COVID-19 environment" emphasizes Commander Cameron Miller, Malahat's Commanding Officer.
The day's training exercise was conducted under the watchful eye of Malahat's Coxswain, CPO2 William Seed.
"Being out there with the new recruits, seeing their smiles and comments on how much fun they were having, made me remember why I joined the Royal Canadian Navy 30 years ago. Beautiful weather, successful training, driving a RHIB, working with new members and seeing the look on their faces, what more do you need?"
––––
Filed Under: Top Stories
About the Author: The Lookout Newspaper can trace its history back to April 1943 when CFB Esquimalt's first newspaper was published. Since then, Lookout has grown into the award winning source for Pacific Navy News. Leading the way towards interactive social media reach, we are a community resource newspaper growing a world wide audience.