By Lookout on Jun 13, 2018 with Comments 0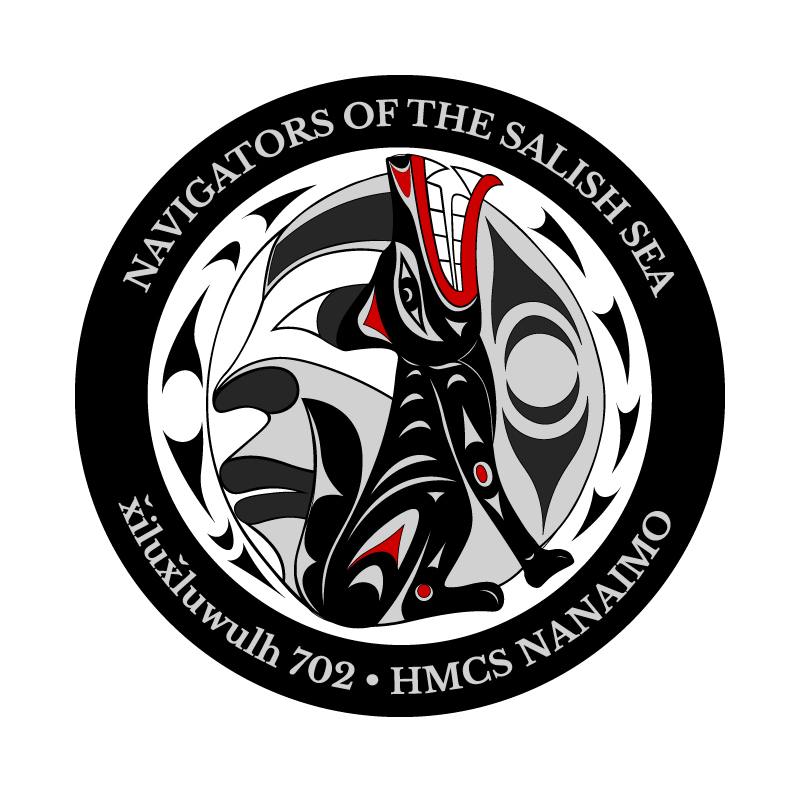 SLt Nathaniel Sukhdeo, HMCS Nanaimo ~
The design of HMCS Nanaimo's new morale patch is a beautiful, yet atypical design, not the usual look used by a Royal Canadian Navy warship.
That's because Nanaimo's command team and the ship's officers wanted to promote the contributions that First Nations, Inuit, and Metis people have made to the Royal Canadian Navy.
Recently, Nanaimo partnered with local Indigenous artist Doug LaFortune to design a morale patch that would reflect the role the Maritime Coastal Defence Vessel plays in the Fleet and pay tribute to our First Nations people. 
LaFortune is among the first of a new generation of artists to revive Salish Art. He does a great deal of design, sketching, and painting. However, wood carvings represent his more prominent work, which range from Totem poles to masks, feast dishes, talking sticks, rattles, and animal figures. He has carved many of the famous poles standing in Duncan, B.C., as well as the 30-foot Totem pole at the world famous Butchart Gardens.
His work is also exhibited in corporate offices, the Sunwapta Broadcast Centre in Edmonton, and a municipal park in Ohtaki, Japan. Other pieces include a talking stick in the Mayor's Office in London, England, and the welcome piece presented to the Queen at the opening ceremonies of the Commonwealth Games in 1994.
The morale patch he created for Nanaimo uses a wolf and the moon in the design. According to traditional Coast Salish teachings, the wolf is often associated with the spirit power a man would have to acquire to be a good hunter. It also symbolizes family and togetherness because wolves live in packs. The wolf is the land manifestation of the killer whale, which also lives in family groups or pods.
The moon illuminates the night sky and controls the tides. It is associated with transformation and is seen as a guardian spirit and protector. These symbols represent Nanaimo's role in the RCN, the environment in which it operates, and the camaraderie that binds the ship's company.
Through professional development events, Nanaimo's sailors have been encouraged to develop a stronger cultural understanding and appreciation for the teachings, traditions, and history of the Indigenous Peoples, with whom we share this country as our friends, colleagues, and neighbours.
Filed Under: Top Stories
Comments (0)