By Lookout on May 30, 2017 with Comments 0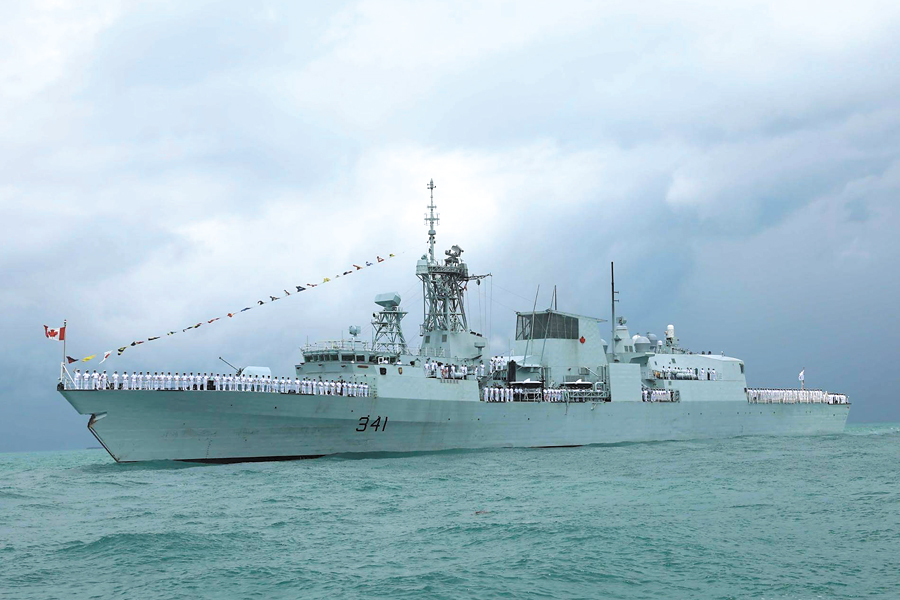 SLt Sully Heraud, HMCS Ottawa ~
Two months into Poseidon Cutlass 17, Her Majesty's Canadian Ships Winnipeg and Ottawa left Port Klang, Malaysia, to go their separate ways.
Winnipeg sailed west for India, while Ottawa went south towards international waters for a multinational exercise led by the Republic of Singapore Navy (RSS) in celebration of their service's 50th anniversary.
As the sun began to rise, Ottawa, accompanied by French Marine Nationale ship Prairial, met eight more warships from Japan, South Korea, Vietnam, Philippines and the United States of America. This made for an impressive sight as the Canadian frigate joined one of the area's largest naval gatherings in recent years.
The 6th Western Pacific Naval Symposium Multilateral Sea Exercise (WSMX) was a multi-ship, multi-nation exercise led by the Formidable-class Singapore ship RSS Stalwart.
The ships were divided into two groups, with Ottawa commanding South Korean, Filipino, French and American ships. The second group was commanded by RSS Stalwart.
Lt(N) Ryan Stanley, weapons officer, was pleased to see how Ottawa's participation fulfilled Poseidon Cutlass' main objectives.
"This exercise was an outstanding opportunity for HMCS Ottawa to act as Surface Action Group (SAG) Commander for a multinational exercise, thereby increasing the Royal Canadian Navy's reputation for professionalism on the international stage, as well as displaying Canada's engagement in the Indo-Asia-Pacific Region," he said.
The main focus of the exercise was communication and procedural interoperability between countries that speak different languages and rarely operate together. Serials included manoeuvres, screen exercises, flag hoisting competitions, flashing light competitions, and other activities designed to promote cooperation at sea over the two day program, culminating in a large group photo with ships in close formation.
Leading Seaman Madeline Kuiper, naval communicator, tells of the difficulties of coordinating with so many different navies at one time.
"Establishing communications with another nation is a different challenge every time, let alone with seven other nations. We are taught a specific way from directed publications, but items are always lost in translation and you need to adapt. Being flexible is a skill we need to have in this line of work, and exercises like this are the best way to train that skill," she says.
Ordinary Seaman Brayden Hart-Young tells of his experience as a new sailor on his first deployment.
"The obstacle most prevalent to us was the communication barrier. As an operator, ensuring radio discipline and net brevity is essential. To mitigate this barricade, we made good use of members of the ship's company who could act as translators, highlighting the operational benefits of an ethnically diverse crew. Learning how to solve problems in a large task group was a rewarding and unique learning experience for myself; only an exercise this size could give an operator such an opportunity," he says.
The 10 warships then proceeded to join a larger group of ships at anchor in the approaches to Changi Naval Base for Singapore's first International Maritime Review. The Review included 28 ships from 20 nations.
The sun setting over the Singapore skyline, highlighting the silhouettes of dozens of war ships at anchor, was a picture that will stay imprinted in the memories of Ottawa sailors. After showing the regional navies the quality of Canadian sailors during the Review, Ottawa proceeded alongside to support a busy global engagement program.
Following the visit in Singapore, Ottawa will sail north for Shanghai, followed by Okinawa, where ship and crew will conduct a second missile exercise of the tour before rejoining Winnipeg for the last leg of the Poseidon Cutlass 17 deployment.
Filed Under: Top Stories
Comments (0)