By Lookout on Aug 30, 2018 with Comments 0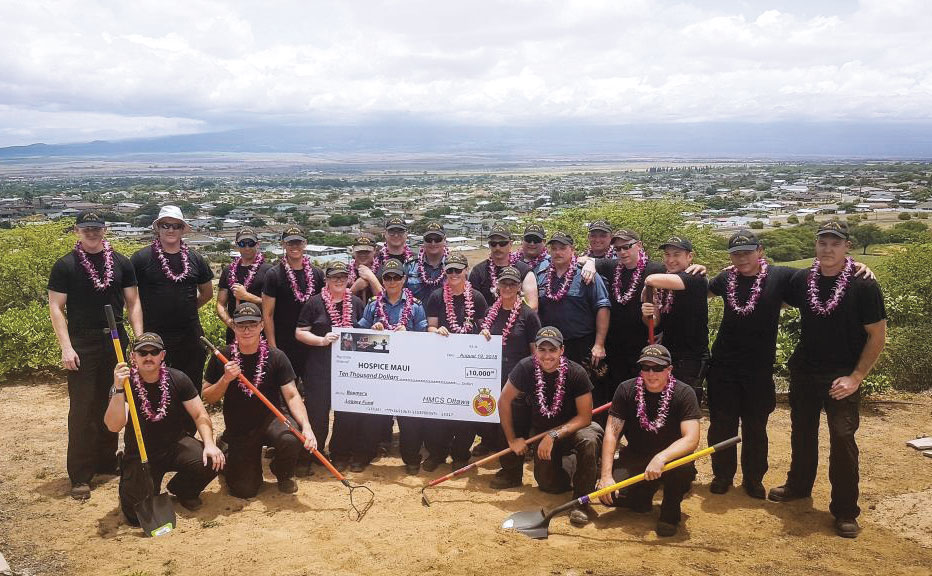 Peter Mallett, Staff Writer ~
Members of HMCS Ottawa took time out from a day in paradise last week to build a new paradise, in the form of a meditation garden at Maui Hospice.
The Canadian warship was headed to Los Angeles for Fleet Week and made a port visit at Hawaii's second largest island after sailing from Guam. Instead of spending their leave time unwinding or exploring the island's rich Polynesian culture, about two dozen volunteer sailors rolled up their sleeves and grabbed rakes, cultivators, shovels, machetes and pruning shears. Under a hot tropical sun they hacked away at dense brush and dug up trees and overgrown shrubberies. By day's end they had cleared nearly an acre of dense underbrush at the palliative care facility located in the town of Wailuku.
"The members of the ship's crew who volunteered their time to help create a safer environment for the volunteers, workers, patients and their families of Hospice Maui and did so in true Canadian spirit," said Chief Petty Officer Second Class Susan Frisby, Operations Chief for Ottawa. "We showed up willing to help in whatever way possible, making light work of hard labour. This type of opportunity speaks to what comradery is all about, people helping people."
After the task of bundling and disposing of the brush was completed, volunteers then laid flagstones for a pathway and created gardens using agricultural fabric. As a direct result of their efforts, they also made several road safety improvements on the property by improving sightlines for motorists.
When their task was completed the sailors presented a $10,000 cheque to hospice Chief Executive Officer Greg LaGoy and his staff on behalf of Canadian humanitarian charity Boomer's Legacy. The money will be used to buy a solar lighting system for the hospice parking lot.
Their generosity didn't go unnoticed in the community as their story made a big splash in local newspaper Maui News, which heralded the sailors as 'not just sightseers.' La Goy described the results of their labours as "fabulous" and essential to improving day-to-day life at the hospice. The volunteers were presented with plumeria lei (flower necklaces) as a show of appreciation by hospice staff.
The visit by Ottawa was spearheaded by Lieutenant (Navy) Andrew Klinger, the ship's chaplain. Lt(N) Klinger said he wanted the ship's younger members to better understand the importance and value of palliative care facilities.
Filed Under: Top Stories
Comments (0)