By Lookout on Nov 27, 2016 with Comments 0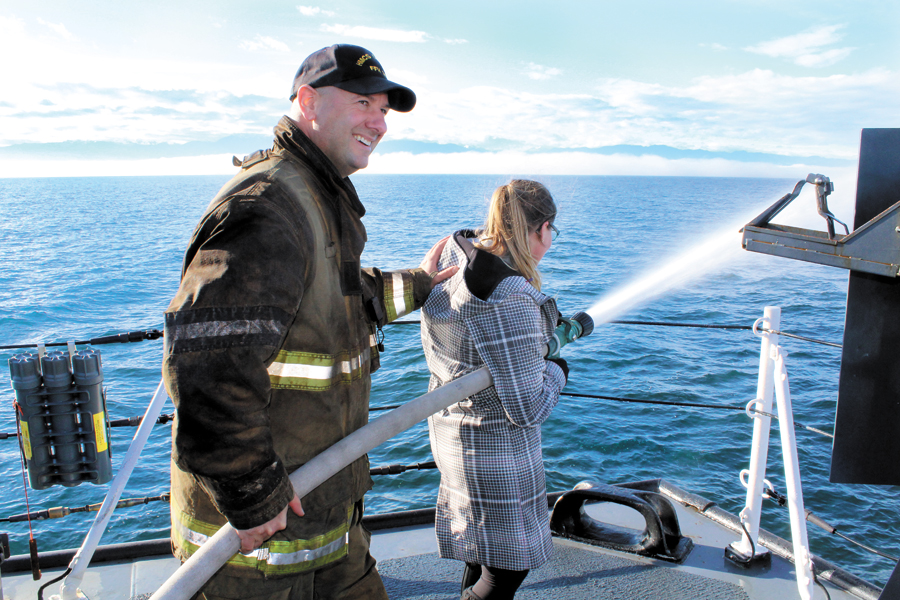 Lt(N) Ellie Aminaie, HMCS Ottawa ~
Three weeks ago, family members and friends of the crew of HMCS Ottawa were invited to experience a day in the life of a sailor at sea.
The day sail was well-attended by 200 friends and family members, including Honorary Captain Derek Turner who is a notable Second World War veteran.
During this rare opportunity, guests experienced the ship manoeuvring at high speeds, a man overboard recovery, a diver deployment and recovery by a CH-124 Sea King helicopter, and an overall tour with stations throughout the ship.
Upon exiting the harbour, the Captain brought the ship to full speed ahead on both gas turbines and guests were urged to hold on to something as the ship accelerated quickly through the water. The ship's rudder was then moved from 30 degrees to port and over to 30 degrees to starboard in order to demonstrate the turning radius of the ship, and how much the ship heels over during high speed manoeuvres.
Guests also experienced how quickly the ship stops when full speed astern is ordered on both engines.
Upon completion of the high speed manoeuvring serial, the ship's training dummy Oscar was thrown in the ocean and the ship's rescue stations organization closed up to rescue him. The ship's zodiac was launched and Oscar was quickly brought back onboard for medical care.
The ship's divers had an opportunity to display their training and skills through a helicopter deployment demonstration where they jumped off a CH-124 Sea King into the frigid waters of Constance Bank wearing their full diver gear, and were recovered by the helicopter moments later.
Another engaging aspect of the day sail was the shipboard tour stations throughout the ship. While touring the ship, guests were given a chance to don bunker gear worn by firefighters, and handle a charged firefighting hose on the ship's quarterdeck. As most of them experienced, it can be very difficult to handle a charged hose in confined spaces onboard a ship while wearing full firefighting gear and Draeger breathing apparatus.
The tour also included a smoke maze inside the ship, a rappelling demonstration by the ship's Naval Boarding Party, and a trip to the ship's Sick Bay, where the ship's crew receive medical care while at sea.
Guests also had a glimpse inside the ship's 57mm gun, a close look at the ship's torpedo magazines, and an opportunity to handle the .50 calibre machine guns fitted onboard the ship. The tour also included a trip to the ship's Machinery Control Room from which the ship's propulsion plant is operated; the Operations Room, where the Combat Department fight the ship in a threat environment; and the Bridge of the ship where the Junior Officers navigate the ship and run the ship's programme.
Guests were also treated to a navy dinner prepared by the cooks onboard Ottawa.
Filed Under: Top Stories
Comments (0)