By Lookout on Dec 09, 2020 with Comments 0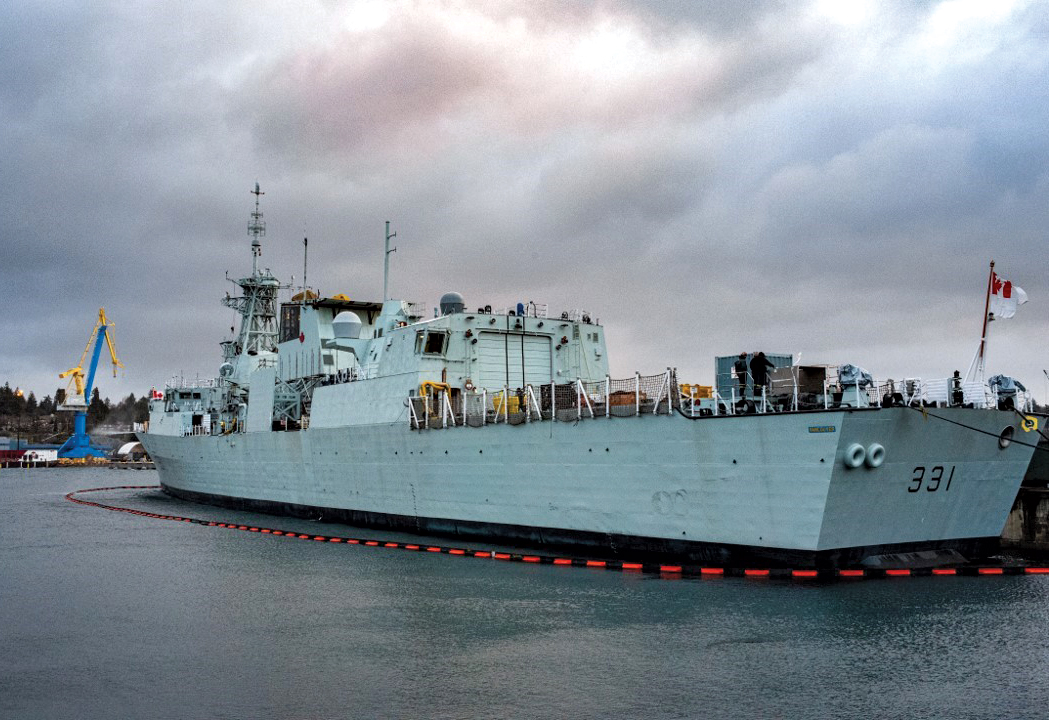 Peter Mallett
Staff Writer
––
HMCS Vancouver has entered the final phase of a lengthy and extensive refit.
The frigate's extended work period started at Seaspan Victoria Shipyards nearly two years ago. It was returned to the navy Nov. 16 when the ship's Commanding Officer, LCdr Matthew Arthur and approximately 30 crew took possession of the ship from the Government of Canada's Assistant Deputy Minister (Materiel). 
With the assistance of two Queen's Harbour Master tugs, Vancouver made the short journey across Esquimalt Harbour to its berthing spot at Dockyard's 'C' Jetty.
However, the extended work period isn't completed quite yet.
The restoring process is now underway with ship's staff and contractors returning supplies, equipment, and furnishings to the ship.
After the extended refit period is complete in May 2021, ship and crew will conduct Basic Single-Ship Readiness Training during the summer.
"Moving forward, we also hope to commence sea trials in autumn of next year," said LCdr Arthur. "Then next up in early in 2022, Vancouver is scheduled to complete Intermediate Multi-ship Readiness Training with an eye towards high readiness in the summer of that year."
The refit of the navy's 12 frigates ensures they remain the backbone of the fleet until the delivery of Canadian Surface Combatant (CSC) vessels.
"It also ensures our ability to defend Canadian sovereignty, project Canada's foreign policy, and aid civil power and law enforcement including fishery, shipping, search and rescue, and border protection," said LCdr Arthur.
The lion's share of the work was completed by Seaspan Victoria Shipyard, but ship's staff and Fleet Maintenance Facility Cape Breton workers also worked on the ship over the two years.
There were numerous hull and deck plate replacements, including large sections of the hull below the waterline in the ship's engine room. Also, a full cleaning of the ventilation system was completed and an entire refurbishment of its low-pressure air system. Repairs were made to the rudder and rudder post, and to cracks that had developed in the air intake for the ship's gas turbine engines following initial repairs to the engines.
New technological upgrades were also installed. It is now equipped with the new Naval Remote Weapons System (NRWS). NRWS offers remote firing capability of .50 calibre and 7.62 mm rounds, eliminating the need for a sailor to be outside at the ship's mounts if it comes under attack.
Also installed were new Caterpillar Diesel Generators, a new chilled water system, and an update to the ship's Integrated Platform Management System.
Finally, many of the ship's non-combat equipment were updated including toilets, storage racks, mattresses, and refrigerators.
––––
Filed Under: Top Stories
Comments (0)