By Lookout on Oct 20, 2020 with Comments 0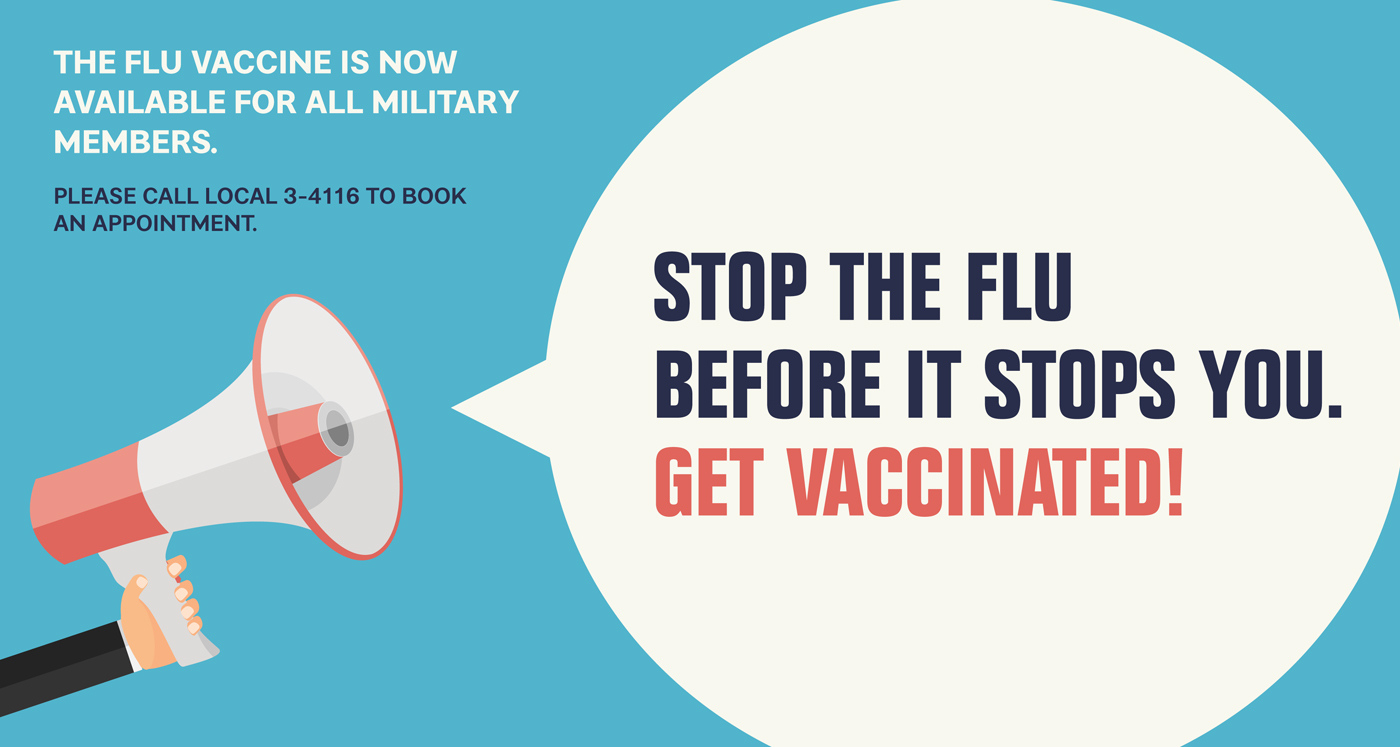 Peter Mallett
Staff Writer
––
This year's battle against seasonal flu has commenced at the base with vaccine clinics underway for military members.
To kick off flu shot season, senior leadership rolled up their sleeves and took the shot last week from a Canadian Forces Health Services Centre (Pacific) member.
"I am getting my flu shot because it minimizes the risks to my family at home and my Defence Team family in the workplace," said Capt(N) Sam Sader, Base Commander. "My flu shot will protect the people I care about."
The Canadian Armed Forces Surgeon General, MajGen Marc Bilodeau recently sounded the alarm over the concern of a twindemic, an overlap of flu season with a second wave of COVID-19 this fall and winter.
"In light of COVID-19 precautions, any respiratory infection such as the flu could lead to your family having to stay home from work," said Maj-Gen Bilodeau in a statement.
Registered Nurse Nancy Gilmour, Community Health and Immunizations branch of CF HSC(P), echoes MGen Bilodeau's concerns about the extraordinary urgency of being vaccinated with this year's flu shot.
"Not only will the flu shot help keep you and your family members healthy, it will reduce the burden on our health care system by ensuring hospitals are not trying to care for flu and COVID-19 patients at the same time. By reducing the amount of respiratory viruses in circulation, it will reduce the requirement for limited testing capability for COVID-19."
Updated guidance by Health Canada recommends Canadians six months and older be vaccinated. Military members experiencing symptoms of the flu, whether they have been vaccinated or not, are urged to contact their Integrated Health Team; civilians should contact their health care provider.
Individual appointments and spots for this year's travelling flu shot clinics are available from Oct. 21 to Nov. 19, and must be booked by calling 250-363-4116.
Gilmour acknowledges there are people squeamish about needles and vaccines. Those with vaccine concerns can call her office and book a private appointment.
The flu shot protects against several flu viruses each season. This season's vaccine will protect against serious complications of Influenza H1NI1, H3N2, and Influenza B.
Common symptoms of influenza include one or more of the following symptoms: fever, cough, muscle aches and pain, headache, chills, fatigue, loss of appetite, sore throat, runny or stuffy nose, diarrhoea, nausea, and vomiting.
People infected with the flu virus can spread it to others starting one day before the first symptoms until approximately five days after the first symptoms. If you get the flu it is important to stay home and avoid close contact with other people. Most people recover from the flu within seven to 10 days.
For more information about influenza and this year's vaccine visit the Government of Canada web page: https://www.canada.ca/en/public-health/services/diseases/flu-influenza/get-your-flu-shot.html
––
The Flu vaccine is now available for all military members.
An appointment must be booked.
Please call local 3-4116 to book an appointment.
Travelling Flu clinics:
Where indicated, the following Flu clinics can be booked directly with the named contact, otherwise call or e-mail as noted above:
Work Point Nixon Gym:  Oct. 21 – 0800-1500
Contact PO1 Gordon Canning (for those belonging to NFSP or NPTG)
Naval Fleet School Conference Room:  Oct. 22 – 0800-1400
Contact PO1 Gordon Canning (for those belonging to NFSP or NPTG)
Dockyard Building 109:  Oct. 26 – 0800-1400
Naden Gym:  Oct. 28 – 0930-1500
443 SQN Hornets Mess:  Nov. 5 – 1200-1500
Contact Lt Shauna Karnes
Fleet Diving Unit Sick Bay:  Nov. 6 – 0900-1400
Contact Capt Craig Bellamy
Dockyard Building 109:  Nov. 10 – 0800-1430
Albert Head Building 1075:  Nov. 12 -1000-1300
Naden Gym:  Nov. 19 – 0800-1530
Additional Flu clinics are scheduled at the Base Medical Clinic on the following dates:
October 15, 16, 19 and 23
November 2, 3 & 16
More dates to be added if required.
Please call local 3-4116 for additional information.
––––
Filed Under: Top Stories
Comments (0)