By Lookout on Dec 22, 2016 with Comments 1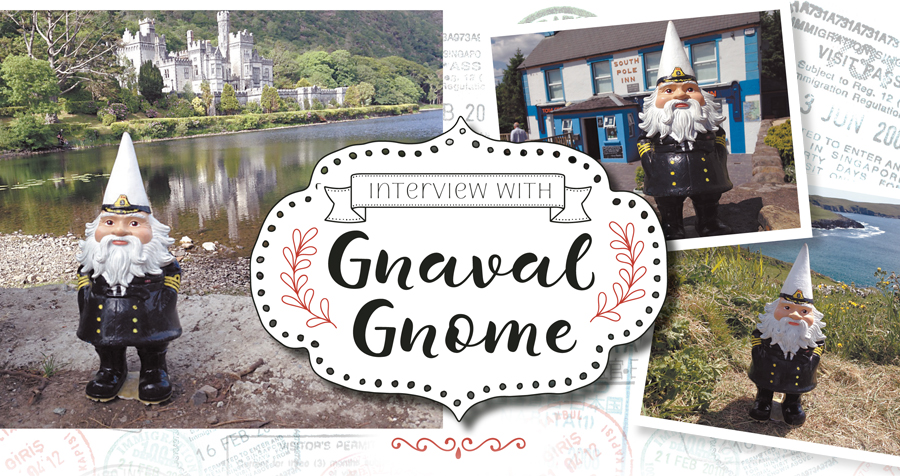 As the holiday season draws near, Lookout sought out the Gnaval Gnome
for his perspective on 2016 and what lies ahead.
LOOKOUT (LO): Welcome back, Gnaval Gnome. How have you been?
Gnaval Gnome (GG): I've been busier than a one-eyed cat watching gnine mouse holes!
LO: You're looking well, but is that more white I see in your beard?
GG: What? White? Gno, my beard isn't white. It's Arctic blonde!
LO: Oh, sorry, of course. So, what have you been up to?
GG: Well, it may interest you to gknow that I was away at RIMPAC 16 this summer! Best RIMPAC ever!
LO: And how was that?
GG: It was pretty gneato! Did you gknow that RIMPAC takes place in and around Hawaii, which was originally gknown as the Sandwich Islands? Mmm, sandwiches.
LO: What did you do there?
GG: I was Senior Staff Officer in charge of glitter glue and balloon animals. I learned the ancient art of balloon animaling, or zooblooning as it's gknown in the trade, from my Uncle, Zebadiah Gnome. He had to learn a marketable skill when he lost his job at the calendar factory; they said he was taking too many days off. Mind you, I think the whole calendar industry's days are numbered.
LO: Hmm, I see. I understand you've also taken some leave recently?
GG: Oh yes! I toured around the Emerald Isle. Hut, hut, hut.
LO: And why did you go to Ireland?
GG: Ah. Well, I went to visit some of my leprechaun relatives, and to get some fresh air and exercise. Some of my friends said I was looking a little peaked. I said it was just my hat. But they insisted I looked run down, and also that I have a preoccupation with vengeance…well, we`ll see about that…
LO: Er, yes. So what exercise did you get there?
GG: I got into Gnordic Pole Walking. Honestly, I thought it was about wokking, and who doesn't like a gnice stir fry?
LO: And did the rest and exercise do the trick?
GG: Oh yes. Before I went, I was addicted to the Hokey-Pokey, but I've turned myself around.
LO: So, Gnaval Gnome, the Christmas holidays are fast approaching. Do you have plans?
GG: Yes, I'll be heading to the North Pole to help some of my elf friends make toys. I've always wanted to be elf employed. And of course, I plan to eat a good deal of turkey. In preparation, I'm currently on a diet. It's an all-pancake diet, but I'm starting to waffle on it.
LO: We know you're quite a hand in the galley. Do you have any culinary tips for our readers for the festive season?
GG: I would say that Job 1 in the galley is always safety. My cousin, Remy Gnome, was quite careless in the galley, and accidentally swallowed a spoon. He hasn't stirred since.
LO: And how is your Christmas shopping going?
GG: Gnot well. I cannot find the item I'm after. I'm trying to find a pair of analog gloves, but all I can find are digital ones.
LO: I see…
GG: I'm also on the lookout…sorry, can I say I'm on the lookout? You guys don't have a copyright on that, do you?
LO: No, you're good.
GG: Okay. I'm also on the lookout for the latest communications gadgets. Because as I've often gnoted, "Communications" is an anagram of "cat c onion music".
LO: Ah…and speaking of music, I understand you're still involved with the Nadan Band of the RCN?
GG: Yes indeed! I'm writing a concerto for the Band to highlight a section consisting of gnothing but frigates!
LO: Frigates, you say?
GG: Yes. It's a little gnome fact that the Halifax-class frigate is more than a highly capable multi-purpose warship. If struck on any gnumber of its surfaces, it produces a wide range of percussive sounds. If a bow is drawn across the HF fan antennas, various gnotes are produced, and the halyards, if secured tautly enough, can be plucked in a pizzicato fashion. Were one's embouchure up to it, blowing with sufficient force into the hole in the transom through which the towed array is streamed results in a range of gnotes, making our frigates, with a displacement of almost 5,000 tons, the world's largest wind instruments.
LO: Well, Gnaval Gnome, as always it's been interesting chatting with you. Any last comments for our readers?
GG: I'd just like to wish everyone a very safe and happy holiday season. Also, here's some advice born of experience: if you see a sign in the flats saying "Wet Floor", that's a warning, not direction. Gnow I must run; I'm off to my Procrastinators Anonymous summer picnic! See you in the gnew year!
Filed Under: Top Stories
Comments (1)