By Lookout on Aug 18, 2014 with Comments 0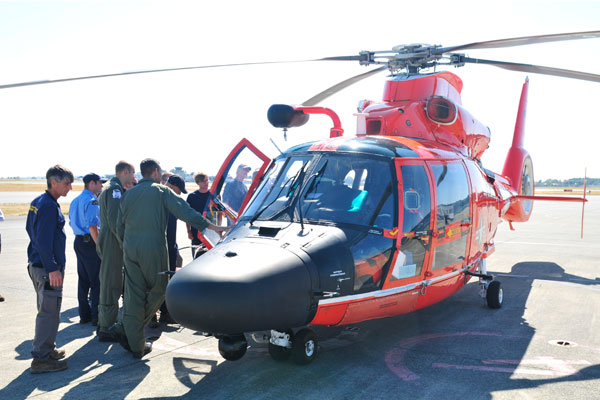 Boaters in the Gulf Islands were treated to an exciting scene when the Canadian Coast Guard (CCG), volunteers of the Royal Canadian Maritime Search and Rescue (RCMSAR), and United States Coast Guard (USCG) personnel gathered for a joint training evolution in the sun-soaked waters off Pender Island.
The exercise involved coordination between the 47 foot CCG Motor Life Boat (MLB) Cape Naden, a CCG 753 Rigid Hull Inflatable Boat (RHIB), a U.S. Coast Guard MH-65 Dolphin helicopter and four RCMSAR RHIBs.
Participants were supported by 443 Maritime Helicopter Squadron, which provided space for briefings and the use of their helicopter pad for aircraft familiarization.
Personnel practiced lowering and raising an Air Rescue Technician in a rescue basket between MLB Cape Naden and the aircraft, as well as station keeping with the RHIBs.
"We share a lot of adjacent water with the U.S., we share a common goal of helping those in peril, so there are situations in which we will support each other on SAR incidents. It's important to be ready for those situations," says PO1 Mike Mitchell, Search and Rescue Program Officer for the CCG and the Coxswain for HMCS Malahat.
"We only get the opportunity to train together a few times a year so it's important to make the most of it."
He says the high level of coordination and skill necessary between air and sea assets is what makes any joint rescue a perilous undertaking.
"If the sea conditions are rough or it's windy, things become very challenging," he says.
"Not only are the vessels bouncing around, but the wind is buffeting the aircraft, and they have to be in almost perfect synchronization to make sure everything is as safe as possible when lowering or raising people in danger."
PO1 Mitchell says working with the USCG, while a relatively regular occurrence, is still beneficial.
"Meeting face-to-face, person-to-person, unit-to-unit is different than working on a call together," he says.
"These training events give us an opportunity to put faces to names and really connect in our common passion of helping people."
The Dolphin was manned by four USGC personnel who made the trip up from a USCG base in Port Angeles, Washington.
LCdr Kevin Kurczewski, who was at the controls of the Dolphin for the day's proceedings, says the practice and teamwork are always welcome.
"We all more or less operate the same, but it's about making sure our skills complement each other in the right way," he says.
"The frequency of joint calls can be fairly high. We worked with the CCG not too long ago on a missing boater call. It's important for us to stay sharp and know how we work together."
Though the procedures followed by Canadians and Americans don't differ that much, exercising together allows them to learn from each other's strengths, says LCdr Kurczewski.
"It's always great to meet people dedicated to the same cause," he says. "If we can train together on a regular basis, it strengthens that bond. Different agencies do different things better than others so if you never work together you're never going to see that."
 Shawn O'Hara, Staff Writer
Filed Under: Top Stories
Comments (0)