By Lookout on Aug 14, 2020 with Comments 1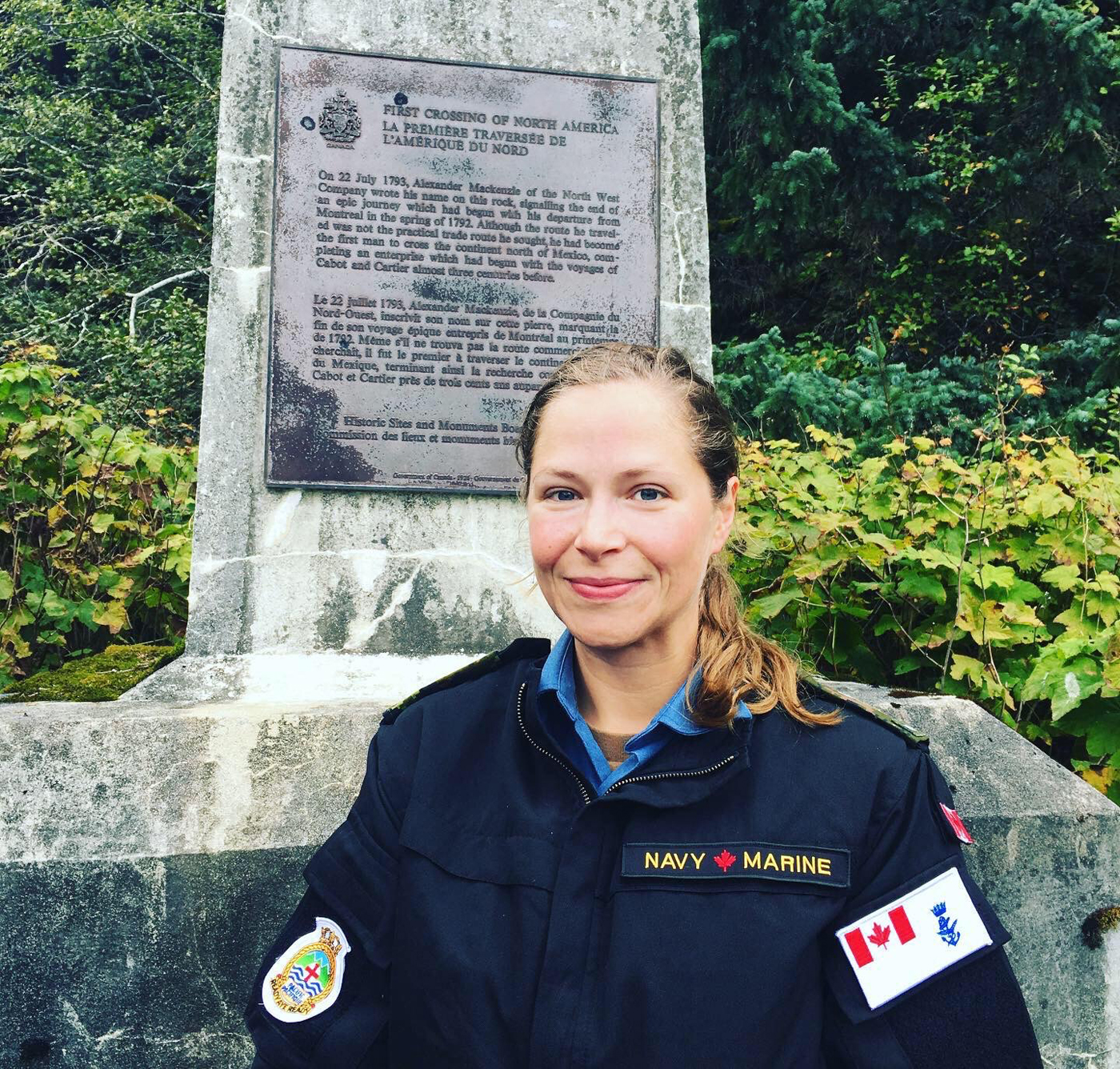 Peter Mallett, Staff Writer ~
A junior public affairs officer (PAO) from Maritime Forces Pacific (MARPAC) has been honoured for her stellar leadership skills when she stepped up to fill the manager role in the unit during the senior PAO's absence last year.
Lt Chelsea Dubeau received the Public Affairs Special Recognition Award on July 21 for her "exceptional leadership and professionalism under stress." She was nominated by Captain(N) Chris Peschke, MARPAC Chief of Staff, who also delivered the award.
"Initially, I wasn't sure what to think as I was brought to his office by my supervisor. My initial reaction was 'oh no, I must be in trouble for something'," said Lt Dubeau. "When Capt(N) Peschke started reading the citation and I realized why I was there, I became overwhelmed."
Due to COVID-19 physical distancing measures, there was no official ceremony to present her with the award. Instead, she received official proclamation in the form of a congratulatory video.
She earned the award by filling the senior public affairs officer position during unforeseen circumstances when the deputy senior officer PAO was deployed to the Middle East.
"I was very fortunate to have a small but mighty team of individuals who rose in equal measure to the many challenges," said Lt Dubeau. "I hope they know we all share in the many successes and lessons learned during this period, which certainly helped in my personal and professional growth."
During her tenure, she provided much-needed guidance to the Admiral, Commodore, and Commander Canadian Submarine Force.
In the nomination her work is described as: Demonstrating professional acumen with complex media issues far beyond that expected from so junior an officer, she confidently provided sound advice to Flag and senior officers resulting in successful media engagements. 
Lt Dubeau served in the Royal Canadian Navy as a Naval Warfare Officer from 2010 to 2012, but then decided to leave the military. Prior to her naval service, she earned a diploma in Broadcast News from SAIT Polytechnic, and went on to complete a degree in Professional Communications from Royal Roads University following her release.  She then spent two years working as a digital communications officer for the Government of B.C. before her return to the military as a direct entry officer in 2017, this time wearing an army uniform.
She is currently attached to HMCS Winnipeg as the ship's PAO. The ship and its crew are conducting Intermediate Multi-ship Readiness Training in preparations for the Rim of the Pacific (RIMPAC) exercise off the coast of Hawaii, Aug. 17 to 31.
She also spent a month aboard HMCS Nanaimo during Operation Laser in April-May 2020.
"I was fortunate to have the freedom to write the stories I wanted, and had amazing support from the ship's command team. I cherish a few of the stories I was able to write during that time because of the special people I was fortunate enough to have the opportunity to write about," said Lt Dubeau.
Going forward, she is interested in pursuing other educational opportunities including NATO (North Atlantic Treaty Organization) courses and the pursuit of a master's degree in communications.
––––
Filed Under: Top Stories
Comments (1)