By Lookout on Aug 24, 2015 with Comments 0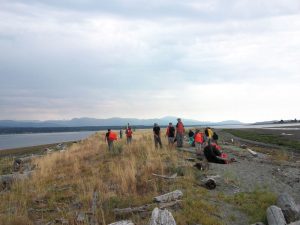 Youth wanting that last summer camping trip – with no parents –  should look no further than the Tri-Cadets Camp-Out at Albert Head.
From Sept. 1 to 3, youth can camp out in tented bivouac sites and participate in air rifle marksmanship, canoeing, orienteering activities, hiking, and a range of sports, and discover what the cadet program is all about.
"The camp out's goal is simple: to promote fun, challenge, and making friends," says Lt(N) Cynthia Lawless, Commanding Officer of the Royal Canadian Sea Cadets Corps 263 and core organizer of the camp. "We are looking to develop teamwork and esprit de corps as well, all components of a well-rounded cadet."
Lt(N) Lawless says the value of the camp lies in its blending of activities from each of the three cadet elements: air, land, and sea.
Participants will learn basic bush living and be challenged to adjust to life in a large group with very little access to technology and amenities.
Senior cadets from across the island will help instruct the youth who are completely unfamiliar with cadet activities or skills, making it a truly youth-led event.
"Cadets excel the most through play and learning, whether on the water, in the bush, or on the field," says Lt (N) Lawless. "So these youth are going to thrive off the energy of each other during those three days."
Rachel Lallouz
Staff Writer
Tri-Cadet Camp Out details:
Cost: $80 per person goes towards insurance fees, food and activities
Registration Deadline: Sunday, Aug. 30
Meals included: Lunch Tuesday to Lunch Thursday
Who can participate: youth between 12-18 years of age
To register, please email Lt(N) Lawless at 263Sea@Cadets.gc.ca, call 250-213-8232, or drop in at 948 Dunford Avenue in Langford on Aug. 27 between 6:30 and 7:30 p.m. or Aug. 30 during the same hours.
Filed Under: Top Stories
Comments (0)