By Lookout on Apr 05, 2021 with Comments 0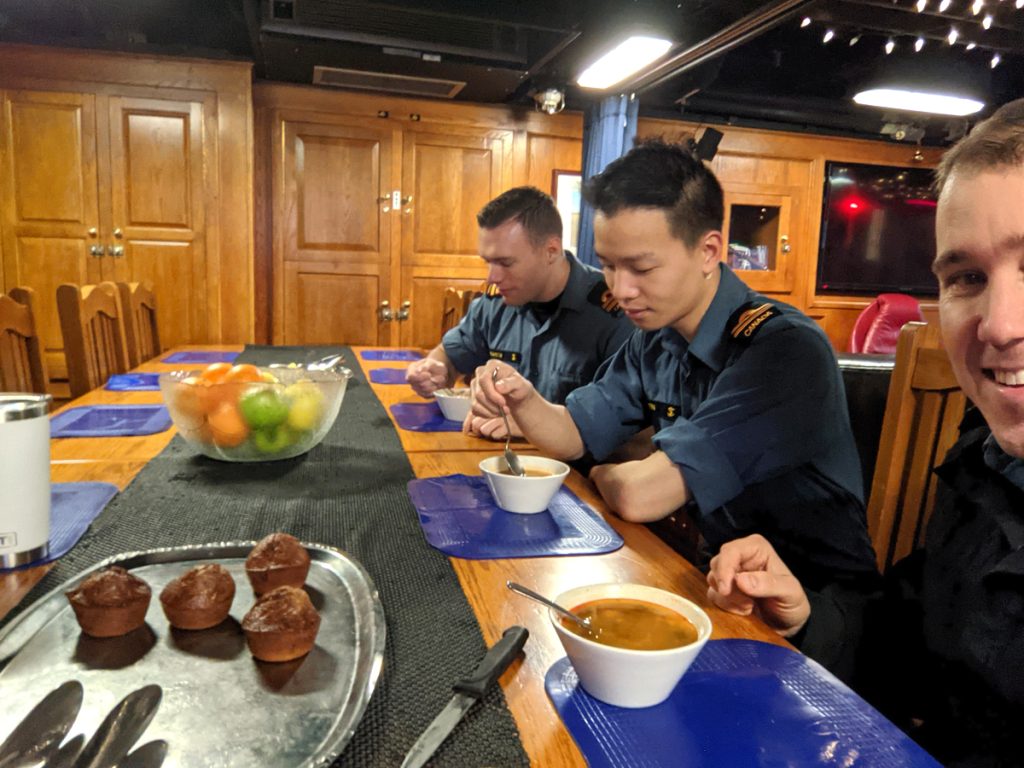 Lt Jeff Klassen
Public Affairs Officer
––
I sailed in HMCS Regina earlier this year. While there, I wrote about my experiences in a BLOG and this is a continuation of that.
Navy culture is really quite different to the other environments. They do all sorts of unique things, some of them dating back hundreds of years. One tradition is "Soup".
Now you might think soup is a lunch-evening type of thing. But in the navy it's a morning thing.
Every day at 10 a.m. navy cooks serve soup; in fact, it's called "10 o'clock soup".  At that time, a significant portion of the crew stops what they are doing and eats soup. I've heard it might be to help counter sea sickness, but I'm not sure.  It seems to just be a thing.
Another thing about the navy is it has all sorts of special words and navy people love telling you about them.
Here's some of the ones I've discovered.
Rack = Bed
Deck = Floor
Deck head = Ceiling
Bulk head = Wall
Hatch =

 

Door
Ship = Boat
Most naval vessels are called ships and you shouldn't call them boats. For example, a frigate is a ship not a boat, but the small inflatable boarding vessels – called "RHIBs" – are boats.
Life Preserver = Personal flotation device
Galley = Kitchen
Mess or cabin = Bedroom
Gash = Garbage
Heads = Toilets and Washrooms
Duff = Dessert
No Duff = You say this to mean that something is not a training exercise.
Port and Starboard – If you're looking in the direction of the front of the ship, port is left and starboard is right. I remember it by saying "p.s.".
Jack = A type of flag.
Boatswain = Pronounced something like "Bo-sun'. This is a tradesperson who is sort of a boating jack-of-all-trades.
Ping boatswain = Slang for sonar operator.
Sin boatswain = Slang for a padre/chaplain.
Baby doc = Medical Technician
This is a medical professional who helps the physician assistant on board.
Closed up = Ironically, this means "ready to start" because everyone is in position.
Jackspeak – This is the term the navy uses for all its navy-specific words. Yes, that is correct, they even have a special word for all their special words.
In honour of the unique navy traditions, I've included a photo of a few junior officers eating soup at 10 o'clock.
––––
Filed Under: Top Stories
Comments (0)