By Lookout on Aug 22, 2018 with Comments 0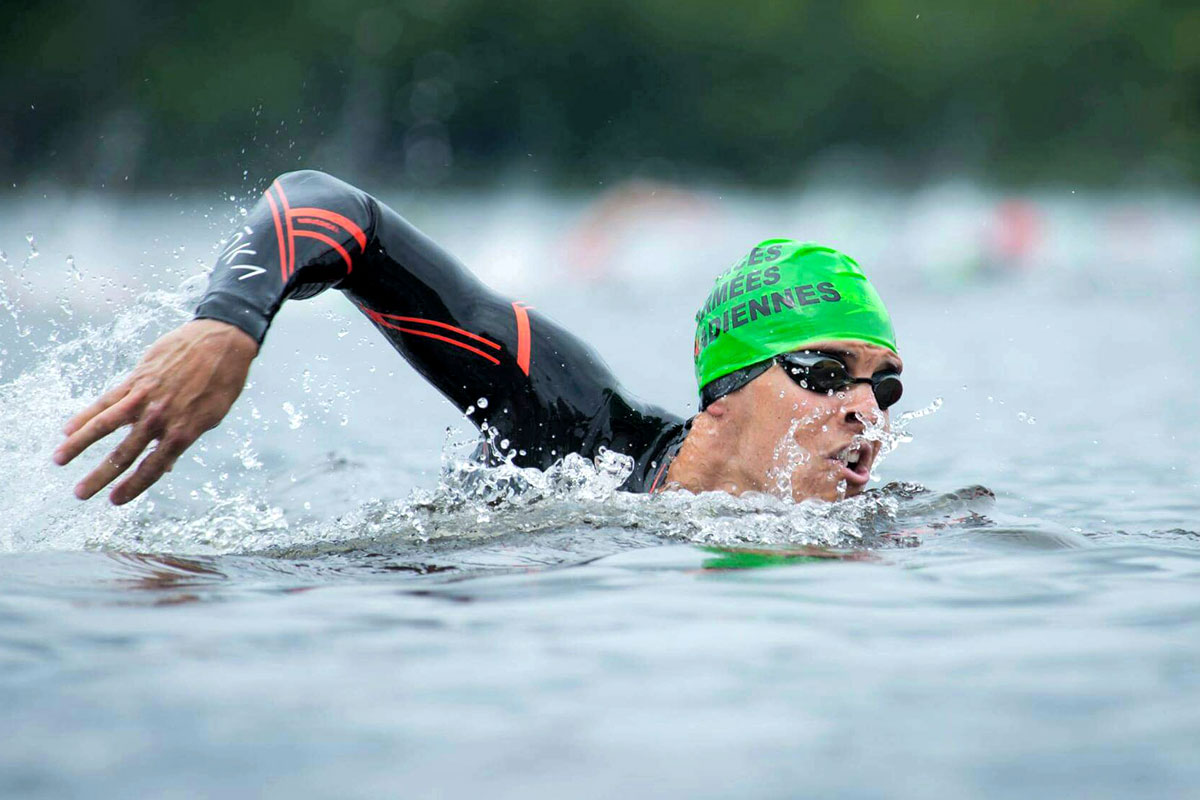 Peter Mallett, Staff Writer ~
Award-winning athlete Lieutenant(N) Nicholas Lightbody has reached new heights after his second-place finish in the Open Age Ironman Canada 70.3 race at Whistler, B.C.
Lightbody, formerly at Base Information Services (BIS) and currently posted to HMCS Discovery, recorded a personal best time of 4:09:10 in the Subaru racing series event held under a scorching summer sun on July 29.
"I'm absolutely ecstatic about the race; it shattered all my expectations and I couldn't be happier with how everything came together," said Lt(N) Lightbody.
The race was half the distance of a standard Ironman race and involved a 1.9 kilometre swim, 90 km bike ride and 21.1 km run.  Competitors battled extreme heat with temperatures topping out at 35°C with higher humidex values. The 26-year-old was runner-up in a field of 1,150 amateur competitors from across Canada and around the world.
With his second place finish, Lt(N) Lightbody beat his personal best by 15 minutes. After crossing the finish line with his arms raised above his head in celebration he was quick to congratulate his coach Mike Neill from Victoria's Human Powered Racing.
"All the hard work that I have been putting in during training has been paying off," said Lt(N) Lightbody. "Mike has created a great program that has help cultivate me into the athlete that I currently am."
Lt(N) Lightbody started off strong in the opening swimming portion of the race and was first out of the water with a time of 25:30. He was particularly surprised by his performance in the half marathon portion of the event where he finished 1:23:21.
But he still wasn't fast enough to catch winner Holtham Elliot of Canada, who bettered Lt(N) Lightbody by just 20 seconds. Holtham is an accomplished competitor who won the 2014 Ironman Australia, and so is third-place finisher Dylan Gleeson of Canada, who was 2017 Ironman Canada champion and finished nearly three minutes behind Lt(N) Lightbody.
Holtham and Lt(N) Lightbody battled each other for the lead during the first 10 kilometres of the run until Holtham overtook him for the final time.
"I had never raced Elliot before, and after the race my coach said he was a good person to lose to," said Lt(N) Lightbody. "I battled to keep close to him during the final stretch in hopes he would fade near the end, but he didn't."
He is currently on leave in Hawaii training for the upcoming Ironman 70.3 World Championships in Nelson Mandela Bay, South Africa, on Sept. 1.
Lt(N) Lightbody is posted to the Vancouver-based reserve unit because he is currently in the process of transitioning out of the Canadian Armed Forces.
"I enjoyed my time in the Forces, received invaluable skills and will always be thankful for my time in the military; however, I have come to a point in my life where I am looking to find other things to pursue," he said.
He is considering a career in either Sport Psychology or Kinesiology.
For more information about the Subaru Ironman 70.3 racing series visit their website: www.ironman.com
Filed Under: Top Stories
Comments (0)