By Lookout on Nov 23, 2017 with Comments 0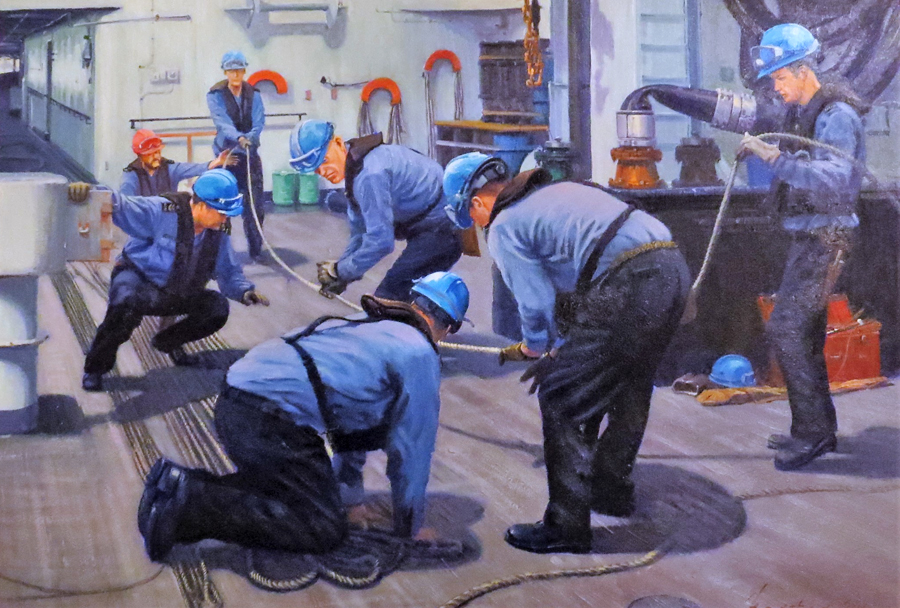 Peter Mallett, Staff Writer ~
A marine art exhibition underway at Victoria's historic Union Club features the work of five B.C. artists and their coastal-themed paintings.
The Maritime Museum of B.C. hosted its Gala Opening for the exhibition, entitled West Coast Perspective on Oct.14 at the club's landmark building located on Gordon St. The exhibit will remain open for public viewing through the month of December.
Contributing artists for the event are: Tofino-based award-winning painter Mark Hobson who is best known for his portrayals of landscapes of the Pacific Coast; John Horton, a naval and marine artist renowned for the historical detail of 18th-Century era paintings; multi-talented Gabriola Island painter and woodworker Tony Grove, Comox-based artist Esther Sample, known for her environmental and conservation art, and Anne Doyle who specializes in land and seascapes.
"Preparing the RAS Deck" is one of three paintings Horton has on display in the exhibition. It depicts former Royal Canadian Navy (RCN) supply ship HMCS Protecteur. His oil-based work features seven crewmembers organizing or 'flaking out' their lines. The Vancouver-based artist created his painting in 2004 when he was commissioned by the Government of Canada to capture life aboard the oiler during Rim of the Pacific, an international maritime warfare exercises.
The Maritime Museum of B.C. and the Union Club have partnered in a number of initiatives in recent years with the most recent being the 2017 Victoria Day Block Party. Proceeds from the sale of artwork at West Coast Perspective will go towards supporting community programs and the club's other charitable initiatives.
The Union Club's membership is made up of local business leaders, government officials, academics and professionals who work with a wide array community organizations in fundraising and other outreach initiatives. Its landmark building on Gordon St. was built in 1913 and was designated a National Historic Site earlier this year.
Filed Under: Top Stories
Comments (0)