By Lookout on Nov 27, 2020 with Comments 0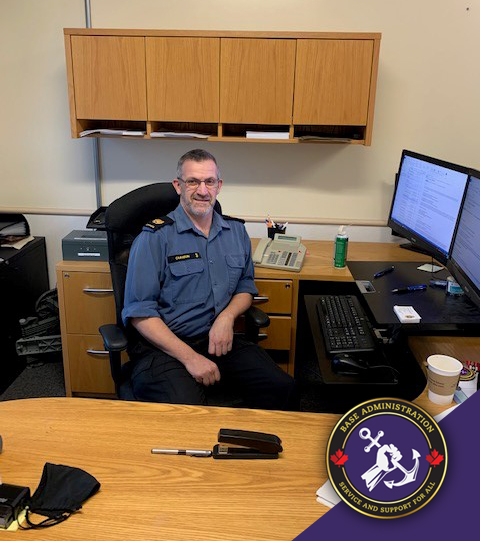 2Lt Jamie Boparai
Base Administration
––
We can leave home, but home never leaves us.
Long before becoming the West Coast Occupation Structure Identification (MOSID) Advisor for cooks, CPO2 Brian Charron was a Naval Weapons Technician.
"I joined in 1988 right out of high school, I went straight to the recruiting centre in Vancouver. My family thought it was a great idea and supported me all the way."
This strong sense of family stuck with CPO2 Charron, and soon after joining he remustered to the cook trade.
"I missed my mom's cooking. She taught me how to cook and it has been a love of mine ever since. I like all food, all the time."
He honed his craft for six months in Borden, ON, during his initial trades training at Basic Culinary School. The basics of ingredient mixing and recipe following are still generally the same today, but cooking has evolved over the years.
"A strong and fit fighting force demands a high level of nutrition. We now cook towards encouraging a healthy lifestyle, our menus have low-fat and vegetarian options, and we are always setting the bar higher as we gain more understanding about the role of nutrition and performance." 
Although passion for his trade and food is quite evident, CPO2 Charron does admit it can be a grinding and thankless job at times.
"You have to be hardworking, dedicated, and calm to be a successful naval cook. On ship, you are on your feet all day, sometimes from 0500 until you are done in the evening. Not only are cooks responsible to feed the crew, but they also have secondary duties such as casualty clearing and firefighting, as well as responding to emergency and training drills."
When others are off exploring foreign ports or attending cocktail parties, the cooks are the ones that remain behind because the crew still needs to be fed.
With the relentless flow of responsibilities, he say, "You have to remain calm under pressure and stress, and I think I have been good at amplifying these traits and mentoring others to do the same."
These traits are what makes CPO2 Charron a perfect fit for his current position as the MOSID Advisor. He understands the pressures associated with the cook trade and sailing, as he has spent most of his 32-year career at sea.
As the West Coast Cook MOSID Advisor for the last two years, he is responsible for employing all the cooks in CFB Esquimalt, whether on ship or on base. He is also the link between the Career Manager and cooks for their career and progression related inquiries.
"I have approximately 120 positions that I look after. It can get quite hectic sometimes as it is my responsibility to ensure everyone is fit and ready to go to sea when called upon. The ships are constantly on the go, and we have to fill positions."
Part of his responsibility is ensuring there is an appropriate ship-to-shore ratio of cooks and that each cook has an appropriate ship-to-shore posting ratio.
"In some ways, this is the toughest part of my job. Being behind the scenes, constantly trying to fill spots and telling members they have to leave their families behind and sail."
Empathy and sound judgement are of vital importance, he says, especially since the global pandemic began.
Authorization of personnel movements in-and-off of ships have become more stringent and health restrictions have left many areas undermanned.
"Members are being sent home with colds, and we have to stay vigilant with our safety, but at the same time we can't leave our sailors without a meal."
Making the job even tougher, many members can no longer sail at this time due to underlying health conditions that may put them at greater risk if they were to contract COVID-19.
"The whole situation is creating significant restraints and it makes fairly balancing sea-to-shore time for our cooks very difficult. I need more people now more than ever to supplement the fleet."
Many bright spots keep the excitement of serving going for CPO2 Charron after 32 years of service.
"The best part of my job is sharing my knowledge with others. I like to ask lots of questions to young cooks and pass on tips and tricks. Mentorship plays an important role in passing on administrative knowledge to up-and-comers, and I enjoy this. It takes a lifetime to learn everything so we always have to be both students and teachers of our chosen art."
––––
Filed Under: Top Stories
Comments (0)