By Lookout on Apr 29, 2019 with Comments 0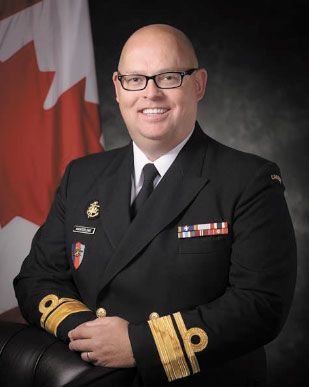 Rear-Admiral Bob Auchterlonie ~
Esquimalt, B.C., is approximately 5,000 kilometers from Halifax N.S., and 7,600 km from London, England. In fact, we in Victoria are closer to Tokyo than Berlin. So why should Canadians on the Pacific coast care about the Battle of the Atlantic?
The answer is simple. When Canada declared war on Germany in September 1939, and sent ships and sailors to sea on convoy escort duties, the whole country committed to the effort.
Men and women from every corner of the dominion volunteered to serve in the Royal Canadian Navy (RCN). Thousands of British Columbians from all walks of life served in the RCN – the Victoria school teacher, the Kelowna forester, the Bella Bella fisherman, the Vancouver mechanic. They left family and friends, boarded busses or trains and headed east to join the fight. Geography ceased to matter. The sailor wearing the RCN uniform wasn't from Thunder Bay, Lethbridge, Moose Jaw or Trois Rivieres. He was from HMCS Swansea or HMCS Haida, or she was from HMCS Shelburne or HMCS Newport Corner. The battle happened on the Atlantic, but it was fought by Canadians from all over.
And fight they did. The ships of the RCN and the Merchant Navy maintained the vital sea lanes that supplied the Allied war effort for six grueling years. At the cost of thousands of lives and hundreds of ships, the sea routes between North America and England were made secure from the German U-boats.
By D-Day in 1944, the allies had superiority in the air and control over the sea lanes. It is safe to say that without the herculean effort of the corvettes, destroyers, merchantmen and RCAF aircraft, the Normandy invasion would not have been possible.
After Victory in Europe in 1945, the sailors went home to pick up where they left off. They made that 7,600 km trip from England to B.C. – back to Victoria, back to Kelowna, Bella Bella and Vancouver. Their duty was over, life went on. These men and women from Canada's Pacific coast might never again have set foot in Halifax or Europe, never again saw, smelled, or tasted that salty Atlantic Ocean.
However, their RCN service is never to be forgotten; their efforts preserved democracy, ended Nazism and secured peace for millions of people. So, we celebrate those efforts the first Sunday in May, by recalling the sacrifices of the teachers, loggers, fishermen and mechanics – sailors all – during the Battle of the Atlantic. We do it to perpetuate the legacy of naval service as a point of national pride.
This year as you look out over the vast, beautiful, Pacific Ocean, recall those who 74 years ago also looked over the Pacific for the last time, heading East, never to return. It may have been named the Battle of the Atlantic; but it was a truly Canadian sacrifice.
Filed Under: Top Stories
Comments (0)