By Lookout on Jun 23, 2014 with Comments 0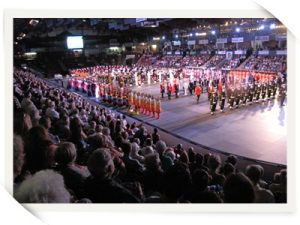 Pacific Tattoo 2014 features performers from across North America in recognition of the anniversaries of World Wars One and Two.
The 3rd Annual Pacific Tattoo, held July 12 and 13 at the Save-on-Foods Memorial Centre, features military and civilian performers from across Canada and the U.S.A, in a theatrical production that honours veterans and recognizes the centenary of the First World War, and the  70th anniversary of D-Day.
"We have the familiar tattoo ingredients: military bands, precision marching, pageantry, uniforms, historical recognition, nostalgic music and of course pipes and drums and highland dancers," says Roger McGuire, producer of the Pacific Tattoo. "Each year the Tattoo incorporates a central theme. This year we recognize anniversaries associated with both World Wars, and we'll honour veterans who will be in attendance."
New to this year's event are the New Guard America, Princess Patricia's Light Infantry Drum Corps, and the Band of the 15th Field Artillery Regiment.
New Guard America, holder of 13 Guinness World Records and 11 world championship competition titles, is the world's only internationally touring professional civilian fixed bayonet rifle exhibition drill team.  Widely regarded as the best in the world, New Guard America features six rifle sequences of such extreme risk and difficulty; they are the only drill team in the world to perform them. The non-firing weapons used during their performances are the M1903-03 rifle. These weapons were used by U.S. military during both World Wars.
Returning performers include The Naden Band of the Royal Canadian Navy; the Tattoo Pipes and Drums including members of the Canadian Scottish Regiment and Seaforth Highlanders of Canada; and the "E" Division RCMP Ceremonial Troop.
Pacific Tattoo organizers are scheduling free daytime performances around Victoria July 9 through 11.  Watch for impromptu "10-minute Tattoo teases" in the Inner Harbour and in Centennial Square.
Tickets for the Pacific Tattoo start at $35 and are on sale now at www.selectyourtickets.com, by phone at 250-220-7777, or in person at Save-On-Foods Memorial Centre, 1925 Blanshard St. in Victoria. 
A Family Pack of four tickets (two adults and two youth) is available, in limited supply, for $99.  All tickets are subject to tax and service charges which will be added at point of sale.
For more information, visit www.pacifictattoo.ca, follow @pacifictattoo on Twitter, or "like" Pacific Tattoo on Facebook.
Filed Under: Top Stories
Comments (0)