By Lookout on Oct 17, 2017 with Comments 0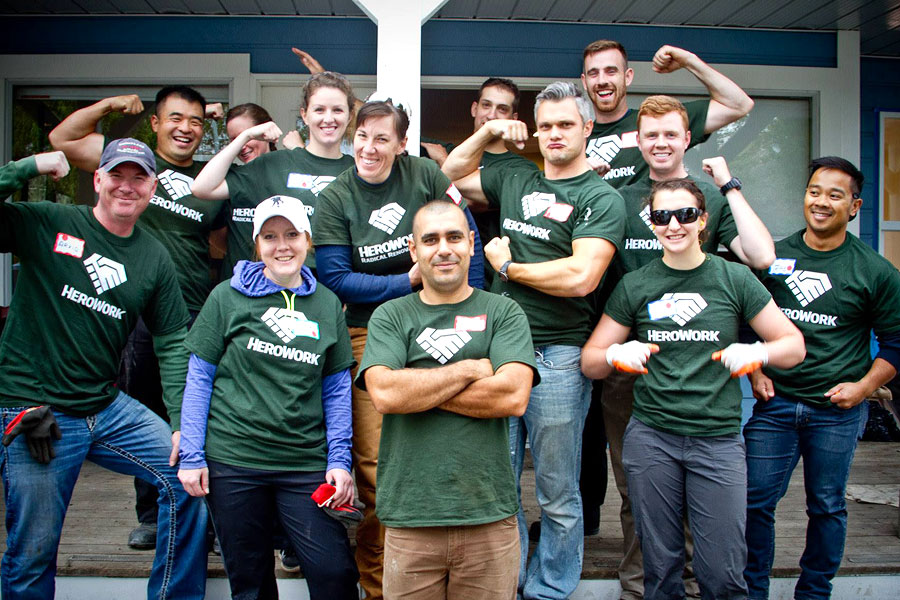 Peter Mallett, Staff Writer ~
For three weekends this fall sailors from HMCS Calgary and volunteers from Boomer's Legacy Foundation gave up their personal time and transformed themselves into heroes.
Approximately 20 sailors from the warship and others recruited by the Canadian Forces Morale and Welfare Services (CFMWS) charitable fund grabbed their steel toed boots and tool belts and went to work for local charity HeroWork in a close to $300,000 renovation project at Anawim House.
The downtown shelter serves as a day house and residence for the homeless and people living in poverty. It was the beneficiary of a HeroWork Radical Renovation, a project that brings together both skilled and non-skilled labourers in a project similar to an old-fashioned barn raising.
During the weekends of Sept. 23, 30 and Oct. 7, civilian and military volunteers worked side-by-side and completed the renovation project.
Work included: building a new nurses room, office, outdoor deck and bike repair shop. Volunteers also upgraded the kitchen and storage area, refurbished a large outdoor shed, and made extensive painting and landscaping improvements.
HeroWork Founder and Executive Director Paul Latour said the project was completed without any major hitches or surprises. He was pleased the group was also able to achieve more than expected. Bonuses included extra landscaping work, a new staircase and a new roof for the outdoor shed.
Latour noted the crucial role military volunteers have played since HeroWork was founded in 2012, including renovation projects for Rainbow Kitchen, the Mustard Seed Food Bank, Power to Be and others. He says whether military personnel are performing skilled or unskilled tasks they always bring something special to the table.
"HeroWork is so impressed with the work ethic, intelligence and cooperation of military personnel and their ability to form teams and take direction or give direction when appropriate," said Latour. "You immediately see that the teamwork thing is happening, but it comes without the ego. They take charge when it's appropriate and direction when needed."
Sailors from Calgary and other military volunteers helped fill a total of 35 eight-hour shifts over three weekends.
Sub-Lieutenant Juliana Currie, a Bridge Watchkeeper in Training on Calgary, helped out with landscaping and painting duties on Sept. 30. It was the 23-year-old's first time volunteering for any charitable group and she said doing the work was an eye-opener.
"Overall, I think it was a very profound experience for me. It was very rewarding and I would definitely do something like this again," said SLt Curie. "I didn't know what to expect coming into this, but everyone was very helpful and it was a truly welcoming environment to work in. The experienced tradespeople on the site were very good at helping explain the tasks at hand to the other volunteers."
In addition to volunteers, the military community has made significant financial contributions to the HeroWork Society, with Boomer's Legacy Foundation making two $20,000 donations over the past two years. Latour said the group was instrumental in helping HeroWork meet many of its expenses as well as helping recruit volunteers from the community to pitch in on the project.
To show appreciation, two members of the Boomer's Legacy Board of Directors were given a special guided tour of Anawim House on Oct. 1 in advance of the open house reveal on Oct. 14.
For more information about HeroWork, visit their website www.herowork.com.
Filed Under: Top Stories
Comments (0)