By Lookout on Jun 19, 2020 with Comments 0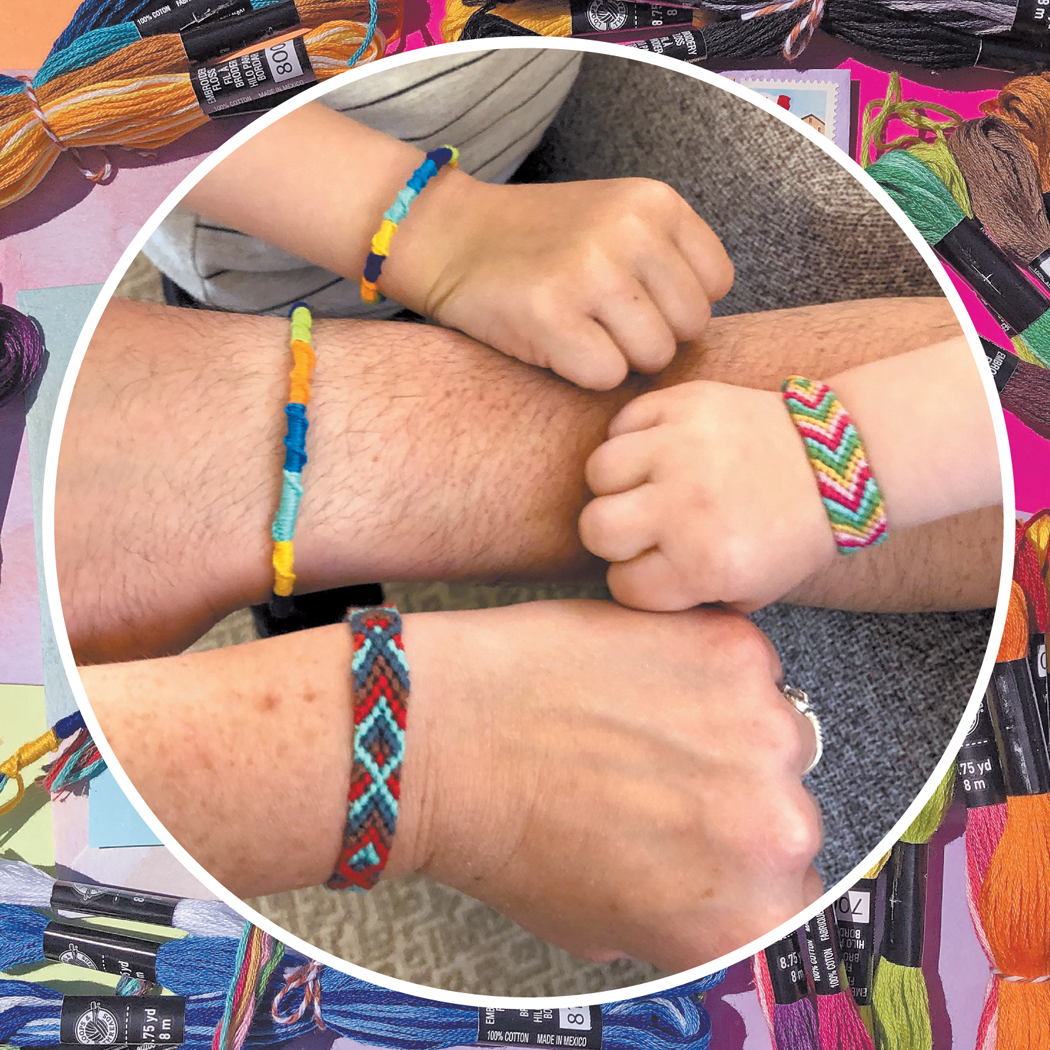 Peter Mallett, Staff Writer ~
A Belmont Park resident is distributing friendship bracelet kits to children in the community to help ease their isolation from physical distancing.
Lt(N) Melanie Weaver, a military mother and service spouse who works at CFB Esquimalt, resides in one of the Belmont Park neighbourhood's Residential Housing Units. She began delivering the first 70 kits with friend and fellow resident, CPO2 Lyne Edmondson, a few weeks ago to the mailbox of area families who requested them.
Operation 'Send-A-Hug', as she calls it, is a care package with a half dozen skeins of embroidery floss, a safety pin, cardstock paper, and a colourful envelope with paid postage. Children can make a bracelet for themselves and a matching one for a friend, and then mail it to them with a note in the postage-paid envelop. The process of making a friendship bracelet requires some parental guidance for younger children and involves braiding and knotting the embroidery floss.
"This is all about building community, connecting military families, and spreading happiness," said Lt(N) Weaver. "Parents seem very excited to do crafts with their kids, and for older children it gives parents a few moments of peace and quiet with their kids being occupied."
Materials were ordered online from local craft shops with curbside delivery.
"It was an insignificant cost compared to all the smiles this will create; the bang for the buck is priceless," she said.
The idea was born after thumbing through a summer camp scrap book with her three-year-old son. The scrapbook contained pictures of Lt(N) Weaver when she was 12 years old. One photo caught the youngster's eye.
"My son looked up at me and asked what we were doing," she said.
She and her friends were making friendship bracelets.
"Days later I was reading up on changes to children's summer recreation programs and realized that today's kids may not get to go to camp this year," said Lt(N) Weaver. "I felt upset they would miss out on such an important memory due to COVID-19 physical distancing measures, so I decided to give them something resembling the fun we were having when that photo was taken."
Thirty more kits will be delivered this week, for a total of over 100 kits.
Tutorials of how to make a friendship bracelet are available at https://theneonteaparty.com/friendship-bracelets/
Various other community spirit and place-making activities (all physically distanced) are on the go throughout Belmont Park. If interested in connecting with the group, please email Neighbours.BelmontPark@gmail.com.
––––
Filed Under: Top Stories
Comments (0)