By Lookout on Jun 14, 2018 with Comments 2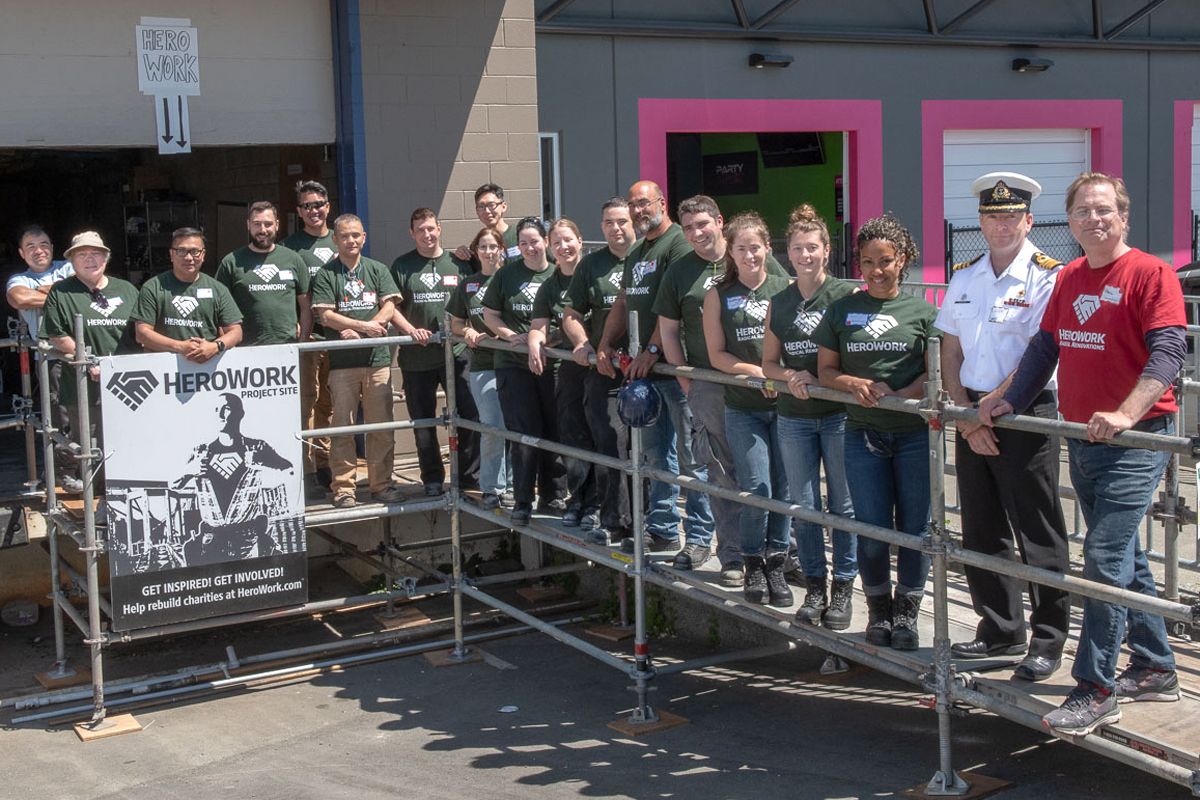 Peter Mallett, Staff Writer ~
Military personnel are once again rolling up their sleeves for a community renovation project.
For three weekends in June, volunteers from CFB Esquimalt are giving up their personal and family time to help local charity HeroWork and its "Radical Renovation" of the Mustard Seed's Food Security Distribution Centre on Viewfield Road.
The distribution centre, in which the Food Share Network also operates, rescues food from area grocery stores and then redistributes it to over 60 agencies, benefiting 42,000 people per month. HeroWork is building a state-of-the-art commercial processing kitchen for them.
Approximately 30 military members are assisting in a whirlwind build and design project that HeroWork Executive Director Paul Latour likens to an old-fashioned barn raising.
After the project's first weekend of activity, Latour congratulated Canadian Armed Forces members for their efforts and noted they have always been a huge part of his group's recipe for success.
"The work ethic of Canadian Forces members brings great value to this and other HeroWork projects in the past," said Latour. "They organize well, work diligently, and are familiar with this type of work, of which teamwork is a quintessential part."
Personnel from HMCS Calgary, HMCS Winnipeg, Naval Officer Training Centre and HMCS Chicoutimi have assisted in the project. The building of the sorting kitchen is expected to be completed June 17, with a grand opening event, dubbed a 'Big Reveal', showcasing the improvements on June 23.
The total value of their latest project is estimated at $450,000 and some of the work at the facility includes plumbing, gas, electrical, flooring and ducting upgrades; safety and fire suppression improvements; storage upgrades; two new bathrooms, landscaping improvements; installation of a new oven, steam kettle, gas ranges, broilers, sinks, refrigeration, and new offices.
This renovation will boost the local charity's ability to tackle an issue that is of great concern to Canada, says Latour. Reports by the Toronto Food Policy Council estimates that $31 billion of food gets wasted in Canada. Latour says other studies indicate four million Canadians, including 1.15 million children, experience some level of food insecurity.
Currently, Mustard Seed rescues approximately 4,400 lbs of perishable food every day, but due to the condition of some food by the end of the year 85,000 lbs of it ends up on the compost pile. With this new processing kitchen, approximately 40,000 lbs of this food will be transformed into nutritious soups, stocks, and sauces and then sent out to community partners through the Food Share Network.
"HeroWork organization does an excellent job of selecting projects that benefit the wider community," said Lieutenant Commander Mai Guo, HMCS Calgary Engineering Officer.
The 32-year-old has been involved with HeroWork since their Radical Renovation of the Rainbow Kitchen in 2016.
"After seeing all of the contractors, community volunteers and groups giving up their time and resources for a good cause, I thought this is definitely a group I would like to stay connected with."
He is MARPAC's HeroWork liaison for the latest project. He encourages military personnel to pitch in, and he gets hands-on with excavation, grease trap maintenance, drywall and paneling installation. 
LCdr Guo says he is already looking forward to helping organize HeroWork's second project at the same site in October. That's when a Radical Renovation will transform Mustard Seed's existing food hamper program into a grocery-store-style Dignity Market for the food bank's users.
While he will be deployed during that renovation, he is putting out the call for more volunteers and hopes other military personnel at the base step up to help.
If you are interested in pitching in with the ongoing renovation or the next project contact him at
Mai.Guo2@forces.gc.ca.
For more information about HeroWork, visit their website www.herowork.com.
Filed Under: Top Stories
Comments (2)