By Lookout on Aug 31, 2015 with Comments 1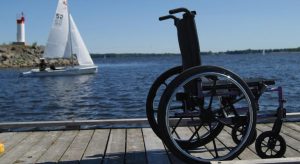 A team of volunteers are getting set to huff, puff, and put some wind into the sails of this year's Mobility Cup.
The Canadian Forces Sailing Association (CFSA) located at Munroe Head on the north side of Esquimalt Harbour is host to the 24th annual edition of Canada's international regatta for sailors with disabilities, Sept. 7 to 11.
"We have been working all year to get our club ready for this event," said Bill Macdonald, Disabled Sailing Association representative for CFSA. "It is a big effort, but it is also a lot of rote because we have done this so often before."
CFSA hosted the Mobility Cup in 1995 and again in 2001. Macdonald says this year's regatta will require over 150 volunteers to help welcome 42 competitors from across the United States and Canada.
Most volunteer positions have been filled, but Macdonald says they are still looking for a few good men and women to assist. CFB Esquimalt is providing tents, chairs, tables and several other support items. He says the CFSA are expecting a crowd of 300 to 400 people for the five-day event.
"It is just incredible and truly amazing that they have opened their doors to us again," said Emily Boardman, Coordinator of Services at Recreation Integration Victoria.
"The ramps and washrooms at the CFSA are easily accessible and have been redone, which will make the experience for participants much easier."
CFB Esquimalt renovated all the heads and wash places to make them accessible in 2001, and a new ramp to the docks was installed in 2008 Macdonald and Boardman both say the salt water course, which runs to the south of Royal Roads University in nearby Colwood, will pose unique challenges for some sailors.
"Esquimalt Harbour can be quite fluky and unpredictable the way the wind is constantly changing as it blows through the harbour," said Boardman, who once represented Canada's youth national teams as a competitive sailor.
"A lot of our sailors are lake sailors, so being out there with ocean tides and waves will be an extra challenge for many."
Macdonald helped facilitate the CFSA's involvement with the DSA in 1994 as it completed its search for a permanent home for the organization's Victoria chapter.
Since that time he says "many" of Canada's top Paralympic sailors have honed their skills at the CFSA and brought home multiple medals from past Paralympic games.
The Mobility Cup can trace its roots back to the memorable moment when British Prime Minister Margaret Thatcher presented a Sunbird sailboat to Rick Hansen in honour of his "Man in Motion World Tour" at Expo '86 in Vancouver.
Two years later Hansen presented the boat to Sam Sullivan, a quadriplegic, who three years later founded the Disabled Sailing Association of British Columbia (DSABC) at the Jericho Sailing Centre on English Bay with the dream of making sailing accessible to all.
Peter Mallett
Staff writer
Filed Under: Top Stories
Comments (1)