By Lookout on Aug 12, 2021 with Comments 0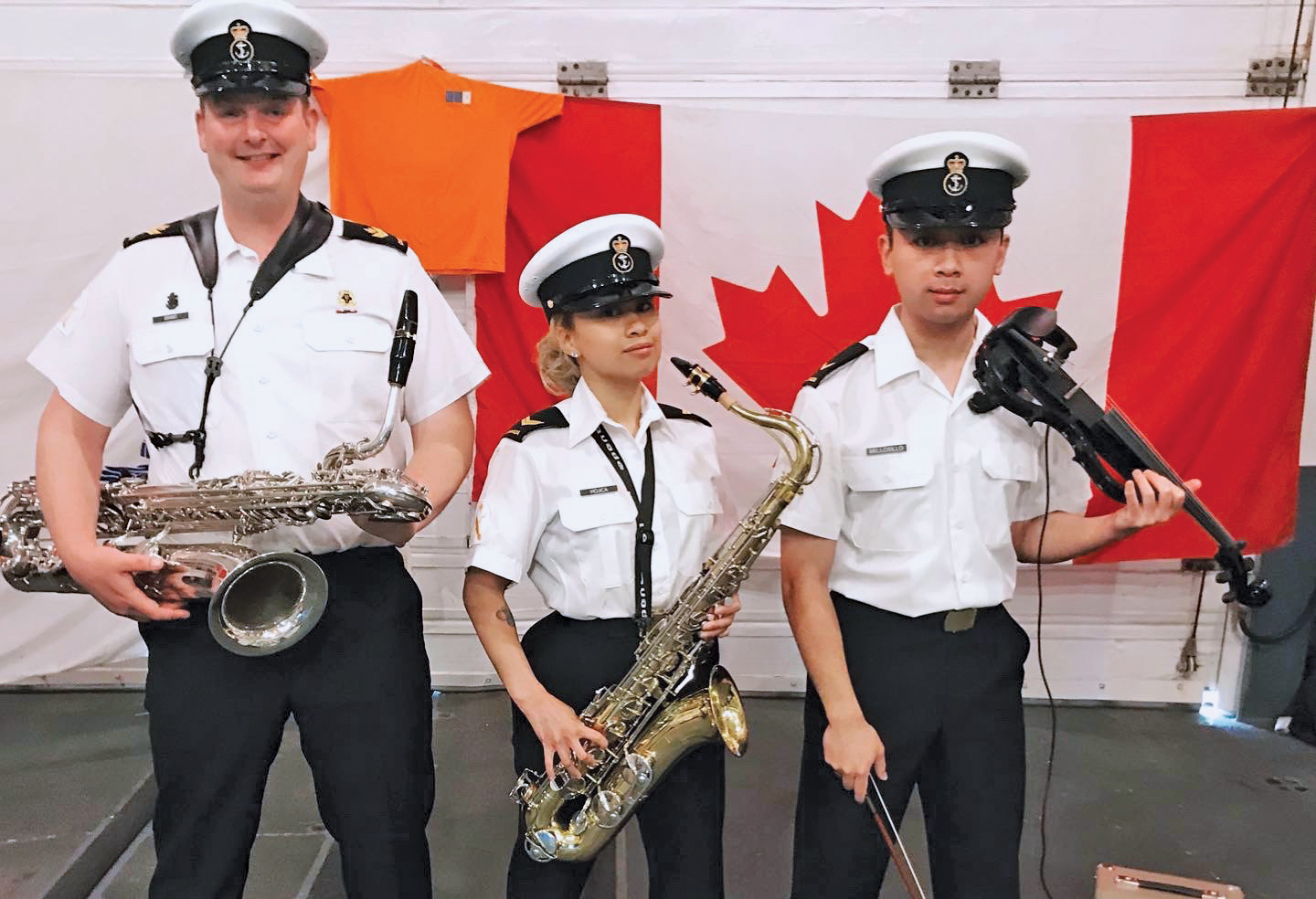 Peter Mallett
Staff Writer
––
Three HMCS Regina sailors have banded together – literally.
Sailor First Class Marianne Mojica, Master Sailor Justin Grant, and S3 Giovanni Bellosillo have combined their musical talents to form the 3 Deck Band.
They play in the ship's junior rank's mess and other locations on board where sailors gather during special occasions and events.
"A lot of people have been excited to hear us play and will join in and sing or even bring their own instruments and jam along with us," says S1 Mojica, who plays tenor saxophone. "I started the band because I wanted to make things a little bit different on board during the pandemic and boost people's moods. It is a morale booster and sweet escape for us and something our ship can be proud of."
The 27-year-old has been interested in music since she was four; she also plays piano, oboe, guitar, drums, Ukulele, and does vocals. She has been involved in orchestra bands, concert bands, and choirs, some of which were paid gigs.
The favourite genre of 3 Deck Band is jazz, but they are not opposed to taking requests on anything from rock, pop, country to R&B.
When Regina was stationed at the West Coast Firing range in Nanoose Bay for Canada Day to test its 57mm guns, the band assembled in the ship's hangar to mark the holiday with a stirring rendition of O Canada.
Joining S1 Mojica's saxophone is MS Grant on Baritone saxophonist and S3 Giovanni Bellosillo on the violin. 
When S1 Mojica isn't playing music or performing her Naval Weapons Technician job, she is looking for art projects. On the wall of the junior rank's galley she painted city skylines of places the ship has visited in recent years. She also helped make and paint a plaque, which served as a departure gift for their Commanding Officer during their Change of Command ceremony.
––––
Filed Under: Top Stories
Comments (0)