By Lookout on Jun 26, 2016 with Comments 2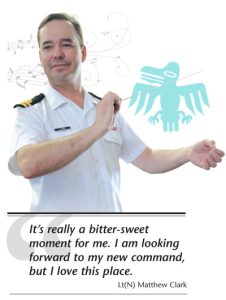 Peter Mallett, Staff Writer ~
For the past five years Lt(N) Matthew Clark and the Naden Band of the Royal Canadian Navy (RCN) have made beautiful music together. But now it's time for the beloved conductor to make his exit from the band and head east.
On July 19 the band's commanding officer will end his posting in Esquimalt and take up a similar position with the Royal Canadian Air Force Band based out of 17 Wing, Winnipeg.
"It's really a bitter-sweet moment for me. I am looking forward to my new command, but I love this place, the musicians, and the band's rich 75-year musical history," says Lt (N) Clark. "There is a tendency to want to put my nails on the ground and go out kicking and screaming because it's been such a perfect storm for me in Victoria and I've loved every minute of it."
He first learned of his transfer to Manitoba in December 2015. The move is part of a first-ever, nation-wide shakeup of Canadian Armed Forces band commanding officers, and is an effort to "bring something different and give a positive change" to all the bands across Canada, he explains.
SLt Vincent Roy, who is currently posted to CFB Borden, will replace Lt(N) Clark as commanding officer.
Of the incoming commanding officer, Lt(N) Clark says, "SLt Roy is an exceptional musician who is certain to do very well with his new job of commanding this ensemble of 35 full-time, professional musicians."
"I told him you've got a Lamborghini in the Naden Band and the only way it will work is if you drive it and love it," he adds. "It may sound arrogant to say it, but he's inheriting one of the finest wind bands in the country and I really mean that. When this band is on fire they're untouchable and I am certain they will continue that success."
Two of his proudest achievements for the band were establishing innovative musical collaborations with the University of Victoria Wind Ensemble and the Victoria Symphony.
"If you want to be great at something you must surround yourself with people who are the best in their fields," he says. "That's the best way, a collaborative effort. You need to work hard to achieve this, and that has been my focus since day one when I arrived here."
Other organizations who Lt(N) Clark established ties with include: Government House, the Royal and McPherson Theatres Society, Ian Tyson with Heritage Canada, the Royal British Columbia Museum, Victoria Film Festival, Esquimalt Township Community Arts Council, Royal Roads University, University of British Columbia and the Victoria Philharmonic Choir.
One of his biggest personal accomplishments came recently when he was nominated by the prestigious American Bandmaster Association to join its select list of 300 conductors, which includes just six Canadians.
The English-born musician grew up in Southern Ontario and is a graduate of the University of Toronto. Prior to his arrival at Esquimalt he served with CAF bands in Edmonton and Ottawa, and with the Canadian Forces Logistics  Training Centre Music Division at CFB Borden.
He is also a talented euphonium soloist and his solo recording entitled "Euphonium" has been featured on CBC Radio and the British Bandsman, the longest-running periodical on brass bands.
His list of accomplishments and accolades haven't gone unnoticed by his bandmates either.
Saxophonist PO2 Ken Gibson is the band's longest serving continuous member and has worked under six commanding officers. He says Lt(N) Clark's arrival in 2011 signalled a big change.
"He has brought the band to a whole new level and has brought fresh ideas and a new approach," he says.
PO2 David Gagnon, also a saxophonist, described Lt(N) Clark as a "great leader" who is both personable and understanding.
"It's not just the band members but the entire military community and City of Victoria who are sorry to see his departure," says PO2 Gagnon.
Lt(N) Clark gave his last public performance for the Naden Band during the June 8 Navy Ball at Government House. The band played the RCN's official march "Heart of Oak" and then the conductor made his exit from the stage.
"It was a great way to go out," Lt(N) Clark said.
Filed Under: Top Stories
Comments (2)