By Lookout on Jan 18, 2016 with Comments 0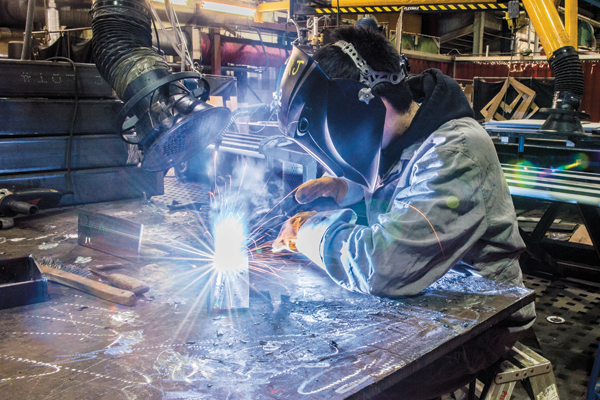 Rachel Lallouz, Staff Writer
 
The Royal Canadian Navy (RCN) is resolving an issue with quality assurance measures of a small portion of welds performed in its West Coast surface and sub-surface fleet.
In the fall of 2014, during a routine quality control inspection carried out by contractor Victoria Shipyards, an anomaly was identified in a small number of welds in Her Majesty's Canadian Ship (HMCS) Ottawa.
After identifying that the issue was a quality assurance matter, Victoria Shipyards articulated their findings to Babcock Canada Inc., since they were completing HMCS Chicoutimi's Extended Docking Work Period during the same period, and alerted the RCN to their findings.
A collective investigation by the RCN, Babcock Canada Inc. and Victoria Shipyards ensued to determine whether or not the weld quality assurance issues were isolated to HMCS Ottawa.
"As the senior engineer of the Formation, I was notified, and immediately began working in partnership with the other organizations to determine the extent of the problem," said Captain (Navy) Christopher Earl, Assistant Chief of Staff for Naval Engineering and Maintenance. "Given the importance of the safety and security of our sailors, and any potential impact on operations, concerns such as these are taken very seriously and always investigated."
The review and subsequent investigations identified that the quality assurance checks conducted on welds inside frigates, and on the air and hydraulic pipes in submarines did not meet the high integrity standards of the RCN. Findings ultimately revealed that the welding quality assurance issues also affected HMC Ships Vancouver and Winnipeg, as well as Maritime Forces Pacific's two submarines, Chicoutimi and Victoria.
A total of 684 welds were re-examined in the three frigates; as a result, 16 welds (2% of the total) were identified as requiring repairs.
The number of welds requiring re-inspection is relatively small in comparison to the total number of welds present on any given ship or submarine. Within HMCS Chicoutimi, for example, a few hundred welds are being examined, a small number considering a submarine contains tens of thousands of welds, explained Capt(N) Earl.
Pending the results of these checks, a robust risk-based approach was applied to the decisions about continued operations of the fleet. Meanwhile, East Coast frigates and HMC Submarines Windsor and Corner Brook are unaffected by this issue.
"We took a very proactive and pragmatic approach to solve the problem, while continuously ensuring the requisite safety standards were maintained," says Capt(N) Earl, who explains that the required welding work on the three frigates was completed in May 2015.
The re-inspection and weld repair work onboard HMCS Chicoutimi begun in February 2015, and is being conducted under warranty by Babcock Canada Inc., the Victoria-class In-service Support Contractor. As the inspections continue, HMCS Chicoutimi will move into dry dock later this month where any required weld repair work will be done concurrently with other scheduled maintenance and upgrades. The intent is to have Chicoutimi back in the water by late spring of 2016.
The investigation into the weld quality assurance process in HMCS Victoria is ongoing, though it is too early in the process to provide further information about any scheduling or remedial actions in the submarine at this time.
"What's really important here are the partnerships between contractors in the industry and ourselves," says Capt(N) Earl. "Despite the obvious complexity of this situation, everybody is coming to the table with people, resources, and solutions to make sure the navy gets the vessels back to the operational state that we need, while ultimately ensuring that the safety and security of RCN sailors is maintained to the highest level."
Filed Under: Top Stories
Comments (0)