By Lookout on May 21, 2019 with Comments 0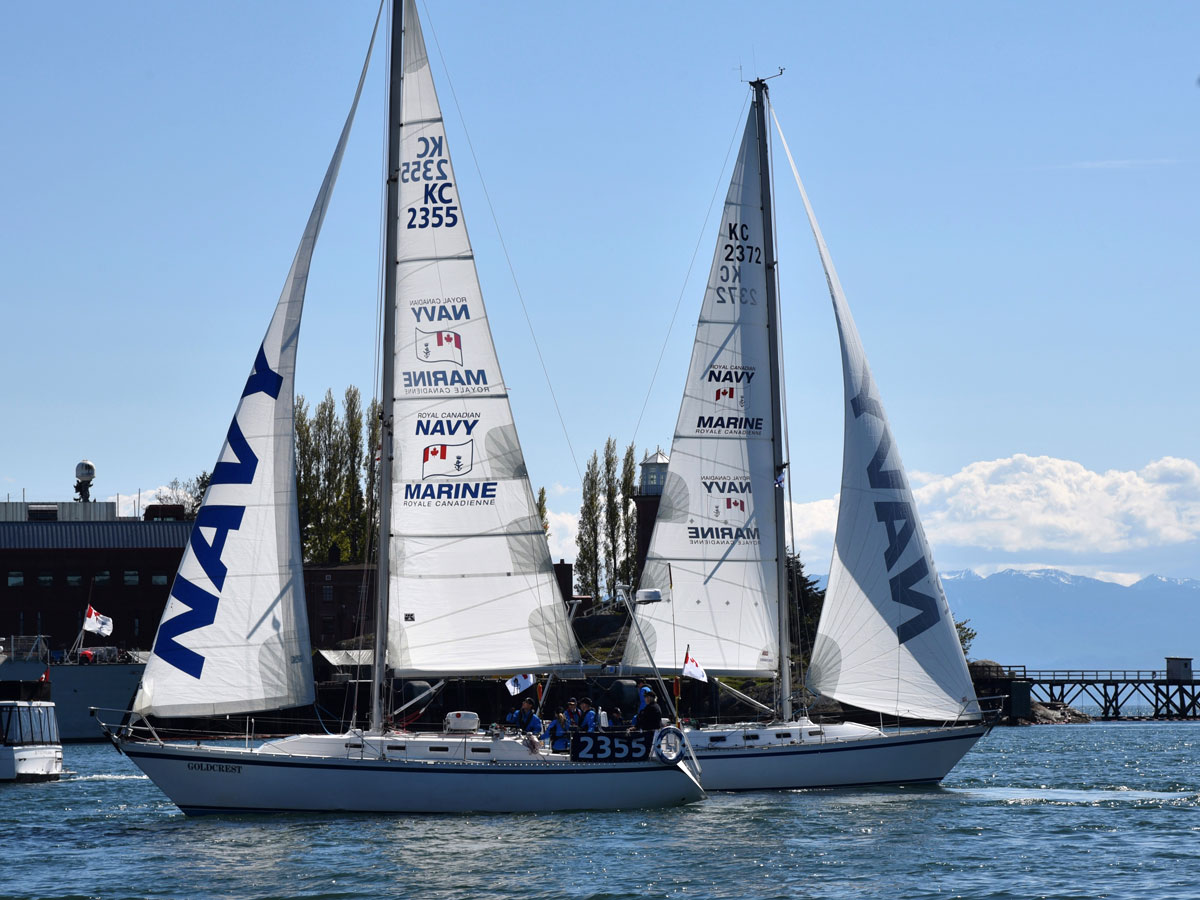 Peter Mallett, Staff Writer ~
Two sail training vessels of the Royal Canadian Navy with their team of sailors are set to compete in next month's prestigious Van Isle 360 International Yacht Race.
This year's biennial 580-nautical mile race is a 15-day sailing competition around Vancouver Island beginning June 1 in Nanaimo. This year's 15th edition will involve what organizers say are 38 of the fastest yachts in the region and approximately 400 competitors.
Lieutenant Commander Chris Maier, a Division Commander at Naval Fleet School (Pacific), heads Esquimalt's team who will race aboard Fleet School's 36-foot, sloop-rigged (single mast), Sail Training Vessels (STV) Goldcrest and Tuna. LCdr Maier says the race will provide an "invaluable experience" for those selected to compete.
"It's a very exciting race that will showcase what the RCN sail training program is able to do," he said. "Sailors will be tested in all sorts of conditions, whether sailing upwind in very challenging conditions to transiting difficult stretches of waterway such as the notoriously difficult Seymour Narrows near Campbell River."
Crews for the two boats are sailors from Naval Fleet School (Pacific) and Regular Officer Training Program (ROTP) students, most of whom are new to the navy and sailboat racing. Teams will be led by a few experienced sailors handpicked from the fleet to be watch captains.
LCdr Maier is also Commodore of the Canadian Forces Sailing Association (CFSA) recreational sailing club. He has seven years sailing experience and spends many weekends out on the water with the CFSA, but says the race is also going to put his abilities to the test.
"This will be the most challenging thing I have ever done aboard a sailboat," he said. "It will be a long and intense series of nine sailing legs between nine ports in many places I have never sailed before, and I will be doing it with a fairly new crew, many of whom will have limited sailing experience."
LCdr Maier started with a pool of 20 sailors. After the group completed 10 days training culminating in a sea survival course, he trimmed the race roster to 16. The training phase will be followed by the participation of Tuna and Goldcrest in this year's Swiftsure International Yacht Race, May 25 and 26 in Victoria.
The navy will also provide Orca-class PCT Raven as a support vessel for the Van Isle 360 Race, and for search and rescue capabilities if required by Joint Rescue Command Centre Victoria. Raven will also act as a supply and support vessel for the two racing teams, while at the same time providing community outreach in the form of guided tours of the vessel while visiting port towns along the coastline.
It's been 10 years since the base was involved in the race, with HMCS Oriole taking part in 2009. Van Isle 360 co-owner and organizer Jeff Motley congratulated the navy for their return to the race and noted their participation provides his event with an enhanced level of interest in port towns who are hosting the race.
"We think it's absolutely awesome and really a big deal for us to have an organization with the stature of the Royal Canadian Navy involved in our race," said Motley. "It's also important to note the positive vibes we are getting from people in towns such as Ucluelet, Port Hardy, and Winter Harbour. They are excited the patrol craft will be coming to their community to visit."
For more information about the Van Isle 360 Yacht Race visit their website www.vanisle360.com
Filed Under: Top Stories
Comments (0)