By Lookout Production on Jun 27, 2022 with Comments 0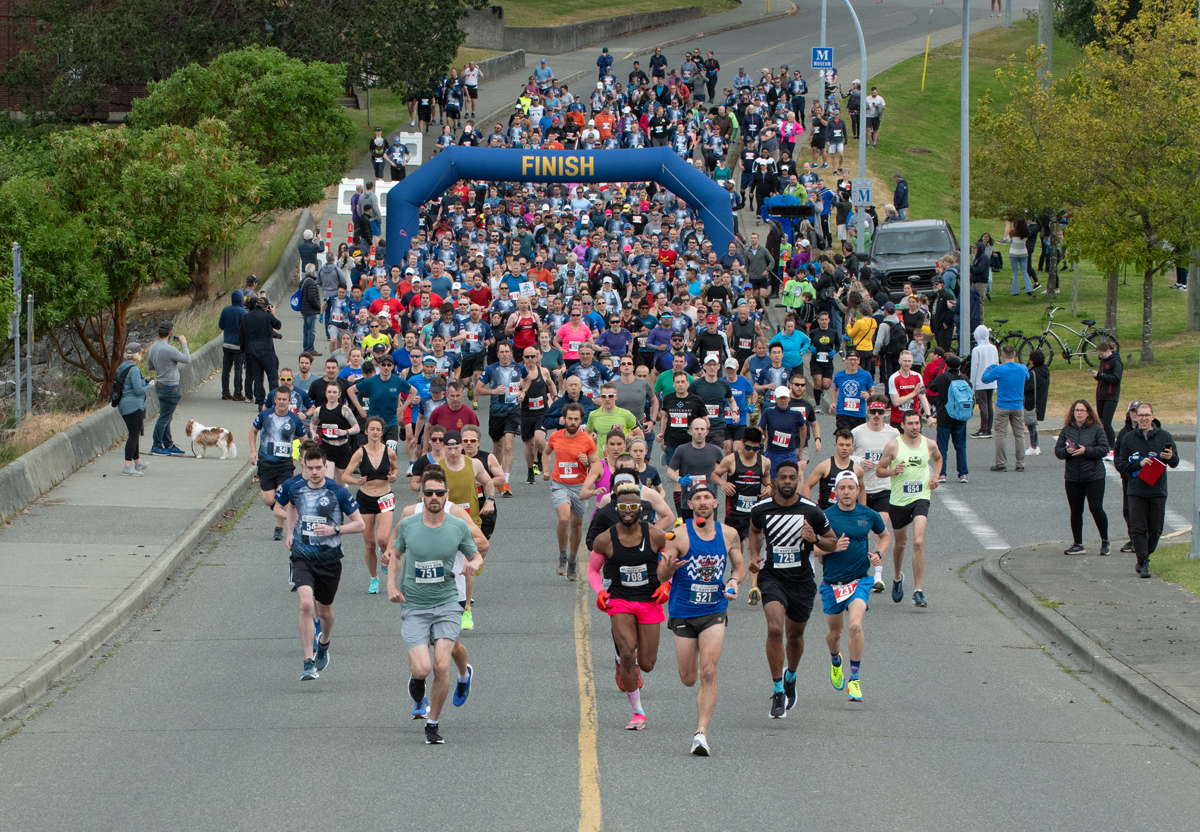 Peter Mallett 
Staff Writer
—
A trailblazing female runner from Nanaimo not only took the title for the women's category in this year's Navy Run's 10KM race, but also left the majority of her male competitors in the dust "This is a big deal, it is very hard racing against the men and it made me so happy when I finished the race and realized, yes, I am right up there with the top male finishers," said Natasha Parsons following her victory.   
Parsons took fifth place among all competitors, with a scorching time of 38:27.
The 36-year-old private school teacher began running races three years ago after moving to Canada with her husband Henry Parsons, formerly a member of the British Military Royal Engineers. Since then she has competed and won multiple road races, triathlons and duathlons.
In 2019, Parsons won the B.C. Provincial Duathlon Championships in Penticton, B.C. That qualified her for the ITU World Championships in Standard Distance Duathlon in 2020, but the event was cancelled due to COVID-19. Recently, she won multiple races in the Vancouver Island Race Series, and a Vancouver Island Trail Series 17KM race at Westwood Lake.
Parsons says her victory came because she 'just ran'.
"Normally in races I try to find a guy who is running slightly faster than me as this keeps me more motivated," she said. "But the guy I was running with in the Navy Run was not fast enough."
Parsons tried to narrow the gap throughout but was still nearly four minutes slower than the top finishing male in the race.
"I was not fast enough to catch up with the lead pack of four men, so I ran most of the race on my own, which was difficult with nobody to pace against," she said.
A sea of smiling faces
This year's Navy Run was also a behind-the-scenes success story.
The run saw a substantial up-tick in registration numbers. According to race organizers, 837 competitors registered this year, compared to 673 in 2021, 660 in 2020, and 735 in 2019.
The 2022 event was the first time runners could participate either virtually or in-person. Heather Catte, Navy Run Director and Senior Manager, Personnel Support Programs, says offering a virtual race option was a big success and substantially boosted participation numbers.
"We found virtual participation was so widely praised during the height of COVID-19 restrictions when we were unable to offer an in-person event," she says.
This year also marked the second year the Navy Run has partnered with Soldier On for fundraising purposes. The support program is managed by Canadian Forces Morale and Welfare Services, and contributes to the recovery of ill and injured Canadian Armed Forces members and veterans by providing sport, recreational, and creative activities. Soldier On fundraising also increased this year, said Catte, with $7,660 in donations raised, compared to $5,965 in 2021.
Title sponsors for the event included Seaspan Victoria, Babcock Canada, Bell Media, Kids Physio, Pure Body, and Used Victoria.
All of these logistical factors made the 2022 Navy Run an overwhelming success, concluded Catte.
"The participants were able to safely enjoy coming together as a community to support each other, get active and start returning to participation in base events," she said. "This year's in-person event was a sea of smiling faces, and people were truly excited to get back on the race course and challenge themselves. Virtual participants were able to find their own challenging routes to run."
Winner 10K Female: Natasha Parsons
Winner 10K Male: Philippe Traverse and kids

Winner 5K Female: Bailey Toupin
Winner 5K Male: Michael-Lucien Bergeron
Challenge Winners:
This category celebrates top overall performance by a unit or department at the base ranked by overall
membership numbers.
Large Unit: Base Logistics
Medium Unit: Canadian Submarine Force
Small Unit: Naval Personnel and Training Group
2022 Registration Numbers:
– In Person 5K/10K: 519
– In Person Kids Run: 48
– Virtual: 270
– TOTAL: 837
2021 Total: 673
2020 Total: 660
2019 Total: 735 (No Virtual)
2018 Total: 549 (No Virtual)
Filed Under: Top Stories
Comments (0)