By Lookout Production on Mar 17, 2022 with Comments 0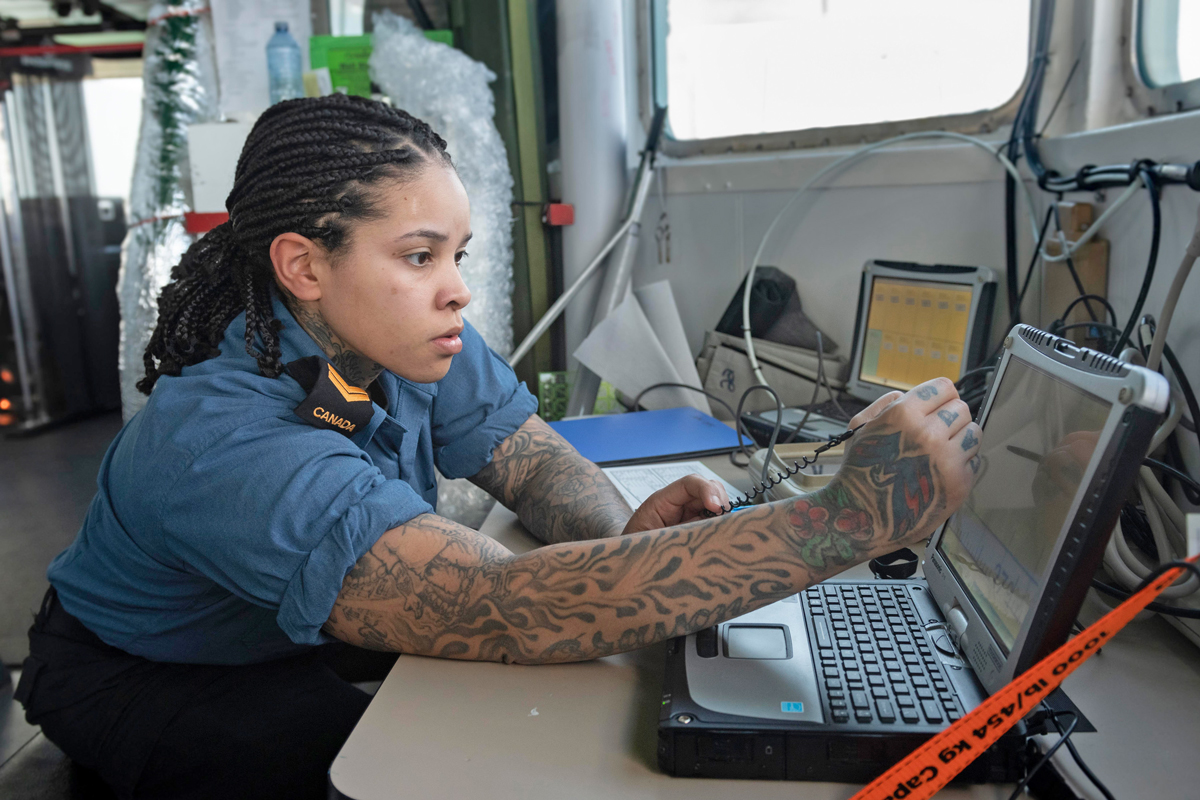 DND
—
The Royal Canadian Navy (RCN) has a plan to fill the 1,000 personnel shortfall that often impacts currently serving sailors.
Leadership acknowledges the shortfall can lead to sailor burnout from maintaining a high operational tempo, training delays, and lack of consistency in work-life balance. 
"Healthy, competent, qualified people are nearing or at the burnout stage. I've seen it firsthand and I get multiple phone calls and emails about it," says Chief Petty Officer First Class (CPO1) David Steeves, the RCN Command Chief Petty Officer. "It may not be in every sailor's nature, but I ask those who are truly negatively affected to please speak up when they need help."
Creative Solutions
To address these problems the RCN created Project Navy Generation in 2021, an initiative that reviews the navy's entire personnel generation system, from recruiting to various training programs. 
There is also the new Digital Parade State, an in-house developed tracking software that improves how the navy matches deployment and training openings with sailor availability. The goal is to distribute the workload more evenly amongst sailors across the fleet.
Training
The navy is now prioritizing training positions over routine activities to better fill positions in the long term with fully trained personnel. For example, if the only option to fill a specific position on board a deploying ship comes at the expense of the training system, the training system will most likely be prioritized. The ship would sail without the position, although with a plan in place to mitigate the risk.
The navy is also implementing new internal guidance to allow more flexibility in different aspects of training. This new guidance emphasizes the continued need for sailors to build experience at sea; however, new options to do so are being explored. For example, those waiting for Naval Environmental Training will now have more opportunities to get to sea, and personnel may be rotated at key junctions during a ship's deployment to give more sailors opportunities for at-sea development.

Recruitment
Recruitment is a key area that needs improvement in order to recover from the present shortages. While personnel shortages are a Canadian Armed Forces (CAF)-wide problem, it is even greater for the navy as fewer than eight per cent of CAF applicants ultimately choose a naval career.
As the navy begins to look for sailors to crew the incoming Arctic and Offshore Patrol Ships, Joint Support Ships, and Canadian Surface Combatants, the need for modernized and streamlined approaches to recruiting has become even more apparent.
"The problem is circular. By not recruiting enough members, positions aren't filled and people get overworked," says Rear Admiral Angus Topshee, Assistant Chief of the Naval Staff – Personnel and Training, and Commander Maritime Forces Pacific, who oversees Project Navy Generation.  "Overworked sailors will be less likely to recommend a navy career to others. This is unfortunate as word-of-mouth has historically been our most successful recruiting method. We need to get more people in, get them trained, and then keep them in – that's essentially the answer."
Navy-specific attractions and recruitment are being prioritized through a new One Navy strategy, with increased attractions activities planned by all RCN units, and by continuing to leverage the 24 Naval Reserve Divisions across Canada.
Although evolving, this program includes changing the approach to some kinds of community visits and activities, empowering Reserve Divisions to better promote Regular Force programs, emphasizing the ability to transfer to the Regular Force for Reservists, and investing more resources into attractions.
"The RCN is acquiring some of the world's most advanced warships and our new cross-country, Reserve Division-focused attractions and recruiting approach is going to ensure that Canadians everywhere are aware of just what an incredibly exciting time it is to join the navy," says RAdm Topshee.
As an example of the new approach to community visits, the Great Lakes Deployments will refocus on attraction activities that promote the RCN as a career of choice to a more diverse selection of potential applicants. These deployments happen nearly every fall and see RCN ships visit communities along the St. Lawrence Seaway and Great Lakes. Several other programs such as Canadian Students at Sea will also give employment seekers the chance to find out what a naval career can offer them.
"This is really a whole-of-organization, multi-faceted approach," says RAdm Topshee. "If we can make even a one per cent difference in any given area, we will, and through all of these small successes, across the navy and beyond, we are going to fix this."
Filed Under: Top Stories
Comments (0)