By Lookout on Aug 09, 2020 with Comments 1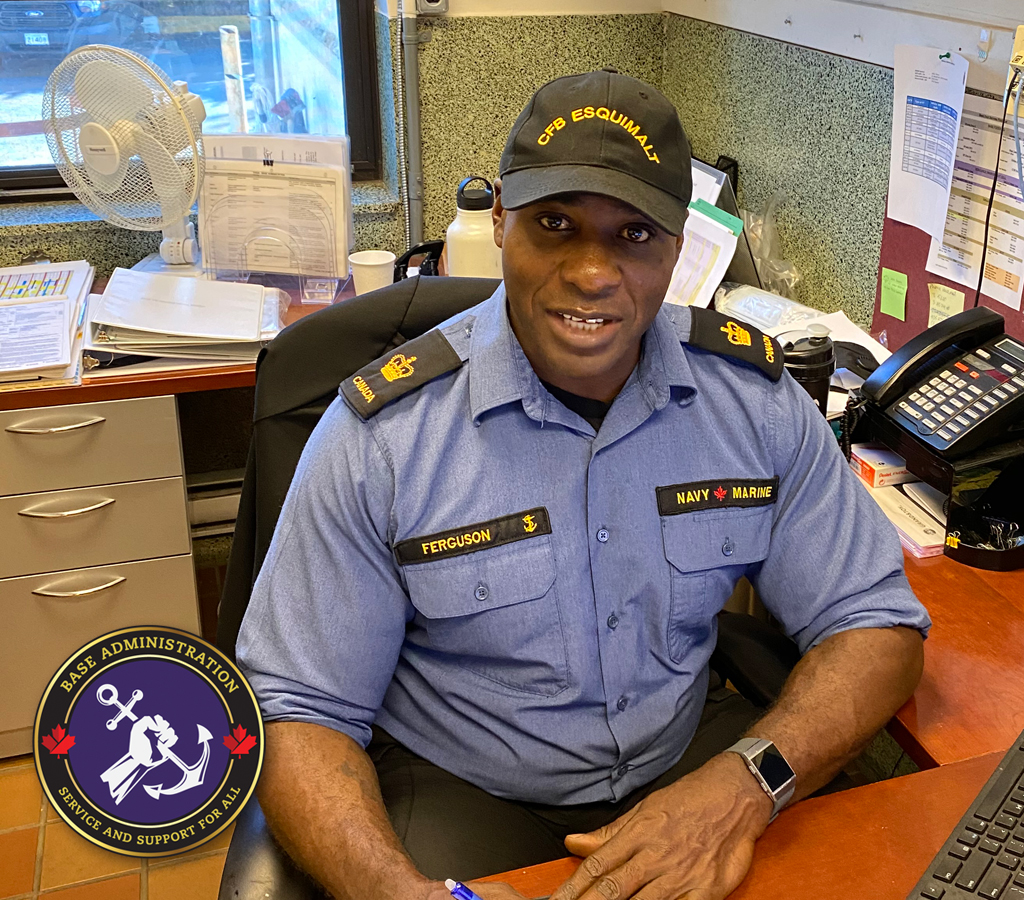 2Lt Justin Leong, Base Administration ~
A Red Seal Chef is at the helm of Nelles Block Galley.
Petty Officer First Class Raymond Charles Ferguson, 48, is the mess's kitchen manager.
The accreditation means he is an expert in cooking through his superior skills and knowledge as a chef.
PO1 Ferguson joined the navy 14 years ago via direct entry for the cook trade. But the road before that was one many prominent chefs know too well – the bottom of the rung.
He started as a pot washer and food prep person at McKelvies Seafood Restaurant in Halifax, NS. As luck would have it, he was called to the line to assist the head chef. As the orders came in, he required no instruction and proceeded to produce dish after dish. The chef realized he had been quietly observing the cooks at work, absorbing their skills.
Seeing such talent bubbling to the surface, restaurant owner Robert McKelvies paid for Ferguson's culinary schooling. Once certified, he eventually became Chef De Partie of Elements Restaurant at the Westin Nova Scotia Hotel.
It was a  TV ad for military careers that piqued his interest to sign up, and soon he was rising the ranks in the military.
As Kitchen Manager, he ensures the galley is adequately staffed to meet all food service requirements daily, as well as ensuring food safety procedures are met, especially during COVID-19. He manages a team of 40 people, a mix of both civilian workers and military cooks.
PO1 Ferguson has been a part of several deployments and joint operations, with the most recent one being with HMCS St. John's on Operation Reassurance.
"It is very challenging for a cook especially at sea during heavy sea states," he says. "Working with sharp knives, around hot liquids, and trying to stay upright on your feet at the same time is a challenge military cooks are all too familiar with."
He recounted an incident where he had to extinguish a fire that started from a steam kettle in the galley on-board St. John's.
"As scary as it was, I relied on and trusted my training and successfully put the fire out before DCS alarms went off."
One of his fondest memories is the celebration of the War of 1812 in New Orleans where he competed in a seafood cook off with other navies in the Task Group. Even though he was not the winner of the competition, being able to participate in such a memorable event while representing the Royal Canadian Navy was a win in itself, he said.
He resides in Langford with his family. His daughter, Raytesha, is a graduate of Acadia University and holds a degree in Nutrition and Kinesiology; his son, Issac, recently graduated high school and is moving onto post-secondary to pursue a degree in Criminology.
During PO1 Ferguson's spare time, he enjoys exercising, cooking, baking, video gaming, photography, hiking, fishing, being outdoors, and a bit of sewing.
––––
Filed Under: Top Stories
Comments (1)