By Lookout on Jul 26, 2017 with Comments 0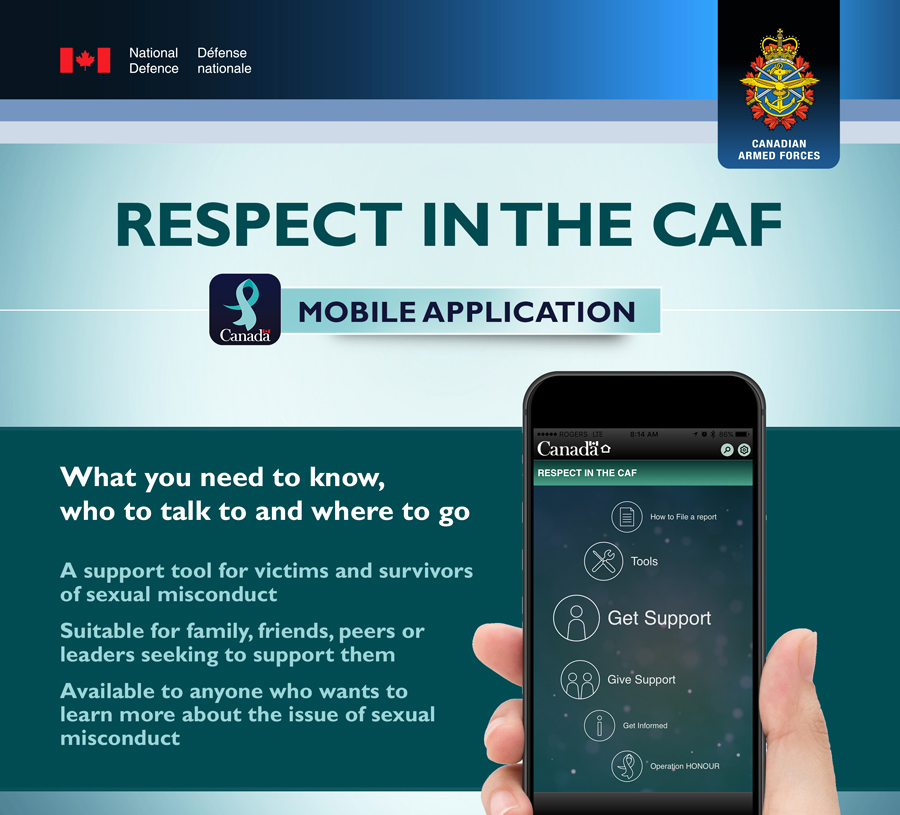 DND ~
The Canadian Armed Forces (CAF) have released a mobile application as a support tool for victims and survivors of sexual misconduct, and anyone who supports them.
The "Respect in the CAF" app is focused on victims; it can be used by anyone as it provides valuable insight on victim trauma, resources available to deal with the impacts of an incident, and links to other educational materials.
The new app's architecture is designed to be highly flexible and expandable. Through routine updates the app will add new modules and eventually serve as a compendium of information and resources related to Operation Honour. The goal is to make accessing information simple and easy in order to enable CAF members to deal more confidently and knowledgeably with the prevention of, and response to and support of anyone dealing with incidents of sexual misconduct.
The app is meant to complement and enhance existing sexual misconduct resources that span response and support to training and intervention. The app includes support for both those in crisis, as well as tools and educational information for anyone dealing with, or interested in learning more about addressing sexual misconduct. The resources are directly linked to the Operation Honour lines of operation – understanding, support, response and prevention.
The app is part of the Operation Honour mission to eliminate harmful and inappropriate sexual behaviour in the Canadian Armed Forces and is one of many ways of enhancing support and response when an incident does occur.
The Respect in the CAF mobile app has downloadable checklists, and procedures and interactive tools for those in a position to support victims and survivors of sexual misconduct.
The Respect in the CAF app is a free download from app stores, for use with smartphones and tablets using iOS, Android, Windows phone, and Blackberry platforms.
The app is geo-referenced, and can use a device's actual location, to show the nearest resources, such as police stations, hospitals, rape crisis centres and military support units, while still ensuring the privacy and confidentiality of users.
The CAF Strategic Response Team on Sexual Misconduct developed the bilingual, confidential app in collaboration with the Canadian Defence Academy as part of Operation Honour.
Filed Under: Top Stories
Comments (0)