By Lookout on Apr 13, 2019 with Comments 0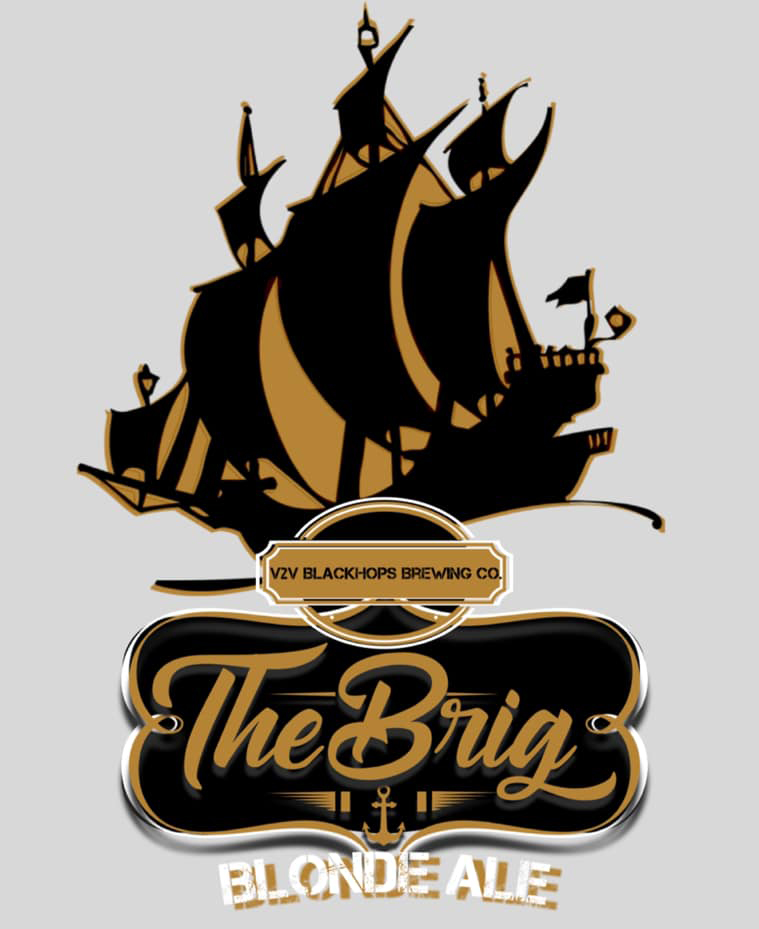 Peter Mallett, Staff Writer ~
A new Victoria microbrewery that supports veterans' programs is launching its second beer, a blonde ale whose name and logo celebrates a British naval ship.
The new brew comes on the heels of a month-long Name that Beer and Design a Logo contest by V2V Black Hops Brewing. The brewery's Graeme Hafey announced the new Kolsch-style summer ale will be called The Brig Blonde Ale.
Micheal Bevans, a resident from Cardston, Alberta, came up with the winning name for the new beer. His black and gold sleeve design features one of England's brig-style ships used by the Royal Navy during the Napoleonic Wars.
Hafey and two V2V co-workers judged 20 entries and chose Bevans' name and design to be the most appealing.
V2V launched its first beer Victory Ale in November 2018, an English Bitter-style ale that celebrated the 100th anniversary of the armistice of the First World War, and the brave Canadians who fought and died there.
This time, Hafey says, he wanted to employ a naval theme as a dedication to the Royal Canadian Navy. He was impressed by the more than 20 entries, many of which came from CFB Esquimalt civilian staff and military personnel.
Bevans received the $150 cash prize for his winning entry. He donated his winnings to Steve Critchley, the owner of Can Praxis, an Alberta-based charitable organization that uses horseback riding and equine engagement to help military, veterans and first responders and their partners suffering from Post-Traumatic Stress Disorder (PTSD) and mental trauma injuries.
V2V Black Hops Brewing recently announced a brewing production partnership with Spinnakers Brew Pub, which will now produce his craft beer in small batches.
Victory Ale is currently available in Cascadia Liquor Stores, Four Mile Liquor Store and the Tudor House Liquor Store. Victory Ale draft is available at Spinnakers, CFB Esquimalt's Wardroom, the Breakwater Café and Bistro, The Six Mile Pub, and the Churchill Pub.
Later this year, Hafey says he is planning on producing a third beer, this time with an aviation or first responder theme in mind.
He is also looking for volunteers to help with the production, canning and distribution of his beers to increase the profits being donated. Those interested should email him at V2Vbrewing@gmail.com.
Filed Under: Top Stories
Comments (0)