By Lookout on Jul 05, 2021 with Comments 1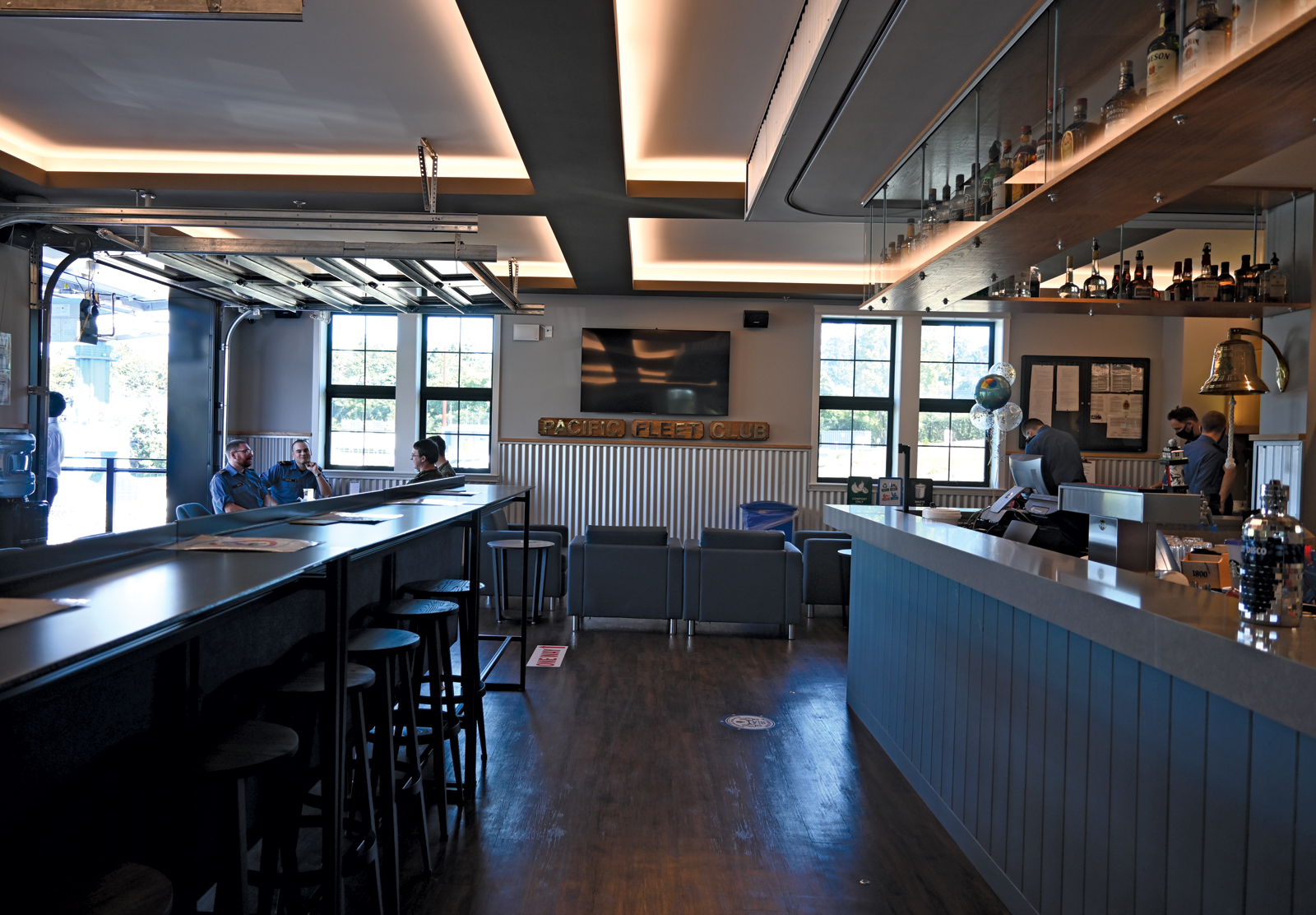 Peter Mallett
Staff Writer
––
The temporary home for the Pacific Fleet Club is now open for business in building Naden 40.
The junior ranks mess officially opened June 21, following the completion of a lengthy renovation. It is currently serving coffee and snacks. Full bar service will commence after the grand opening later this summer. The date will be made public on the Pacific Fleet Club's Facebook account in the coming weeks.
The junior ranks mess serves as the primary social hub and gathering spot for approximately 1,200 non-commissioned sailors, soldiers, and aviators.
The old fleet club previously operated for more than 44 years at the top of Lyall Street. But the iconic seaside building was forced to close following an engineering report in March 2016 that revealed structural flaws and an estimated $8.5 million in repairs.
A permanent home for the junior ranks mess is still in the planning stages and details have yet to be announced, says Master Sailor Emily Whalen, President of the Mess Committee.
Anticipation and buzz surrounding the new location has been mounting.
"I think many members had been discouraged because the old location had been shut down for regular business for so long," says MS Whalen. "There is a lot of excitement surrounding our grand opening in Naden and I think people are really looking forward to it."
A big part of that excitement is because the new location, at the rear of the CFB Esquimalt Naval and Military Museum, provides easy access for many members. This includes those who live nearby in Nelles Block and Bernays Block residences and for a large number of Base Administration staff.
"Many people said they often put off making the long trek to the Signal Hill location, so the new location suits the needs of many," she says. 
The building is about the size of a traditional cozy roadside pub but more contemporary and trendy. A granite-top bar offers eight varieties of draft beer with a seating area of burgundy coloured bench-style seats and bar stools. To the left of the bar is a pool table and two dart boards. Multiple high-definition TVs are individually programmable to suit individual viewing demands. The mess is also equipped with a new sound system and lighting.
Two giant doors at the side of the facility open onto a covered and heated patio.  Staff offices are located at the rear of the building.
The building has a maximum capacity of 79, but is greatly reduced due to COVID-19 health and safety regulations. The patio area can seat up to 40 additional people. The facility is currently able to host events and social gatherings provided they align with base and provincial COVID-19 health and safety guidelines.
––––
Filed Under: Top Stories
Comments (1)