By Lookout on Oct 13, 2015 with Comments 0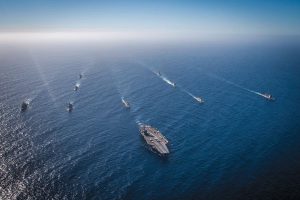 HMCS Vancouver departed CFB Esquimalt today for the coast of Southern California, where it will join HMCS Calgary and HMCS Chicoutimi for a three-week Task Group Exercise (TGEX) with the United States Navy.
The United States Navy's 3rd Fleet is hosting the exercise, which aims to enhance combat readiness and improve interoperability.  
"This training will strengthen our ability to work in a combined environment on a wide range of potential operations and missions, including anti-submarine warfare, boarding operations and replenishment at sea," said Lieutenant Commander Jeff Anderson, Fleet Readiness Officer at Canadian Fleet Pacific Headquarters.
"This year's exercise will also give the Pacific Fleet exposure to amphibious operations, which could be a valuable tool for future joint missions."
Along with guided missile destroyer United States Ship (USS) Stockdale, United States Navy warships participating in the exercise are USS Boxer, USS New Orleans, and USS Harpers Ferry, all ships built for a variety of amphibious operations.
"Exercises like TGEX offer valuable training opportunities for the Royal Canadian Navy and will help us maintain operational readiness throughout the fleet," said Commodore Jeff Zwick, Commander Canadian Fleet Pacific.
"As like-minded allies, our close operational relationship with the United States is an asset to maintaining peace and security throughout the Pacific region."
That close operational relationship will also include Royal Canadian Air Force assets, including a CH-124 Sea King helicopter embarked in Vancouver and a CP-140 Aurora Long Range Patrol aircraft.  
In the week leading up to TGEX, Calgary participated in San Francisco Fleet Week, an annual event that brings together civilian and military forces to develop and share best practices in humanitarian assistance and emergency disaster response.
In addition to the working aspect of Fleet Week, there are numerous other celebrations and family-oriented events, including an air show, which consistently attracts millions of visitors to the area. 
A large number of those visitors took the opportunity to visit Calgary and learn more about the Royal Canadian Navy (RCN).
Following the joint exercise, Vancouver will continue operating in southern waters before sailing back to home port later in the fall.
With Calgary, Vancouver and Winnipeg all conducting operations, it marks a turning point for Canadian Fleet Pacific; two-thirds of the Fleet's Halifax-class frigates are nearing completion of upgrade installments, tests and training crews at sea.
With HMCS Ottawa in the latter stages of upgrades and HMCS Regina more than half way through its scheduled modernization, much work is being progressed to have the Pacific Fleet's workhorses back and contributing to RCN operations at home and abroad.
Katelyn Moores
MARPAC Public Affairs Office
Filed Under: Top Stories
Comments (0)