By Lookout on Mar 10, 2020 with Comments 0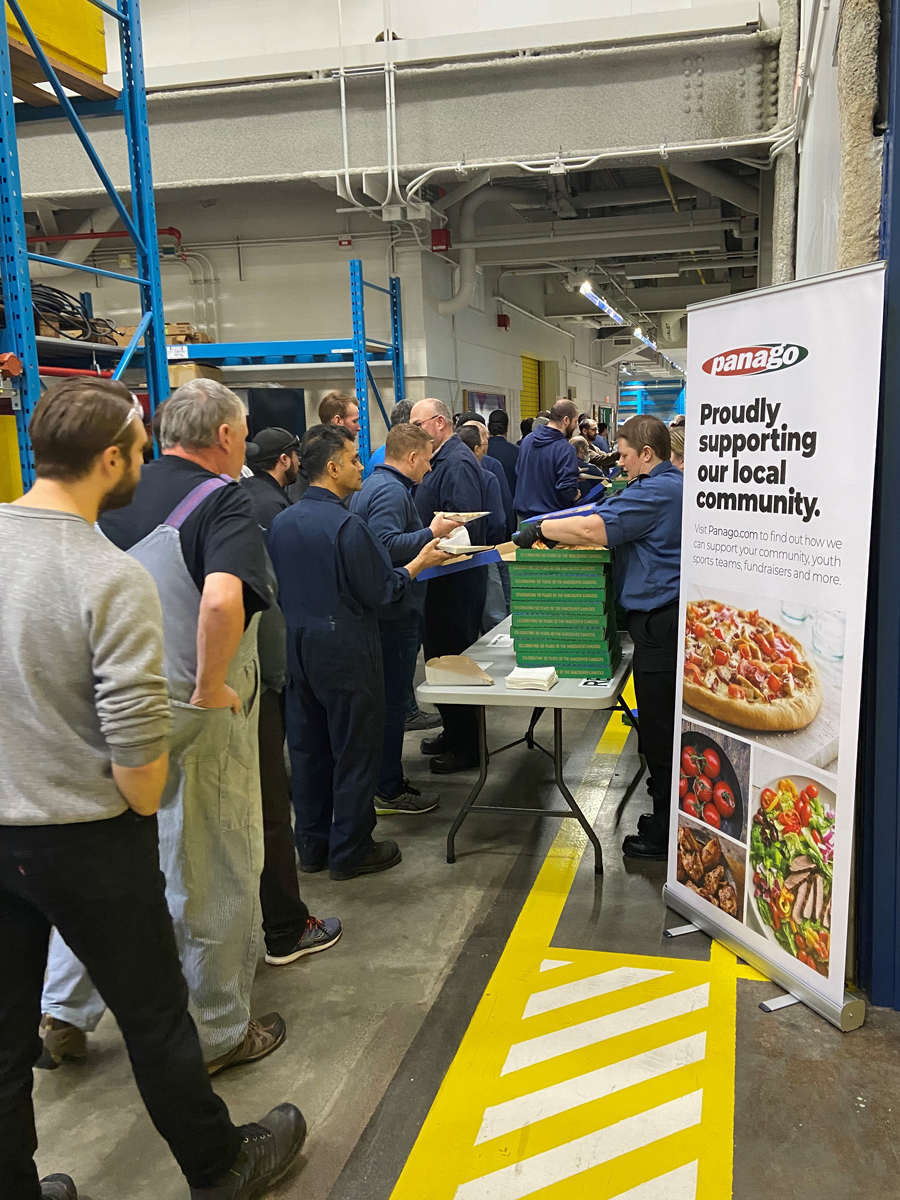 Peter Mallett, Staff Writer ~
When Esquimalt Panago Pizza store owner Jason Gray wants to let DND employees know they are appreciated his solution is simple, he delivers free pizza.
Last Wednesday, he made the largest delivery of his career. Just before lunch hour, he and two employees loaded up their vehicles and delivered 150 pizzas to the over 1,000 military personnel and civilian employees at Fleet Maintenance Facility Cape Breton.
Another 15 pies were delivered to workers on the afternoon shift to raise their spirits.
He did a similar gesture for the crew of HMCS Nanaimo and HMCS Whitehorse before the warships headed out on Operation Caribbe.
"I wanted to show my continued support of CFB Esquimalt and its military members and civilian employees who live and work in the community," said Gray. "This latest event was a lot of fun and it was awesome to see how much the pizza was enjoyed by the workforce at FMF Cape Breton."
Gray says he turned his pizza parlor into a factory at 8 a.m. in order deliver to a factory. He estimates they used over 180 lbs of dough, 5,000 slices of ham, pepperoni, salami and Italian sausage, 80 lbs of cheese, and 40 lbs of tomato sauce – a total donation of $3,000. 
A line of ship repair staff extended throughout the hallway of the 35,000 square metre facility in Dockyard to grab a slice or two.
CPO1 David Morse and members of the unit's Health and Wellness Committee set up and distributed the pizza. He says Pizza Day is something the committee does a couple of times a year to offer the team an opportunity to get away from their daily work and join together for a laugh and a smile.
"However, word quickly spread about Jason Gray's generosity, and the fact that he would provide pizzas for no other reason than to say thank you to the defence team in his community."
Filed Under: Top Stories
Comments (0)