By Lookout on Jul 24, 2018 with Comments 0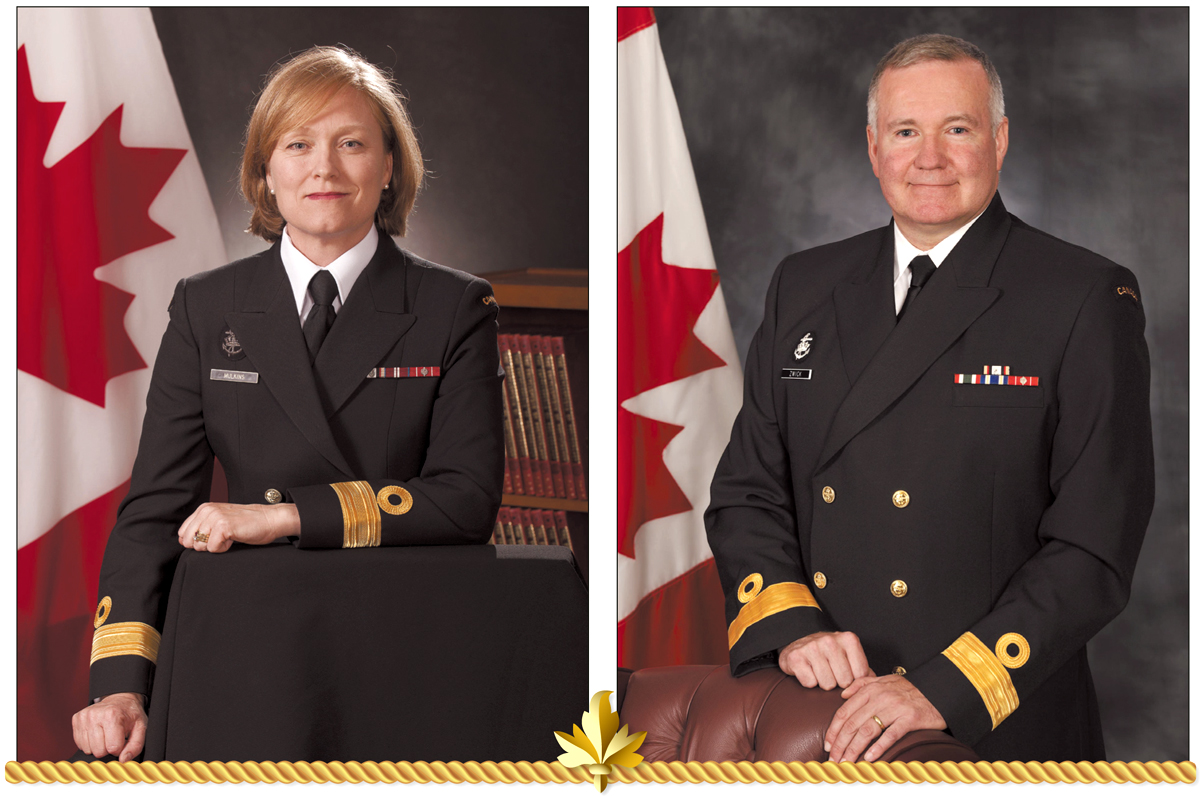 Peter Mallett, Staff Writer ~
Two senior naval officers at CFB Esquimalt relinquished their commands last week, and are now going down separate career paths, but doing it together.
Married couple Commodore Marta Mulkins and Rear-Admiral Jeff Zwick have signed over their commands, packed their household, and are set to move to Ottawa.
For Cmdre Mulkins, it is the Naval Reserve (NAVRES) Command that she handed over to Commodore Michael Hopper last Friday. Having reached the pinnacle of her 33-year career, she heads back to civilian life and a job in the Federal Public Service.
The day before her change of command, husband of 12 years Jeff relinquished his command of Canadian Fleet Pacific to Commodore Angus Topshee.
His next charge is Chief of Force Development, a Vice Chief of the Defence Staff branch position at NDHQ.
Even though she's heading full-time into a civilian job, Cmdre Mulkins will keep one foot in the naval reserves, serving as a part-time sailor.
"I would say commanding NAVRES has probably been one of the richest, most rewarding experiences of my life," said Cmdre Mulkins. "Being based in Victoria and in the heart of Maritime Forces Pacific and working with its fantastic leaders and staff has just been simply extraordinary."
As head of NAVRES she managed the 24 Naval Reserve stone frigates and approximately 3,000 reserve sailors. While that might seem impressive on its own, one might argue her greatest achievement is ploughing pathways for women in the navy.
In 2003, she became the first female officer to command a warship in the Royal Canadian Navy, serving as commanding officer of HMCS Kingston, and then later headed Ottawa's Naval Reserve Division HMCS Carleton.
Other notables in her work portfolio include head of Strategic Communications at National Defence Headquarters in Ottawa and a six-month deployment to Afghanistan in 2006 as a member of the strategic advisory team on Operation Argus.
Like most reservists, she has worked two career streams, sometimes simultaneously. Supporting this multi-career path, she says, should be the central theme as the Naval Reserve plots a course for the future in hopes of meeting Canada's Defence Policy Strong, Secure, Engaged goal of 1,500 more Naval Reservists. 
"It has been my mantra from day one: the reserves must remain an endeavour that is worth people's time and energy because it is so discretionary. We enable people to reach their potential, get the training, education and employment opportunities they need. We have been key enablers to make sure the naval reserves continue to be that highly skilled, high output force that the Canadian Armed Forces requires."
In collaboration with her husband, Cmdre Mulkins met that goal with the creation of the Naval Security Team, an all Naval Reserve force protection team trained to defend Canadian naval assets when alongside overseas.
"We were two Commodores working for the same boss and had mandates that made it necessary for us to collaborate regularly. It's one of the great things about our relationship in that we have so many shared interests in the navy."
A closing chapter as Commodore was her trip to Fiji this spring to visit the Naval Security Team on post protecting HMCS Vancouver. Cmdre Mulkins offered her encouragement and best wishes to sailors of the Republic of Fiji Navy, who enrolled their first female sailors in February. Although it was an informal sit down, she was able to impart some guidance to these female trailblazers.    
"I got a chance to talk to the Fijian sailors about how important gender integration is and the significance of what they are doing," said Cmdre Mulkins. "I'm sure the Fijian Navy will be offering a great career path for their recruits and they are now being offered an opportunity to reach their potential. 'Go for it' I told them and have the best career you can."
That advice is something Cmdre Mulkins has lived throughout her career.
Filed Under: Top Stories
Comments (0)