By Lookout Production on Jun 25, 2020 with Comments 0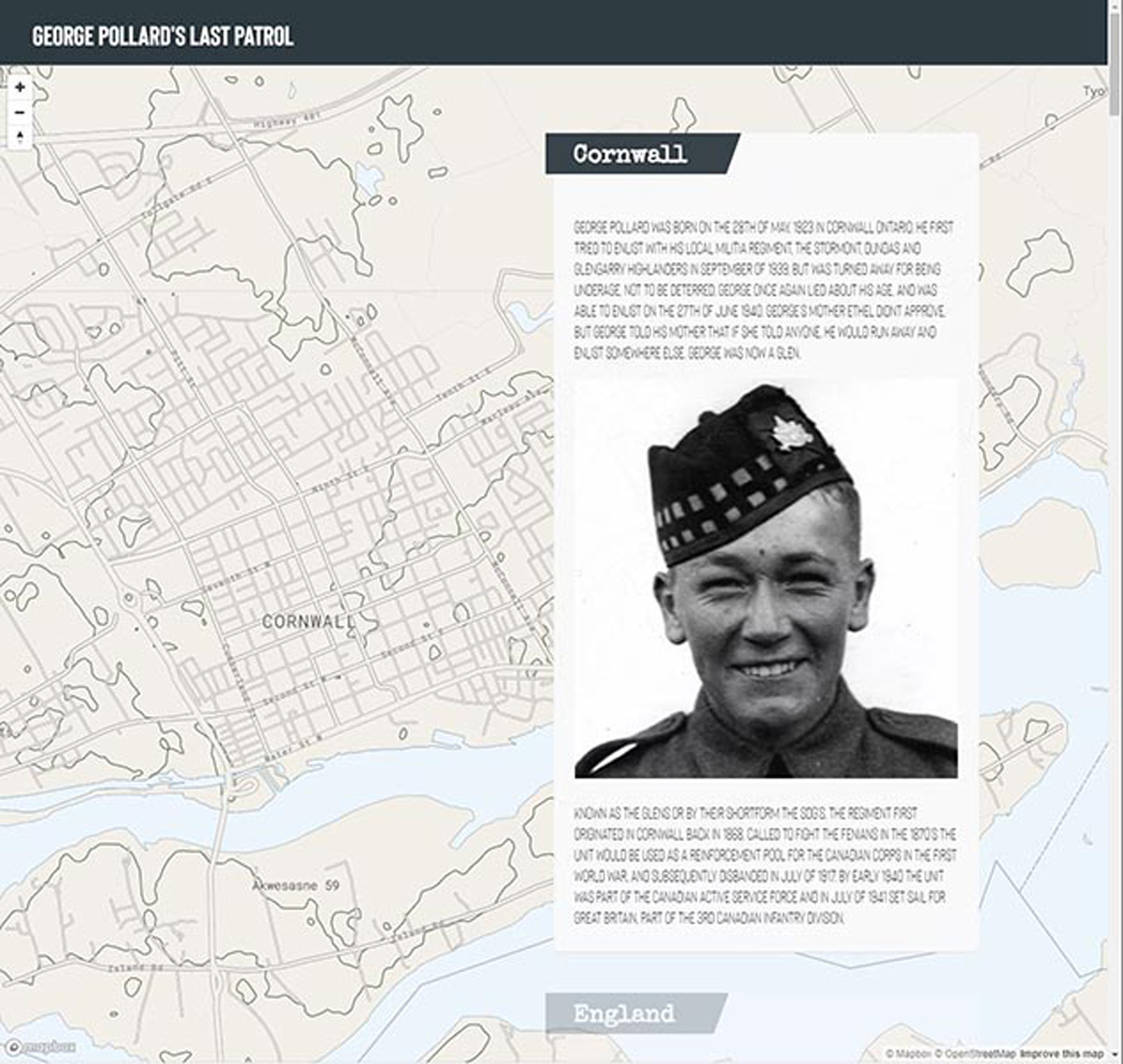 Moira Farr, Army Public Affairs ~
There is a new ground-breaking interactive tool Canadians can use to gain insights into the lives of Second World War Canadian soldiers as they embarked on harrowing journeys across Europe to help bring an end to the war. 
Project '44, co-created by Nathan Kehler and Drew Hannen of the Ottawa-based Canadian Research and Mapping Association (CRMA), with sponsorship from Veterans Canada, have digitized the daily logs, also known as war diaries, kept by each Canadian unit during the war. They have previously only been available to researchers in their original form at the Library and Archives of Canada.
The project also digitized detailed maps that plot these soldiers' movements across Europe toward victory. 
Now, historians in Canada and around the world, students at every level, and family detectives wishing to learn more about their relatives' wartime experiences have access to a trove of primary-source information, without leaving home.
"It's really nice to see this animated in a certain way; it's just the bare bones as it was recorded, the maps that were used, so you can start your research with a statement of the facts," says Hannen.
A resource for all Canadians
The website brings to public view thousands of war diary pages, painstakingly transcribed, edited and scanned by more than 40 volunteers over the course of nearly three years. It also includes detailed digital maps, intelligence reports, and aerial imagery of the Allied forces' advance.
The website currently documents the Normandy Campaign and the movement of Canadian units across northwest Europe; this summer, it will complete its trilogy with the Italian campaign, going back to 1943.
The task of bringing all of this material together online required diligence and an array of digital tools that both Kehler and Hannen, as cartographers who specialize in historical geospatial data and web mapping, were keen to employ and experiment within a military-history context. 
"You take 125 war diaries from D-Day to the end of the war, and it tells you what each unit was doing, every single day," says Kehler. "They also give a geographical location. These have a military grid reference. That allows you, with a paper map, to figure out exactly where they were, within 100 metres. With that intersection now, we can make a web map and show all of that."
Along with the maps, the war diaries have been converted into Word documents "for people who like to read and enjoy the linear story of the campaign," Hannen adds. 
The site also features "story maps" that recount the experiences of notable individual soldiers in depth, an initiative launched in conjunction with Defining Moments Canada and the Juno Beach Centre, as they developed teaching materials for Canadian schools. These soldiers include Phillip Pochailo, Charles Henry Byce, and George Pollard, one of 20 Canadian soldiers killed in the Ardenne Abbey massacre shortly after D-Day.
Another eminent Canadian profiled is Mona Parsons, who aided Dutch resistance fighters, spent years as a prisoner of war, and made a daring escape, eventually returning to Canada. 
The potential for expanding the site and working with other countries wanting to do something similar is exciting to its creators. They have already created a map for the 75th anniversary of Iwo Jima, at the request of personnel from the U.S Marine Corps historical section. 
"What's fantastic is that what you see at the front end is the web map. What you don't see is this massive database we've built. That's going to allow us to map out all those other countries, to have volunteers come and crowd source and map out their units. So if there's someone who's an expert on the Guards Armoured Division in the UK, and they have the war diaries, they can map out with the same fidelity we have," says Kehler. 
Discover the website here: https://www.project44.ca/
Filed Under: Top Stories
Comments (0)