By Lookout on Nov 20, 2018 with Comments 0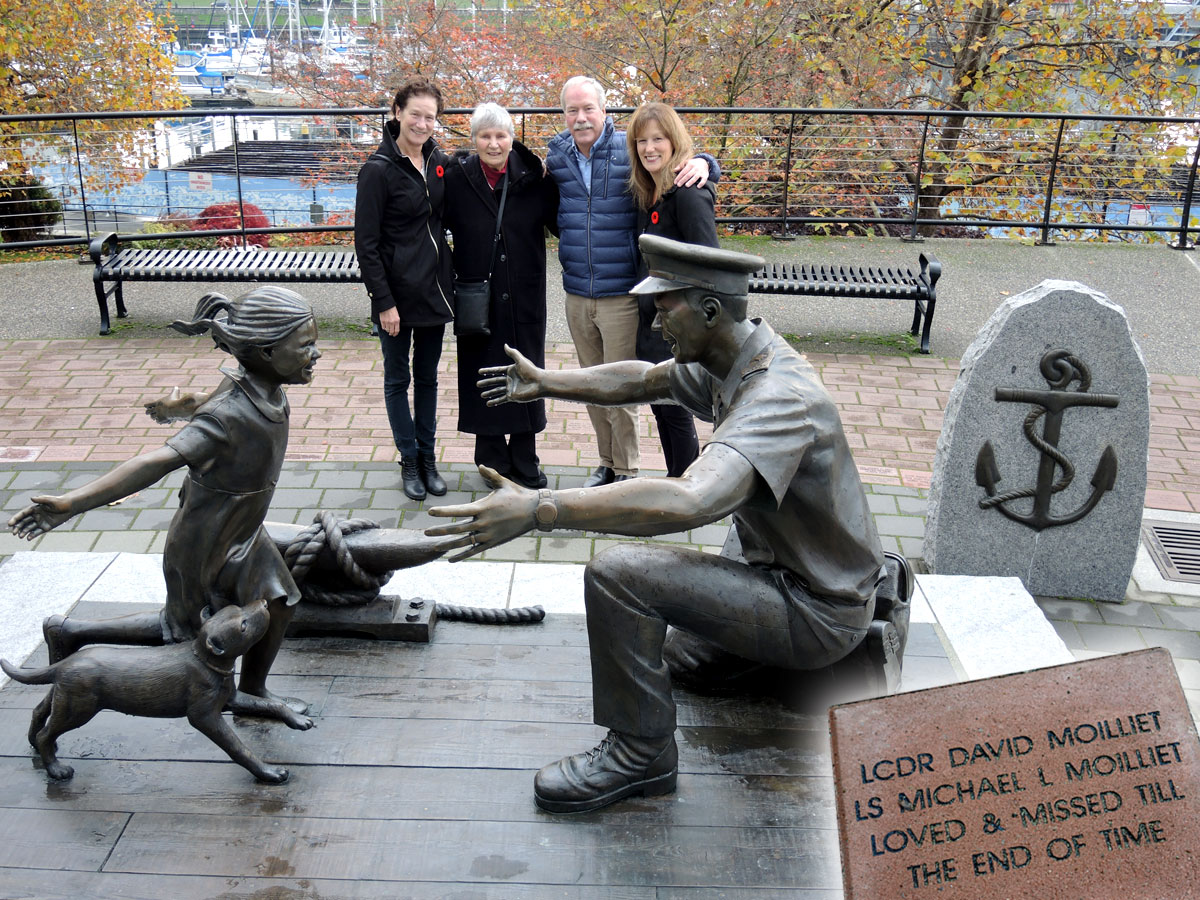 Peter Mallett, Staff Writer ~
As 88-year-old Sheila Moilliet gazed upon the red bricks at the Homecoming Statue bearing the names of her deceased husband and son, she felt a deep satisfaction knowing she had brought them home.
"My husband David had always described Vancouver Island as 'god's country' and always wanted to go back, and Michael was born in Victoria," said Sheila Moilliet. "When I first heard about the brick initiative – I exclaimed 'that's it' I can bring this full circle and take them and their memory home."
Husband, Lieutenant-Commander (Retired) David Moilliet died in 2017, and son, Leading Seaman (Retired) Michael Moilliet, died almost a decade ago. Their names are now a permanent part of the downtown memorial that honours the military.
On Friday Nov. 9, the family matriarch travelled from Ottawa with her three children to visit the newly-installed brick bearing the names of her loved ones.
"This is such a great moment for me and the family, to dedicate this brick is such a moving experience," said Sheila. "Seeing their names on the bricks is very emotional for me and the family."
The homecoming statue was created by artist Nathan Scott and is part of an outdoor memorial paying tribute to the 100th anniversary of the Royal Canadian Navy (RCN). Scott's statue depicts a kneeled sailor as his daughter leaps into his arms; it captures the moment when a sailor comes home to their family after a long deployment at sea.
Sheila said the occasion felt like a homecoming for the Moilliet clan. She made the trip with daughters Alizon Thuot and Wendy Lamble, and son Deric Moilliet.
The next day the family travelled to Parksville to scatter the ashes of David Moilliet at an oceanside beach where David once played as a child. They then returned to Victoria for Remembrance Day ceremonies before returning home to Ontario.
LCdr David Moilliet enjoyed a 16-year career in the RCN from the early 1950s to mid 1960s and was stationed in Cornwallis, Halifax, Ottawa and Victoria. As the Unification of the Canadian Armed Forces was taking shape, he moved on to a career with the Federal Government. 
LS Michael Moilliet, like his father, also enjoyed an RCN career with the Naval Reserves and HMCS Carleton.
–––
FYI: In 2010, the Esquimalt Military Family Resource Centre began selling bricks located adjacent to the statue as a fundraising initiative. Donors have the option of purchasing two sizes of bricks, $200 for standard size or $350 for a larger one, that have the names of their loved ones inscribed. The bricks are then installed in the walkway by the statue in either November, ahead of Remembrance Day, or in May to commemorate The Battle of the Atlantic.
For more information about purchasing a brick at the homecoming statue, visit the MFRC webpage at support.esquimaltmfrc.com.
Filed Under: Top Stories
Comments (0)