By Lookout on Aug 20, 2020 with Comments 0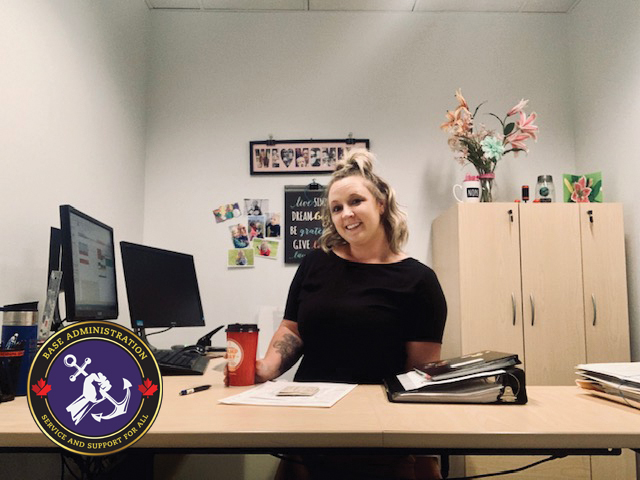 2Lt Justin Leong, Base Administration ~
When it is time to leave the military, Canadian Armed Forces members at CFB Esquimalt must visit the Release Section located in Naden 30 – Base Orderly Room.
Greeting them are Rachel Labute and her staff of seven who work with members to ensure their smooth transition out of the profession of arms.
While it is a process, with lots of paperwork, the real skill lies in managing the emotions that come at the end of a career.   
"Everyone deals with their release differently," says Labute. "Some members are ready to release and are super happy and excited for the process and what the future has to offer. Some members are upset and anxious because they have spent their whole career in the military and it is hard to think of a life outside of that. Some members are dissatisfied with how their career in the military transpired and are ready to start a new career."
As the person in charge of the Release Section, Labute's responsibility is to manage the section, train new employees, review and approve their pay, and meet with releasing members.
Releasing members come in for an initial interview, followed by paperwork that includes their out routine, security clearance cancellation form, and Statement of Understanding. They also review the forms to request a Certificate of Service, Prime Minister Letter if a member has more than 20 years, Member's Personnel Record Resume, member's Release Notification Message, and their Declaration of Intended Place of Residence.
The member's pension package is reviewed in a second meeting.
"Forms are completed and photocopies are made so the member can send in their pension package right away," explains Labute.
The third appointment is when the member signs all final documents, along with their security caution and document return certificate. This is where the member acknowledges they have returned all documentation belonging to the Department of National Defence.
Finally, the member's record of employment is created and uploaded to Service Canada. Photocopies are made of all the documents signed and the member is provided with the email address for Release Benefit Administration, who are the final entity for the member's file post release. They complete the final audits to ensure a member's file is accurate, provide severance pay if entitled, and then send the file to archive. They also deal with pay questions and T4 requests, as well as any general inquiries.
"I believe my job has a big impact on CFB Esquimalt as a whole, as we are the main contact for all releasing members," says Labute. "We have approximately 300 to 400 files per year. Each file takes us about 14 to 16 hours depending on the complexity of the file."
The Release Section also provides members who are thinking about releasing with guidance and instruction on policy, release items, and useful information to make their transition out of the military as seamless as possible. They ensure members are making an informative decision for their future and the future of their families.
Guidance and instructions on policies include the Queens Regulations and Orders, Leave Policy Manual, Compensation and Benefit Instructions, and Defense Administrative Orders and Directives. Release items vary with the different types of release, such as medical releases, immediate annuity, completion of contracts, and unsatisfactory service. The Release Section also provides members with information for Second Career Assistance Network seminars.
"I have always worked in customer service and have a passion for helping people. These members serve our country and put their lives at risk for our freedom, they make sacrifices in their own lives and sacrifice for their family. I believe their service should be acknowledged and have a smooth transition to civilian life." 
The COVID-19 pandemic has created challenges for the section. Most staff are working from home and conducting release interviews remotely. However, a big hurdle is creating and printing protected documents. 
"Due to protected information, we are not able to print documents from home. We had to create documents, scan, and email them to members for signature, and then print them in the workplace once received. Due to only being able to have 50 staff in the office, we can only come in two days a week."
Labute is proud and thankful for her staff in the Release Section, who, she says, have been diligently working to make releases happen seamlessly given all the obstacles surrounding them.
––––
Filed Under: Top Stories
Comments (0)