By Lookout on Nov 07, 2018 with Comments 2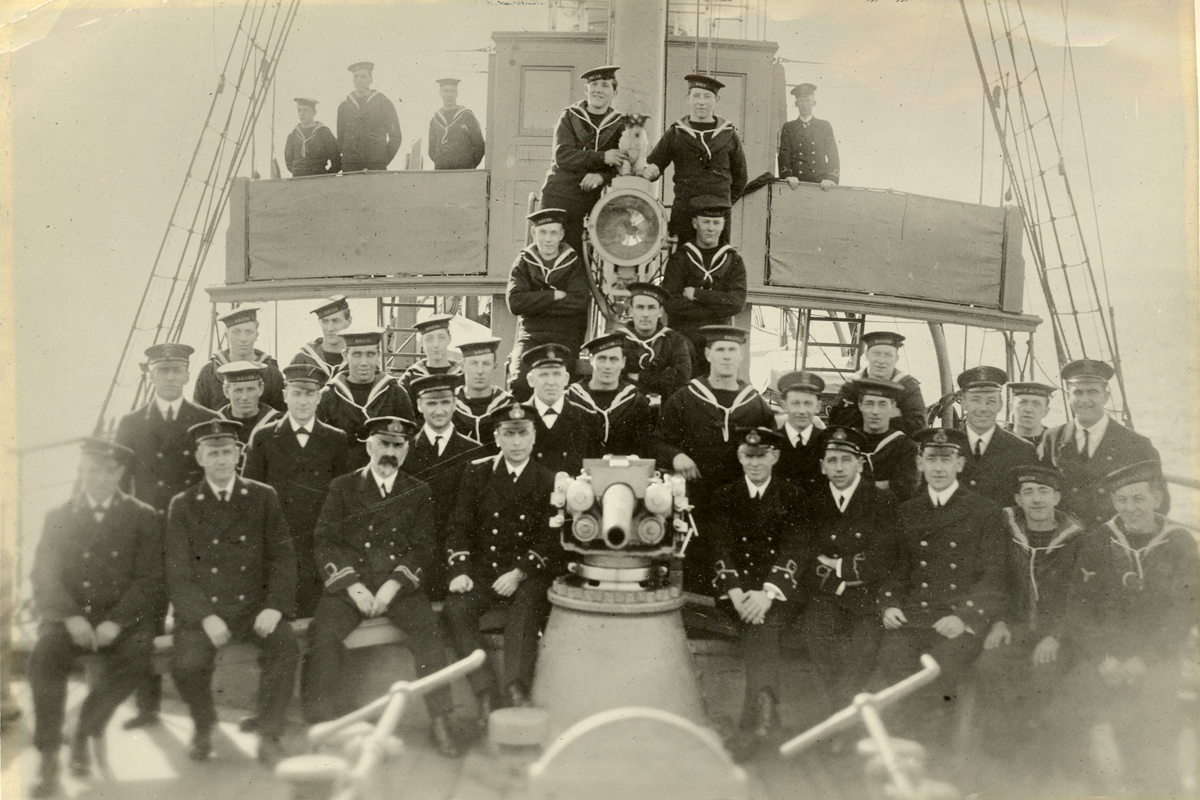 Peter Mallett, Staff Writer ~
Last week marked the 100th anniversary of HMCS Galiano's sinking, the Royal Canadian Navy's (RCN) only ship lost on the West Coast during the First World War.
But the patrol vessel didn't fall prey to German torpedoes or underwater mines; instead her demise is described as a unique "tale of accidents and misfortunes" according to retired RCN Commander Joe E. Cunningham, a contributor at the CFB Esquimalt Naval and Military Museum.
Many maritime historians who have written on the subject are in agreement.
One thing is certain, the steel-hulled, steam powered ship sank in heavy seas while undertaking a re-supply mission in the Queen Charlotte Sound in the early morning hours of Oct. 30, 1918.  However, how it sank and the location of the wreck remain a mystery to this day.
"Holds full of water, send help" read the frantic last dispatch from wireless operator Michael Neary. But help never arrived in time and all 36 of Galiano's crew perished.
Most historical accounts are in agreement with Cunningham that a perfect storm of factors, including a ferocious Pacific gale and dangerous sea conditions, were the primary causes. The plight of Galiano was also exacerbated by the Spanish flu pandemic sweeping the globe that lead to several crew falling sick. The depleted and largely inexperienced replacement crew were also having to deal with a malfunctioning boiler.
A century after its sinking, on the morning of Oct. 30, members of the of the Naval Association of Canada, Vancouver Island Branch laid a wreath at the Commonwealth War Graves Commission's Galiano memorial at Ross Bay Cemetery.
Commodore (Retired) Jan Drent was among those who attended the ceremony. He is a volunteer-historian and creator of a Galiano exhibit at the B.C. Maritime Museum that debuted in September.
Like Cunningham, Drent is also well-versed in Galiano's story and says "the blame for the sinking couldn't be attributed to anyone specifically, but instead the horrific weather conditions that existed."
The ship was named for Spanish Navy Commander Dionisio Alcala Galiano, and perpetuated by Galiano Island, which he explored in 1792. It was built in Dublin, Ireland, for the Fishery Protection Service and launched Oct. 18,1913.
The RCN's tiny fleet at the time was made up of two outdated cruisers, HMCS Niobe based out of Halifax and Rainbow on the West Coast plus C1 and C2 submarines.
When Galiano arrived in Esquimalt in February 1914, along with sister ship Malaspina, it assigned to police foreign fishing vessels that strayed inside Canadian waters.
In September 1917 Galiano was requisitioned for war and staffed by members of the Royal Naval Canadian Volunteer Reserve (RNCVR) for minesweeping trials, while also continuing to carry out fishery protection duties.
As the war drew to a close Galiano was called to assume Malaspina's duties of resupplying West Coast lighthouses and wireless stations with fuel and supplies. Its sister ship had been disabled by a cracked bow suffered by a strike with a jetty.
The ship made a stop in coaling stop Ladysmith and replaced its sick crew with inexperienced "green" replacements. Shortly after delivering supplies to a wireless station on Triangle Island, the ship's Commander, Lieutenant Robert Mayes Pope gave the order to set out for Ikeda Wireless Station on the east side and south end of Morseby Island.
It is speculated Galiano and crew were met with 30-foot waves driven from the southwest and sank. 
Following their final message and desperate plea for help, U.S. tug Tatoosh, the Grand Trunk Pacific tug Lorne, trawler G.E. Foster and three whalers from Rose Harbour whaling station headed out to help.
"The only traces that were found were a life belt, a skylight with a ditty bag hanging from it containing a few articles of clothing, and three bodies," writes James.
Jacques Marc of the Underwater Archeological Society of British Columbia has researched Galiano extensively, and says the ship most likely became overwhelmed and flooded by successive high waves breaking over the stern.
"This would have made her unstable in large seas, and then potentially two things could have happened. She simply took on more water with additional waves and dropped like a stone or, more probable, a large wave lifted her stern and drove the bow down in which she may have slewed to the starboard and rolled. In either case her sinking would have been immediate."
Galiano's demise came only days after the sinking of Canadian Pacific Steamship SS Sophia, which was also overcome in severe weather near Juneau, Alaska, and was the Pacific Northwest's worst maritime disaster.
Although Sophia's wreck has been discovered, no clues have turned up as to the location of the Galiano wreck.
Canadian Hydrographic Service has done mapping surveys of the slope break between the north end of Vancouver Island and Haida Gwaii in the area believed to be where the Galiano sank, but to date have turned up no evidence of the wreck. Marc believes one day a future hydrographic mapping survey will inadvertently find it on the bottom of Queen Charlotte Sound.
Filed Under: Top Stories
Comments (2)