By Lookout on Dec 04, 2017 with Comments 3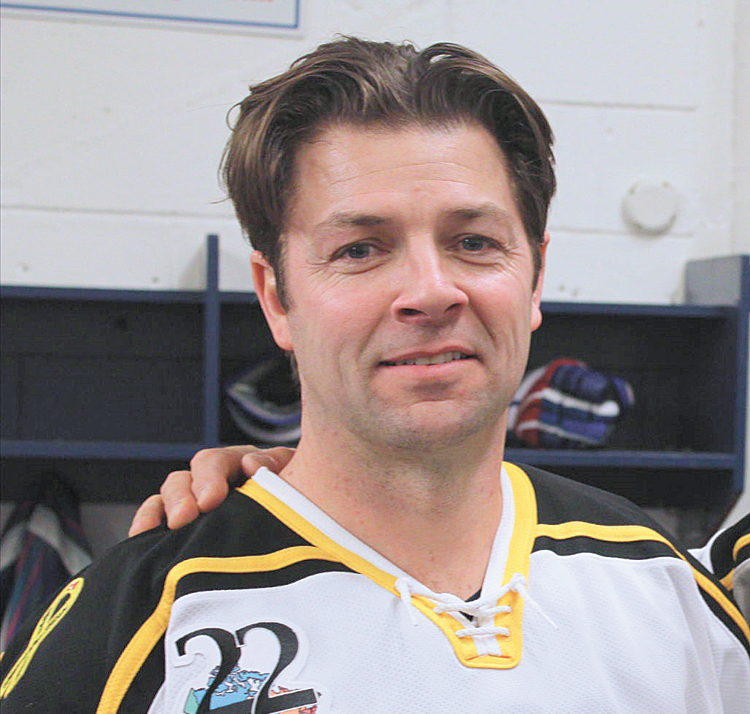 James Vassallo, CFB Esquimalt PA Officer ~
All Sergeant (Retired) Rob Sneath wanted was an early morning skate and a chance to be on the same ice as some of hockey's greatest names. A simple request those grizzled NHLers surely thought, a sly grin about their lips: 'Hey, kid, why not? Strap 'em on and get out here'.
"He was organizing things as part of PSP for the NHL old-timers tour in Halifax," recounts Master Warrant Officer Paul MacQueen. "He was so good and they [NHLers] were so impressed with his skills, they asked him to play that night."
Sneath did four more dates with the NHL Oldtimers on the East Coast. The next year he did it again, becoming a fixture in a countless number of these kinds of celebrity charity games over the years.
It's a miraculous story perhaps, unless you knew Sneath and his athletic ability.
In 24 years with the Canadian Armed Forces, serving as a Boatswain, PERI and ACS Technician, he played in 21 consecutive Canadian Forces National Hockey Championships from 1987-2007. He won 22 CAF national medals and 35 CAF regional medals in five sports. He was named an All-Star 23 times and was honoured with countless MVP awards. Just a month ago he was inducted into Canadian Armed Forces Sports Hall of Fame.
To the shock and great sorrow of many, Sneath passed away suddenly Nov. 27 at the age of 52 after a long battle with cancer. Given his reputation, it was no surprise that organizers of Oldtimers celebrity hockey tournaments, his old team the Clarenville Ford Caribous where he played in 2008/09, Olympic gold medalist Hayley Wickenheiser, friends, teammates, his Personnel Support programs (PSP) co-workers and military family all acknowledged what kind of an athletic phenom he was.
Over the last week he's been repeatedly called the best player the CAF ever had. The public expressions of loss referred to him as a 'legend', even the 'Gretzky of the military', and his love of the game was undoubtedly absolute.
Anyone who gets a tryout with an NHL team can be considered an exceptional athlete. Sneath had that opportunity with the Philadelphia Flyers at the age of 27, and also an invitation to tryouts for Canada's National Hockey Team three years later, which is another level of incredible in the young man's world of professional sport.
Despite this, amidst all of these varied outpourings of sorrow, his on-ice achievement, and athletic prowess generally, seems a secondary thought. It's been said the value of a life can be measured by the impact it has on others. What is clear is that Sneath was the human being those around him wanted to be more like. He was 'great', and 'stand-up' and 'selfless' and 'gracious' – all the things we want from people, because it makes us better too.
"He had this aura of fame about him, but he never made you feel that," says Captain (Navy) Jason Boyd, CFB Esquimalt Base Commander, who played with Sneath for nine years. "No matter what your skill level he always made you feel like you were an equal, like you were part of the team.
"He was just such a great guy."
MWO MacQueen, who had just been posted to CFB Esquimalt, played alongside Sneath in 1995 when the base won its first and only CF National Hockey Championship.
"I was blown away at Rob's skill and leadership, but he was just as good a friend as he was a hockey player," he says. "He did not have ego.  He made everyone feel included in the success he achieved. I was the only air force guy on the team, the new guy, and I could tell so many stories on how he welcomed me, how he became my friend for life."
Trying to get a sense of a person can be difficult, particularly through the praises of others. So, maybe that old adage of a picture telling a thousand words might be the way for people to understand how much Sneath meant to people. CFB Esquimalt followed up on their CAF championship with a regional crown a year later. The team photo contains a slightly odd edition that speaks most poignantly as to why people thought so much of him: right at the front, sitting on his knee is a little girl name Ally; Sneath, a single father, took her everywhere, holding her close.
Along with Ally, Sneath leaves behind daughter Carlee and son Robbie, as well as his partner Kerri and her children James and Marlee.
In keeping with his long history of coaching and community service, his love of sport and of all his children, donations in Sneath's honour may be sent to KidSport Nova Scotia www.kidsportcanada.ca/nova-scotia, which helps kids overcome financial barriers to participating in sport.
Filed Under: Top Stories
Comments (3)