By Lookout on Oct 09, 2018 with Comments 3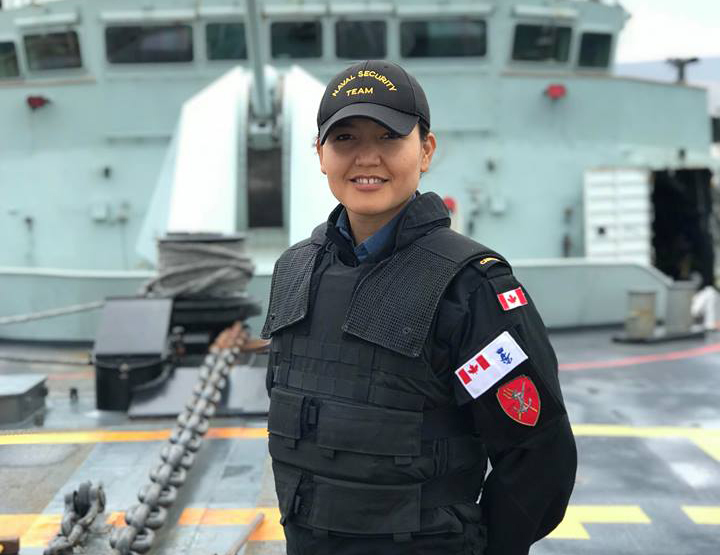 SLt M.X. Déry, MARPAC Public Affairs ~
Leading Seaman Mujda Hakime, 25, exemplifies the opportunities available in the Canadian Armed Forces.   
She is currently standing guard over HMCS Ville de Quebec in Greece as part of the Naval Security Team during the ship and crew's rest and maintenance period. The ship is half way through its six-month deployment on Operation Reassurance.
It is her journey to become a Canadian naval reservist that elevates her above the norm.
She was born in war-torn Kabul, Afghanistan. In 1998, at age six, her family fled to neighbouring Pakistan, where extended family helped get them established. There she was able to go to school instead of working part-time to help support her family.
In the first few months all she could speak was Dari, but over time she learned Urdu, the official language of Pakistan.
In 2001, her family immigrated to Canada, and she learned her third language, English. She would later add French to her linguistic capabilities.
The next summer she joined the Naval Reserve after a friend of a friend told her about a "survival course" where they pay trainees. The idea of being paid to learn skills was novel to LS Hakime; the survival course was in fact basic training for the Reserves.
With a father that wanted to be an engineer and a mother that wanted to be a pharmacist, LS Hakime chose to pursue a Bachelor's degree in electrical and biomedical engineering at McMaster University. During the summer she took Reserve contracts to pay for her studies while she earned her iron ring, the near century-old tradition that acts as a symbol and reminder of the obligations of trained engineers.
In the final year of her Bachelor's degree, LS Hakime went on an exchange to Grenoble, France, for 16 months to complete her degree and further perfect her French. She then went on to complete a Master's degree in Biomedical engineering with a speciality in neuroscience.
Despite her engineering and medical background, she loves being a Naval Communicator, describing it as "the best job in the navy."
In hindsight, she wishes she had known about more science-oriented trades in the military.
"If I had known about the biomedical technician position when I joined, I would have probably done that because it would have been a good learning experience," she said, talking in relation to her new job in Quebec as a clinical engineer managing clinical technicians.
If that new job doesn't challenge her enough, she has considered joining the Regular Force and taking a commission and job as a bioscience officer.
"Being able to decide your own fate and choose your own opportunities are some things we take for granted," said LS Hakime.
If her family had remained in Kabul, her life would be completely different.
"I'm 25 now, I probably would have been married at 17 or 18. I probably would have had a couple of kids by now. Those are great things but not what I want to do with my life."
Instead, she stands watch in a Canadian Armed Forces uniform on the upper decks of Ville De Quebec in Greece, providing force protection with her Naval Security Team colleagues, a far cry away from what could have been.
Filed Under: Top Stories
Comments (3)