By Lookout on Jun 09, 2014 with Comments 0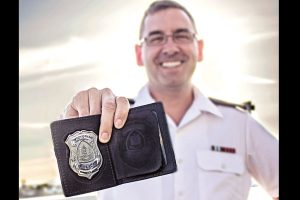 Two brothers, both military reservists and Victoria police officers, have exceeded expectations in keeping the roads safe by successfully enforcing the province's impaired driving laws.
That diligence has earned PO1 Graeme LeBlanc and Major Brendon LeBlanc an Alexa's Team Award from ICBC, the Justice Institute of British Columbia and the Alexa Middelaer family. They are two of 313 officers who formed the 2013 Alexa's Team in Surrey, Greater Victoria, Kelowna and Prince George.
"It's not about receiving an award, it's about recognizing hardworking officers who have gone above and beyond in contributing to the safety of Victoria," said PO1 LeBlanc, who works part-time at HMCS Malahat.
The award, named after a four-year-old who died at the hands of a drunk driver in 2008, honours British Columbian police officers who have arrested 12 or more impaired drivers over a year.
In 2010, the Middelaer family challenged the RCMP, municipal police officers, and the Ministry of Justice and Attorney General of British Columbia to reduce the number of deaths caused by alcohol impaired driving by 35 per cent by the end of 2013, the year Alexa would have turned 10 years old.
In February, the Ministry of Justice announced there was a 52 per cent decrease in alcohol-related motor vehicle deaths, representing 190 lives saves. Alexa's Team members were responsible for almost 50 per cent of the impaired driving enforcement in B.C. in 2013.
PO1 LeBlanc was acting sergeant in the Integrated Road Safety Unit with seven officers in 2013. They were part of 80 Victoria police officers who formed Alexa's Team.
"That is really what it's all about. It is a team effort. Just do the math; if a total of 80 officers all took a minimum of 12 impaired drivers off the road, think of how much of a difference we made in the safety of people of British Columbia" said PO1 LeBlanc. "Alexa's Team keeps a spotlight on the problem and raises awareness on just how fatal impaired driving can be."
Being a part of the military community is not uncommon for police officers, says PO1 Leblanc.
"It is great to see so many police officers contribute their spare time to being a military reservist. I believe it betters their skill sets and traits when it comes to policing," he says.
Alexa's Story
On May 17, 2008, at approximately 5 p.m. a vehicle left a residential road in Delta, struck two pedestrians, a parked vehicle and finally came to rest on a power pole.
One of the pedestrians, four-year-old Alexa Renée Middelaer died of her injuries. The driver, a 56-year-old woman was later convicted of impaired driving causing bodily harm and death.
Historical data (2008-2012) shows that in an average year:
Approximately 95 people will die in motor vehicle crashes involving impaired driving.
Impairment is in the top three contributing factors for fatal car crashes.
Approximately 29 per cent of motor vehicle fatalities are related to impaired driving.
Most impaired-related crashes (60 per cent) occur on a Friday, Saturday or Sunday.
Almost half (45 per cent) of impaired-related crashes take place between 9 p.m. and 3 a.m.
16 to 25 year olds account for the highest number of impaired drivers in crashes (32 per cent).
Males account for 72 per cent of all impaired drivers.
(Source: ICBC Police-reported five-year average from 2008 to 2012)
Kara Tibbel, Staff Writer
Filed Under: Top Stories
Comments (0)