By Lookout on Sep 15, 2020 with Comments 0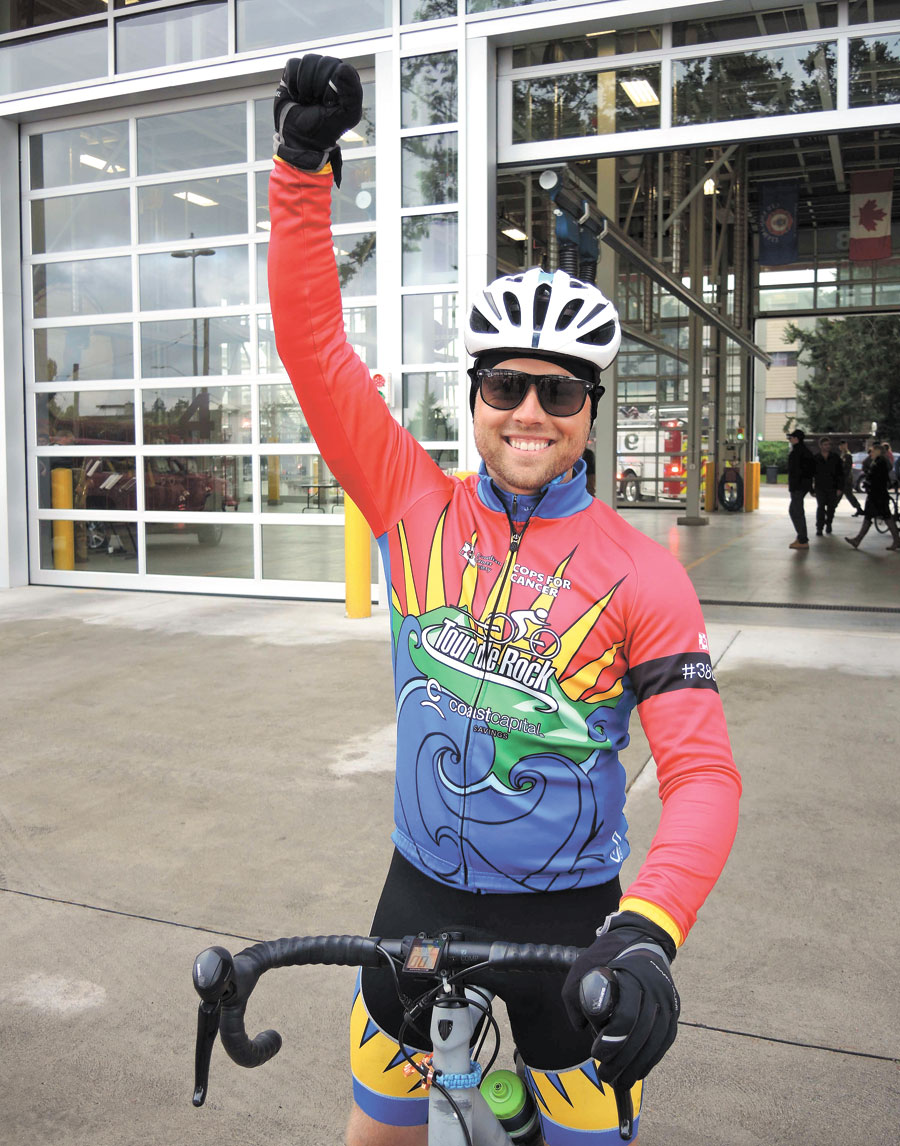 Peter Mallett
Staff Writer
–––
Cpl Michael Smith is ready to rock 'n roll again to help children fighting cancer.
The 29-year-old, who works in the court section of Military Police Unit Esquimalt, is part this year's Tour de Rock cycling event.
He joins 19 first responders who will pedal a combined distance of 1,200 kilometres in 14 days. The journey begins Sept. 23 at the north end of Vancouver Island in Port Alice and concludes in Victoria on Oct. 2.
Since its founding in 1998, the Cops for Cancer Tour de Rock has raised approximately $26 million for pediatric cancer research and support programs for children and their families through the Canadian Cancer Society. But it's more than that, says Cpl Smith.
"It's also the biggest community event on Vancouver Island, unifying every community from Victoria to Port Alice as we rally together to support children who are battling cancer."
Instead of a fresh crop of recruits, this year's Tour de Rock team is comprised entirely of alumni riders. When Cpl Smith heard about the new format, he jumped at the chance to take part again.
"It was an absolute blessing to represent the Military Police as well as CFB Esquimalt last year and I'm humbled and proud to be able to do it again this year. It's such an amazing experience and I never thought I would have the opportunity to ride again."
The riding format will be different this year. Instead of riding the entire distance together as a team, the ride will be converted to a relay-style format. Cyclists will only ride in the region or geographical area they are from. As an alumni rider from the southern Vancouver Island and the Victoria region, Cpl Smith will ride approximately 150 km.
Training also moved from group to solo. Cpl Smith bikes to and from work, jogs, and takes long rides on the weekend to get his body accustomed to the demands of being "in the saddle" for the long ride.
Tour stops to promote the fundraiser have been reduced and changed to outdoor venues where social distancing measures can be enforced.
To meet his fundraising goal, the Base Commander and all three messes – Pacific Fleet Club, Chief and Petty Officers' Mess, and the Wardroom, have committed their financial support.
"Because of the social distancing and health and safety precautions all of my fundraising must be done online, whereas in the past a good deal of it was done in person and public events," said Cpl Smith. "Although this year's ride may look different than in previous years, there are still children and families out there that need support during their fight against pediatric cancer."
To support Cpl Smith in his fundraising campaign, visit his Tour de Rock web page: support.cancer.ca/
––––
Filed Under: Top Stories
Comments (0)