By Lookout Production on Jun 19, 2022 with Comments 0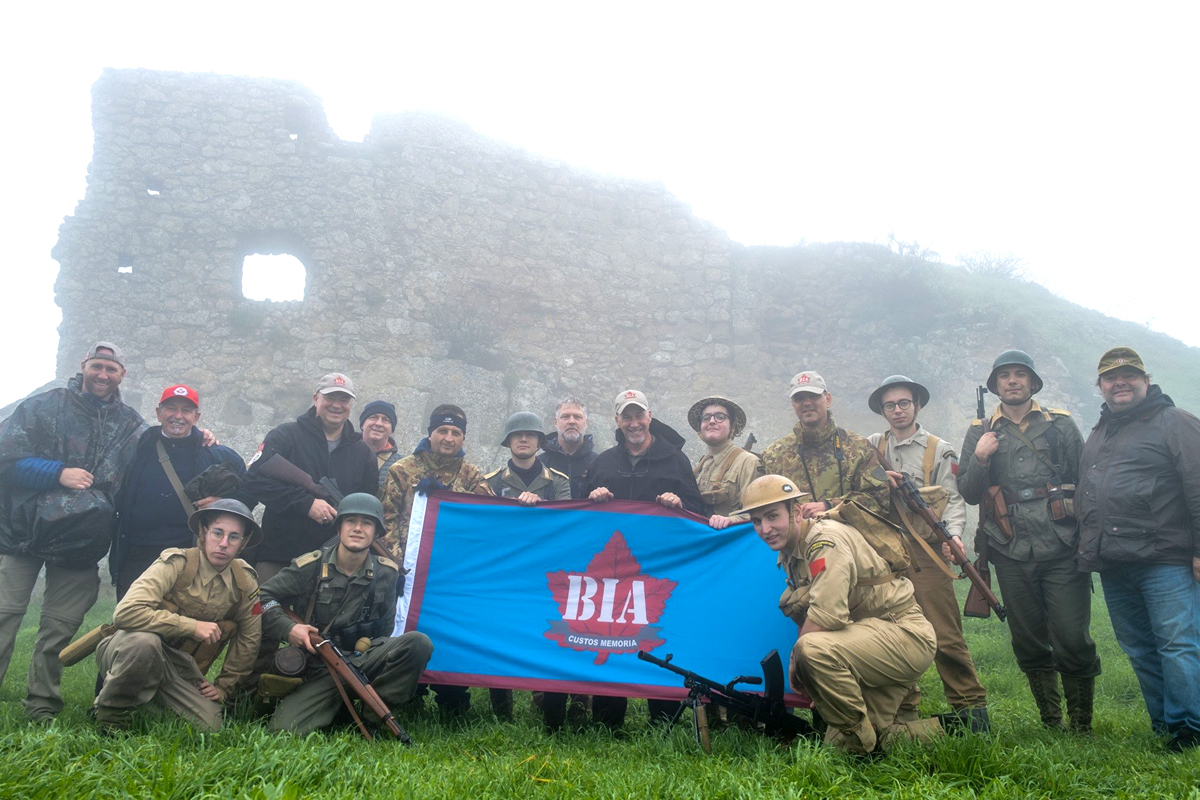 Yves Bélanger 
Servir Reporter 
—
Over the past year, retired Sergeant Roger Chabot has retraced the path of Canadian soldiers who took part in the Italian Campaign during the Second World War. His goal: bringing to life these important events in our military history in a documentary that should see the light of day in 2023.
It was in 2019 that the veteran started working on this project.
"The pandemic has slowed me down, but it has still been beneficial. I was able to promote the project more and get more funding. This documentary has thus become the most important project of my life," he says. The idea was born in recent years, following a first trip to Italy.
"I visited some historic World War II sites and found the Italians were very fond of the Canadians and were very grateful."
The former member of the Royal 22e Régiment also realized he did not know his regimental history well.
"That's why I had the idea to shoot this documentary, which will have 14 episodes lasting 20 minutes each."
SHOOTING IN NOVEMBER 2021
Initially, the shooting was to be done in two parts.
"We had to shoot in the summer to represent the deployment in Sicily and then we had to return during the fall for filming in the rest of the country, especially in the North."
The pandemic forced the team to change their plans, so they decided to do it all in one trip.
Chabot knew how to surround himself with good collaborators to carry out his project. John Serviss was the main cameraman and editor, and retired Sergeant Georges Janes was second cameraman and drone pilot. Retired Lieutenant-Colonel Chris Comeau was responsible for logistics. Steve Gregory from the Operation Husky Foundation facilitated contacts with resource persons and expert historians in Sicily.
Chabot says this 32-day trip was not easy.
"We had several shoots to do in a short time. We were constantly on the move. During our stay, we covered no less than 5,300 km."
A BILINGUAL DOCUMENTARY
Roger Chabot is proud to announce the documentary will be presented in French and English.
"Every take was shot in French and English. I wanted to avoid dubbing."
The team had the chance to meet experts in history.
"There are a lot of interactions with them throughout the documentary. These people share their knowledge with us. They bring a lot of credibility to our project."
Some historical reconstructions are also integrated into the video.
"We were lucky enough to shoot them on location."
This is among others the case of the battle of Assoro.
"We were able to re-enact part of the fight at the top of the mountain."
RETURN TO ITALY AND LAUNCH
Last month, Roger Chabot returned alone to Sicily to record some new scenes.
"Because of the heavy rain, we didn't have time to film everything. I went back there for five days to complete the project. In January 2023 the documentary should be officially launched on YouTube, on the channel Bravery in Arms. I am happy because Veterans Affairs Canada will broadcast the direct link to access the 14 episodes."
Until then, people can watch the mini videos of the documentary filming, released once a month.
ABOUT ROGER CHABOT
Roger Chabot joined the Canadian Armed Forces in 1984 as an infantry soldier. During his 32-year career, he served with the Royal 22e Régiment, the Canadian Airborne Regiment and the Princess Patricia Canadian Light Infantry, among others. He participated in several international deployments. He then spent a few years as an imaging technician, during which he learned photography and video production. Passionate about the profession of arms and military history, he began to paint his personal experiences and other historical military events. Self-taught, he developed his talent over several years in painting and photography. His works are exhibited in various Canadian military installations and museums, and can be discovered on chabotwarart.com.
Now retired, he devotes most of his time creating military art through painting and video production (presented on Bravery In Arms).
Roger Chabot has just completed a magnificent 8 X 24 foot mural commissioned for the Carling Complex at National Defence Headquarters in Ottawa. The work is exhibited in the hall of honor of the building.
Roger Chabot: www.chabotwarart.com   
Bravery in Arms: www.braveryinarms.ca
Filed Under: Top Stories
Comments (0)